Thailand is a fantastic holiday destination. This South-East Asian kingdom has a diverse range of cultural and historical sites, tropical beaches, ancient rain forests, wildlife activities and delicious food to experience.
If you're planning a trip to Thailand, you need to take the right gear to get the most from your travels. Here are some things to consider and some tips on what to pack…
Weather
Thailand has a tropical climate and the rainy season lasts for about six months, although it varies according to region. It's generally warm and humid all year round, with average temperatures ranging from 18 to 38°C.
Pack:
Lightweight clothes which are comfortable to wear in the heat
 Sun hat
Sunglasses
Light, waterproof raincoat or poncho in case it rains
Waterproof daypack or dry bag
Sunscreen and after-sun lotion
Temples
There are more than 40,000 Buddhist temples in Thailand, and they're beautiful places to visit.
If you want to go inside a temple, you need to dress modestly and cover your legs and arms – shorts and vest tops aren't allowed. You have to remove your shoes before entering a temple, so it's useful to have a pair of socks with you to protect your feet from hot floors.
If you're visiting Bangkok's historic Grand Palace site, your feet need to be covered (so no flip-flops), but you still have to take off your shoes before going into the temples.
Pack:
 Light trousers
 Long-sleeved shirt
 Socks
 Pumps or trainers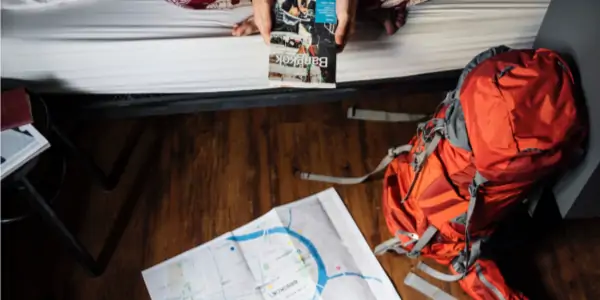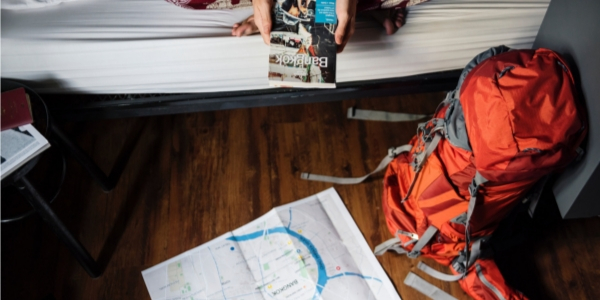 Beaches
Thailand has a 2,000 mile-long coastline and is renowned for its pristine white sandy beaches and clear blue waters. If you're staying at a beach resort you may have towels, umbrellas and loungers provided, otherwise you can rent or buy them from local vendors.
Pack:
Swimwear
Goggles
Sunscreen
Insects
As Thailand is so warm and humid, it's a great environment for insects. If you want to avoid being bitten by insects (especially if you're visiting rural or forested areas), you need to protect yourself with insect spray and/or by covering up.
Pack:
 Insect repellent containing DEET
 Insect bite cream
 Long trousers
Long-sleeved shirt
Shopping
Credit cards are widely accepted in Thailand, but if you're shopping at local markets or buying from street food stalls or beach vendors, you'll probably need to pay with cash.
Pack:
Credit cards (let your provider know about your travel plans)
Thai Baht (local currency)
Reusable shopping bag
Drinking water
Tap water in Thailand is not safe to drink, so stick to bottled water for drinking as well as for brushing your teeth. Many hotels provide free bottled water for guests.
Pack:
Clean, refillable plastic water bottle
Medical supplies
If you need to take any medication with you to Thailand, check on the Thai Ministry of Public Health website to make sure that it's not a regulated drug.
It's easy to find a pharmacy in Thailand, if you need any medication while you're there. If you're visiting an area with a risk of malaria, take antimalarial medication.
For Thailand travel health advice go to the NHS Fit for Travel website and be sure to have comprehensive holiday insurance in place before you set off.
Pack:
 Oral rehydration sachets (in case you become sick)
 Antimalarial medication (if necessary)
 Prescription medication