Fancy selling travel insurance for a high commission on each policy you sell?
Join Avanti Affiliates today
Why we hear you ask? Well, you can sign up for free today and start earning an average of 12% commission on every travel insurance policy you sell.
Here at Avanti Travel Insurance, our customers travel with confidence, safe in the knowledge that we'll be there if they need us.
Not only that, but we specialise in travel insurance for over 50s and those with medical conditions. We believe your age and your health shouldn't stop you from taking your next adventure.
We're proud to be rated Excellent on Trustpilot and have won Best Travel Insurance at the Personal Finance Awards for five years in a row!
Why choose us?
On top of the high commission on offer, the Avanti Affiliates programme is designed to be painless and effective. So, if you're looking to earn commission from your website, here's what's in it for you:
High commission rates
High conversion rates
A choice of eye-catching banners
A team to support our partnership
More sales = more commission
And more!
Choose your creative
This is a partnership, so you should have a say in how things look on your website. That's why we've created a range of different banners in all different sizes for you to choose from, including for mobile.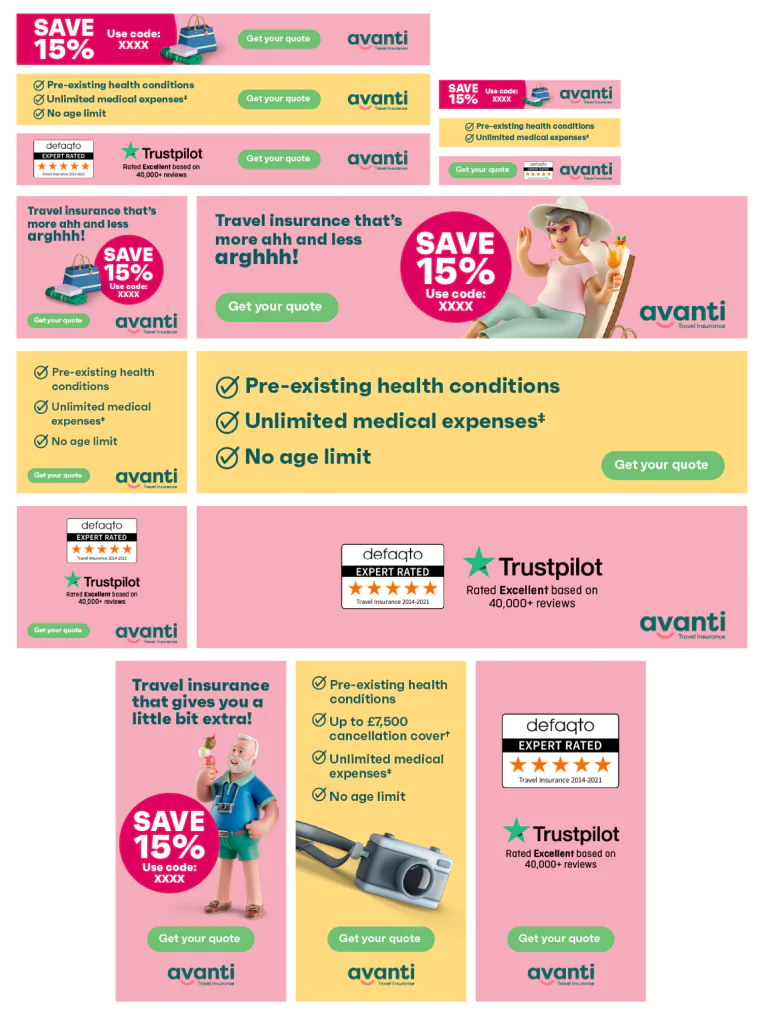 Your commission
This is the good bit. Your commission will be at least 10% – the average is 12% – and the more you sell, the sooner that adds up. You work hard on your online presence, isn't it time it started paying you back a bit more?
When you succeed, so do we, so we have a dedicated partnerships team to help you maximise your commission and help when any challenges crop up.
You'll also be kept up-to-date with our latest products and offers in the ever-changing travel insurance market. This way, you'll be equipped to keep the commission rolling in.
Our products
It's not just travel insurance, it's travel reassurance. That's what we're all about – it's why we have no upper age limit and believe in covering people with medical conditions for a fair price.
It's also why we try to adapt through whatever is going on in the world, such as by offering Covid Cover as standard on all new policies.
Avanti Travel Insurance covers all different kinds of people, going to all different places. Whether it's a cruise in the Caribbean, a week away in Devon, or a city break in Barcelona, when we say you're covered – you're covered.

Ready to get started?
We hope you're excited as we are! Getting started with Avanti Affiliates is nice and easy – you can be up and running (and earning!) in minutes.
So what are you waiting for? Join today!