One of the world's most legendary train journeys, the Rocky Mountaineer through the Canadian Rockies is a bucket-list trip that never fails to deliver.
Whether you want spectacular scenery, native wildlife, or just the relaxation that only train travel can offer, the Rocky Mountaineer is certain to impress. Enjoy breakfast and lunch on board as you take in the ever-changing panorama of the rugged peaks and deep ravines, mighty rivers and thick forests of the world famous Rockies.
All travel is in daylight and knowledgeable hosts in each coach make sure you don't miss out on any of the wildlife or local history. 
But as with any big adventure, there are choices involved, so here's what you need to know about taking a trip on the Rocky Mountaineer.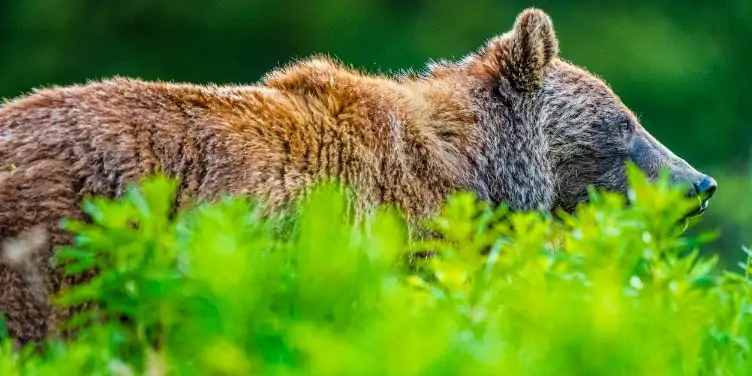 What's the best time of year to take the Rocky Mountaineer?
Every season in the Rockies offers something different, but we travelled in mid-May from Banff to Vancouver when there was still ice on the lakes in the high mountains. The landscape turned greener as we dropped steadily down towards Vancouver and we arrived to find a riot of spring flowers in the parks and gardens of this buzzing waterside city. 
You can't guarantee the wildlife, but a brown bear browsing obligingly at the edge of the forest was just one of several sightings we enjoyed on our two-day journey.

June is the best time to spot bears, but other animals frequently include elk from September-October, grizzly bears in October, and bighorn sheep, mountain goats, and eagles throughout the year.
Which Rocky Mountaineer trip is the best?
Rocky Mountaineer offers a choice of three Canadian itineraries, with optional add-on packages for independent travellers. Bolt-on options include city stays, sightseeing tours, and car rental. 
A chance to explore cosmopolitan Vancouver perhaps, visit Lake Louise, or take a tour of the Columbia Icefields in Jasper National Park. All Rocky Mountaineer itineraries operate in both directions so it really comes down to personal choice. You can also combine two rail routes on a Circle Tour, where you start and end your trip in Vancouver.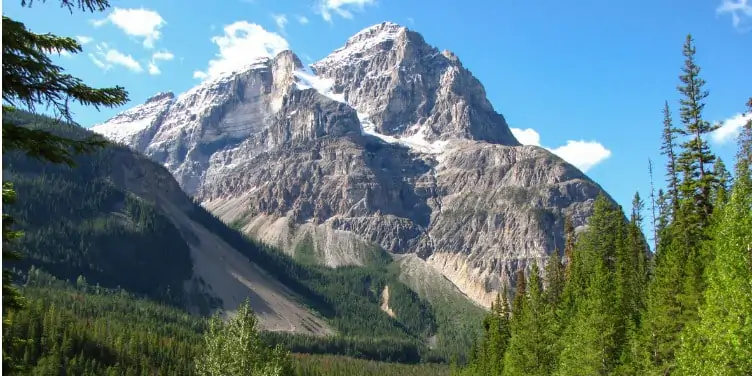 1. First Passage to the West
This trip retraces the route of the pioneer explorers of the 19th century between Banff and Vancouver. Travel through rugged canyons, cross the mighty Fraser River, and experience the famous Spiral Tunnels – one of the steepest, most scenic railway lines in North America.
We started our journey in Banff, which is home to Banff National Park – Canada's oldest national park with spectacular scenery and an abundance of wildlife. After our first full day on the train, we disembarked in Kamloops which is the perfect place to take a long walk along the riverside. 
On our second day we continued winding through the Rockies, enjoying stunning lake and mountain views, before arriving at our final stop in Vancouver. 
2. Journey Through the Clouds
Or you can travel between Vancouver and Jasper on the Journey Through the Clouds option, via Kamloops. On this route towards Kamloops you will see desert-like landscape, before stunning lake views on the way to Jasper. You will also have an exclusive view of Pyramid Falls and the unforgettable sight of Mount Robson, the tallest peak in the Canadian Rockies. 
3. Rainforest to Gold Rush
The three-day Rainforest to Gold Rush tour winds along Horseshoe Bay and the scenic fjords of Howe Sound on its way from Vancouver to the mountain resort of Whistler. There you can take a ride on the Peak-2-Peak gondola, the world's highest lift of this kind, for 360-degree views
Then it's on past hidden lakes and canyons to Quesnel for a second night, before heading east past Mount Robson to Jasper. 
Rocky Mountaineer also offers a fourth scenic journey – Rockies To The Red Rocks – a two-day trip between Moab in Utah, and Denver, Colorado.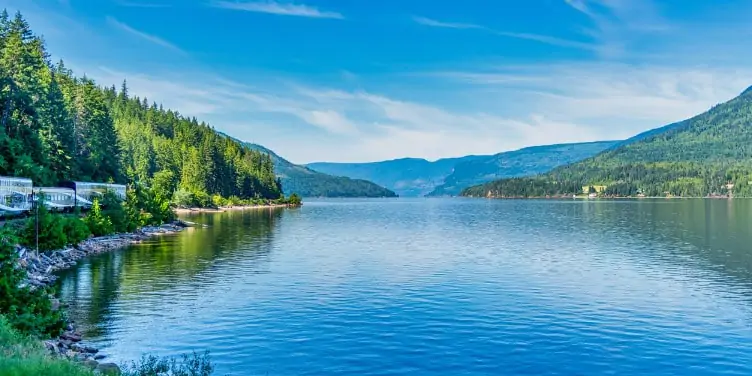 What's the difference between SilverLeaf and GoldLeaf service on the Rocky Mountaineer?
There are two different service levels available on the Rocky Mountaineer – SilverLeaf or GoldLeaf. 
Both services offer knowledgeable hosts, reclining, pre-assigned seating, meals, complimentary snacks and drinks.
SilverLeaf service
In SilverLeaf, coaches are all on one level and the locally-inspired meals are served at your seat so you don't need to get up, unless you want to! You don't have access to the large outdoor viewing platform, but I regularly migrated to the outdoor viewing area at the end of our coach, camera in hand and got some great photos. 
We were very happy in SilverLeaf where we were well fed, well looked after, and enjoyed great views. 
GoldLeaf service
The GoldLeaf service features double-decker coaches with private dining below and seating above. The top coach has full glass dome windows giving panoramic views. If you're lucky you may even see eagles soaring above! 
The gourmet à la carte meals are taken in the lower-level dining room. For a special occasion, the extra luxury of GoldLeaf could influence your decision.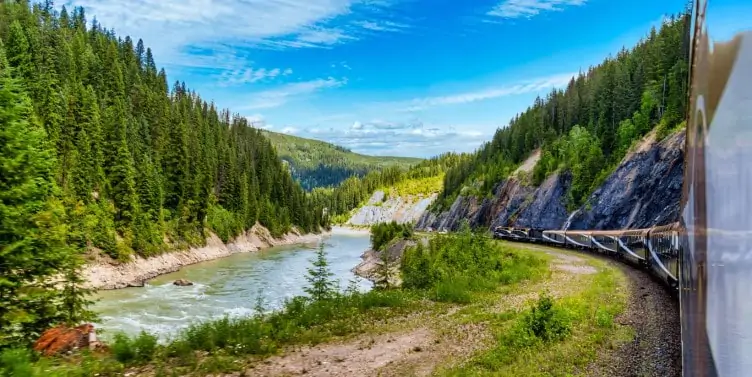 So, how much does a trip on the Rocky Mountaineer cost?
The trains operate from early May until late September and prices vary according to the season and day of the week. 
The First Passage to the West trip we took starts from £1,573 per person in SilverLeaf, based on two people sharing a room. If you're looking to upgrade to GoldLeaf, prices start from £2,101 per person. This includes two days on board the Rocky Mountaineer, and one night each in Banff, Kamloops and Vancouver.
Is the Rocky Mountaineer wheelchair accessible?
Guests using wheelchairs are able to get on and off the train using either a ramp or a hydraulic lift and can move around the train coaches if the wheelchair is 23-inches wide or less.

Or, you can transfer to a 15-inch wide wheelchair provided by Rocky Mountaineer that can move easily down the aisles. Full details can be found on the Rocky Mountaineer website.
What do I need to pack for my trip on the Rocky Mountaineer?
Wear something that is comfortable to sit in for two days. No tight waistbands as food is plentiful and exercise minimal! And opt for layers in case you are too warm on the sunny side of the coach, or too chilly in the air con. 
Depending on the season, you may also need a jumper or jacket for the outdoor viewing platform. A camera, or a phone with a good lens is an absolute must, binoculars can be useful too – especially for the twitchers.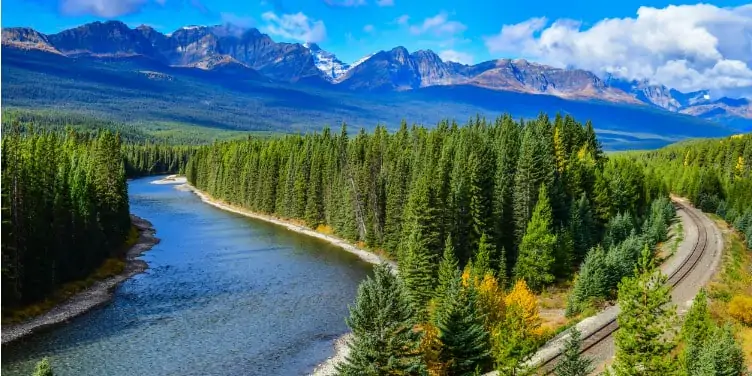 How do I book the Rocky Mountaineer?
You can book direct at rockymountaineer.com but for many passengers the train journey is a special occasion trip, often taken in tandem with an Alaska cruise or a city stay in Vancouver, so take a look at packages too. 
Tour operators to look out for include Titan Travel, Great Rail Journeys, Rail Discoveries, Newmarket Holidays, and Riviera Travel.