'If you're happy and you know it, clap your hands…' Cue enthusiastic clapping and a ripple of giggles. No matter where you go in the world, small children always love an action rhyme! 
And we couldn't help but join in with the children at Cheung Kok eco village in Cambodia, an unexpected highlight of our big birthday adventure to the Mekong delta.   
Planning our river cruise along the Mekong
Twelfth longest river in the world, the Mekong begins on the Tibetan plateau and flows for 2,700 miles through China, Laos and Cambodia to Vietnam.  
Bustling Vietnam is the world's 13th most populous country, while rural Cambodia ranks way down at 68th with 50% of its population under 22. To sample them both on our trip was an unforgettable chance to absorb two ancient cultures.
John and I were Asia-virgins when we booked a luxury river cruise to Vietnam and Cambodia with Scenic River Cruises. We had expected bustling cities with grand buildings and rural village homes on stilts, but not the wonderful human encounters we met along the way.  Local people were friendly and often disarmingly frank about the hardships suffered by recent generations. 

Our Mekong River tour began with a two-night stay in Ho Chi Minh City in Vietnam, before we joined Scenic's luxurious Silver Spirit for a week's cruise that included a visit to the Cambodian capital of Phnom Penh.  
Finally, three nights in Siem Reap would be our base for exploring the UNESCO-listed Khmer temples at Angkor. Just three hours by coach from the banks of the Mekong, Angkor is a popular add-on for many visitors.
The Mekong river's cities
Exploring Ho Chi Minh City
Formerly Saigon, the capital of French Indochina, Ho Chi Minh City is a vast city of 13 million people, most of whom seem to whizz around on motorbikes.  A great way to tap into your spirit of adventure is with a culture-filled street-food tour as a pillion passenger!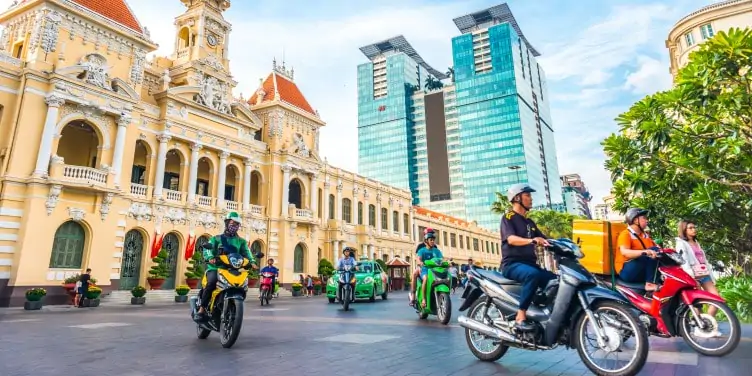 If you prefer to keep two feet firmly on the ground, there are plenty of grand French colonial buildings to admire. There's also a must-take tour of the Reunification Palace where the Vietnam War (American War to the Vietnamese) ended in 1975 when a Communist tank stormed the Palace gate and Saigon surrendered to the north.
Tuk-tuk fun in Phnom Penh
The Cambodian capital of Phnom Penh stands where the Mekong joins the Tonlé Sap river.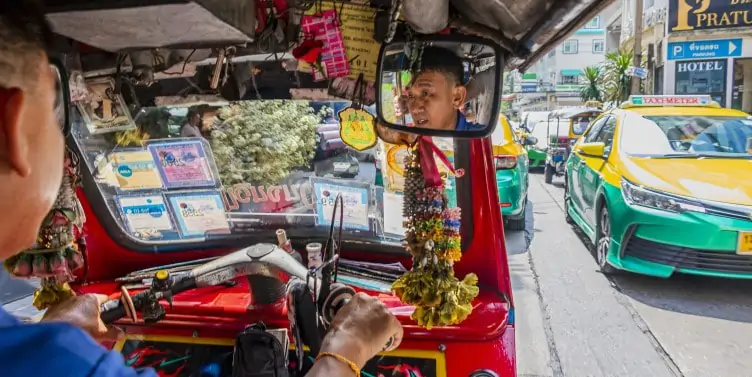 Here, the favourite way to get around is by tuk-tuk, and a trip in one is a must. Trust your driver and watch the traffic flow round you as he expertly weaves you safely through the organised chaos! Evening tuk-tuk tours are particularly fun as Cambodia's elegant buildings and grand boulevards are beautifully lit up.  
Be sure to make time to stop by the Royal Palace complex with its ornate gold and white architecture surrounded by beautifully manicured gardens. 
Things to see along the Mekong delta
River cruises providers offer a variety of local experiences from eco villages to Buddhist monasteries, craft cooperatives to open air markets.   
We thrilled to an acrobatic circus in a big top by a performing arts charity and watched spellbound as a young troupe performed a traditional lion dance on board our ship.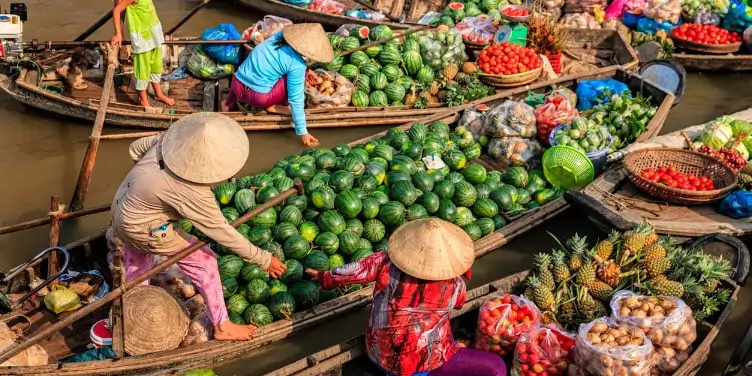 We visited a floating market and toured a bird reservation by boat. Every experience along the Mekong was new and we loved them all… but in particular, the ever-present smiles from these hugely resilient people.
Cambodian and Vietnamese history 
We love history, especially when it involves a country we are visiting, but be aware that remembrance tourism in these parts is particularly hard-hitting. No punches are pulled on visits to the Củ Chi Tunnels used by Vietnamese guerrillas, nor at the sobering War Remnants Museum in Ho Chi Minh City.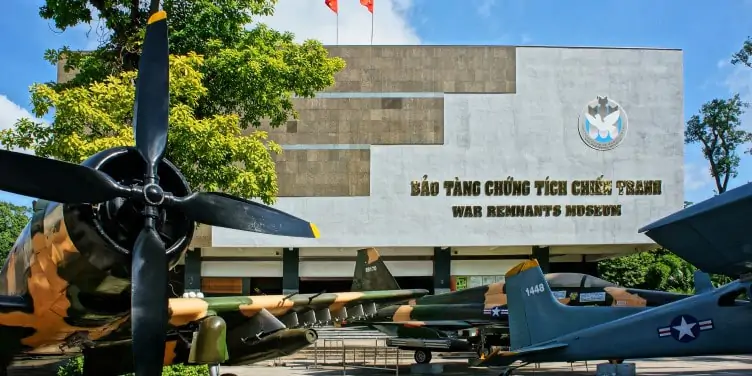 In Cambodia, a visit to Choeung Ek – best known as the infamous Pol Pot 'Killing Fields' – isn't for the faint-hearted either, nor the notorious Tuol Sleng Museum, a former prison and torture centre under Pol Pot.  
They are, of course, optional excursions, but we gained a real insight into the recent history openly talked about by our native tour guides.
Exploring the Cambodian ruins of Angkor 
For many travellers, a Mekong River tour is a chance to add on a visit to the extraordinary ruined temples that rise from the forest at Angkor just outside Siem Reap. 
Now listed by UNESCO as a World Heritage Site, Angkor was the capital of the Khmer Empire in the 12th century. But when the temples were abandoned, the jungle quickly consumed them and they lay undiscovered until the 1860s.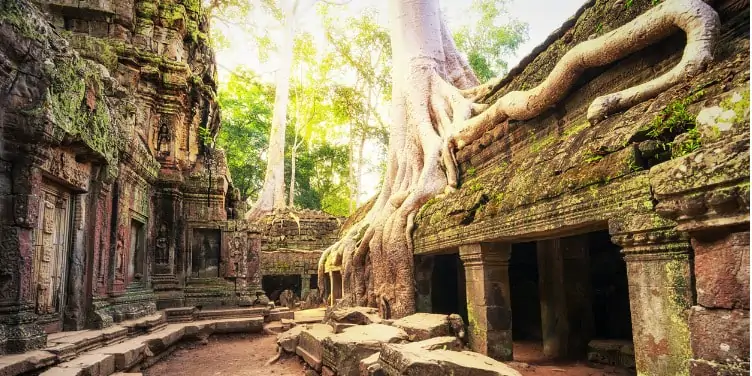 To wander through Ta Prohm where giant tree roots hold many of the ruins together is like walking through a film set. The temple was, in fact, used as a location in Lara Croft: Tomb Raider with Angelina Jolie.  
Planning a trip down the Mekong River 
When's the best time to visit the Mekong delta?
Daytime temperatures in March when we travelled were in the low to mid-30s by day, top-20s by night. The further inland you travel, the higher the humidity, but interiors were all air-conditioned and bottled water was freely available from our guides and cruise boat staff.  But always wear a sun hat, apply high SPF sun cream, and take a wrap against the sun or fierce air con.   
The 'cooler' months to visit where temperatures are generally a little more comfortable, are between November and February. Daytime temperatures around these months sit in the high-20s, with cooler low-20s at night.
Is there malaria in the Mekong Delta?
We were not in a malarial zone but we still used mosquito spray at all times. Do not pet dogs or cats, or approach any monkeys that may be wandering round the temples.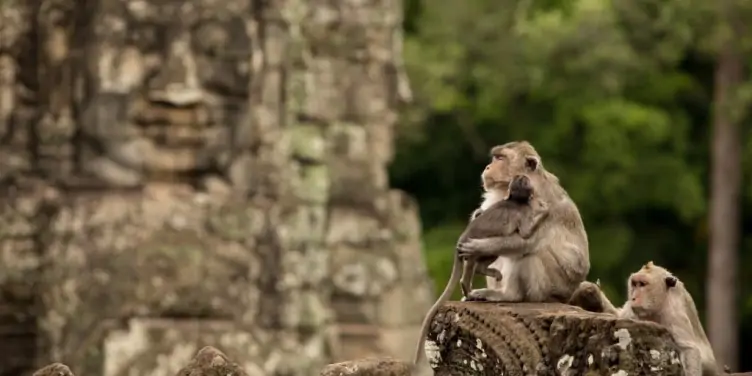 What to pack for a Mekong River cruise
You'll want to take lots of pictures, so carry spare camera batteries and a portable phone charger with you. On high humidity days, I found the camera lens fogged quickly, so I'd recommend carrying a lens cloth too.  And remember, you can't have too many photo souvenirs of an adventure like this.
Other essentials to bring along to your Mekong River cruise include:
Comfortable walking shoes

Lightweight, breathable clothing

Waterproof bag (in case it rains!)

And of course, mosquito repellent
What are the best Mekong River cruise lines?
Many luxury river cruise lines offer a range of 2022 and 2023 Mekong river cruises, some of which also include the northern part of Vietnam, so shop around to find your favourite package. 

We travelled with luxury river cruise provider Scenic on their Treasures of the Mekong tour.  Other companies to look at include Riviera Travel, APT, Viking River Cruises, Emerald Cruises or, to cruise in a traditional Mekong craft, Pandaw. 
Travel insurance for cruises
Don't forget your cruise travel insurance – you can arrange your cover up to 18 months in advance, and all policies come with Covid cover as standard.
Explored the Mekong River already? Head over to our cruise holidays page for more inspiration on where your next cruise could take you.