It's safe to say that we've never deserved a summer holiday more than we do this year. And after a long winter in lockdown, it suddenly seems as if the whole country has gone into holiday planning mode. But while everyone you know is desperately trying to find accommodation in Norfolk, Cornwall and Devon, you may prefer to surf your summer away in Wales instead. 
Boasting some of the most beautiful beaches in the UK, Wales is the perfect place for sun seekers looking to escape the crowds. Spend less of your holiday fighting for a car park and more of your holiday discovering the rolling sand dunes of the Meirionnydd coastline and the natural rock pools of Anglesey. Then when you feel like a dip, do as the locals do and seek out the country's very best secret beaches.
1. Marloes Sands, Pembrokeshire
At the very western edge of the Pembrokeshire coast, you'll find the golden sands, intriguing rock formations and crystal clear waters of Marloes Sands Beach. Popular with surfers, it's about a 1.5km walk from the nearest car park, which keeps the crowds away so you can enjoy the views of Skomer and Skokholm islands all by yourself.
Head to the very western corner of the beach and carefully climb over the rocks to find the even more secluded Albion Sands.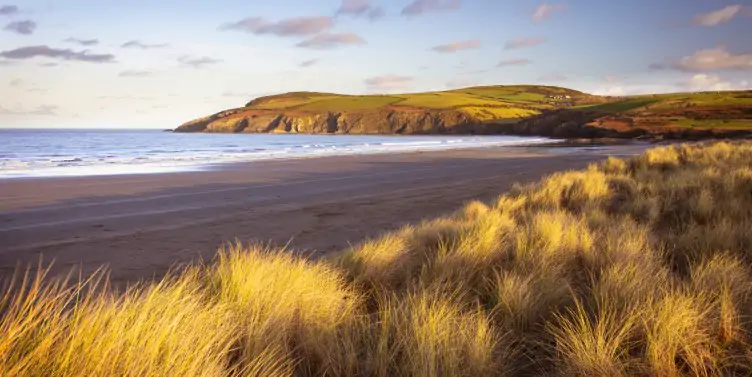 2. Porth Iago, Gwynedd
Tucked between two cliffs on the Llŷn Peninsula, Porth Iago is the not-so-secret cove that will always be considered a hidden gem given it can be difficult to find.
Located next to a dairy farm (meaning there are plenty of cows around), it's a great spot for water sports, swimming, sunbathing, and more. Our top tip? Pack a picnic so you can stay all day.
3. Traeth Fedw Fawr, Anglesey
Traeth Fedw Fawr is a small, white pebble beach, hidden away on the northeastern coast of Anglesey with sweeping views of the Irish Sea. Also known as "White Beach", it's sheltered from the wind but is far better for fishing than it is swimming.
Make a day of it and stop by when walking along the Anglesey Coastal Path but beware of the steep path and stairs on the way down!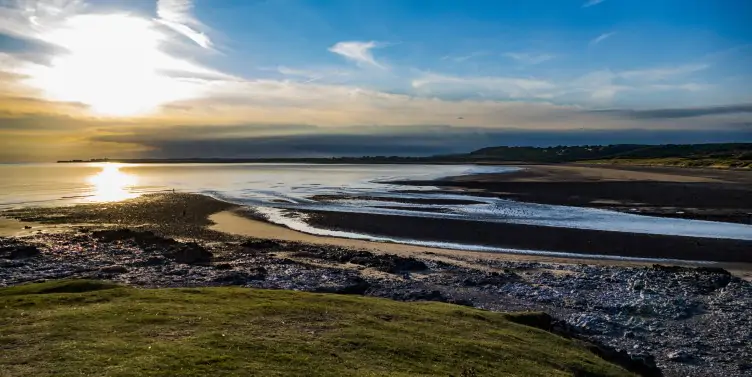 4. Fall Bay, Gower
Located along The Gower Peninsula Area of Outstanding Natural Beauty, Fall Bay is well worth the effort it takes to find it.
Somewhat of a hike from nearby Rhossili village, those up for the challenge will be rewarded with breathtaking views, sparkling waters and total seclusion. 
5. Confucius Hole and Caves, Broadhaven
Not exactly a beach but a huge lagoon crater that fills up with water when the tide rolls in, Confusion Hole is a must-see. Surrounded by smaller caves that will keep you occupied for hours, jump off the steep rocks via the sea caves for a dip if you dare.
When you're there keep an eye out for nearby St Govan's Chapel, which is built into the cliffside.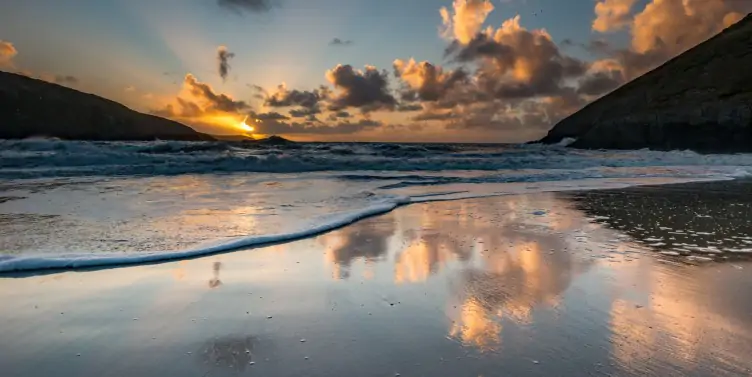 6. Traeth Mwnt, Ceredigion
Quiet during the week and bustling on the weekends, Traeth Mwnt is a sheltered sandy bay just off the beaten track in Ceredigion.
Owned by the National Trust, it's west-facing, making it the ideal spot to seat yourself for sunset. Popular with dolphins, porpoises and seals, don't leave home without a snorkel (and a camera)!
7. Presipe Bay Beach, Pembrokeshire
Presipe Bay Beach is one of Pembrokeshire's best-kept secrets. Hidden between Manorbier and Skrinkle, it's often overlooked by those passing through as it disappears at high tide.
Plan ahead and check the tide times to ensure you don't miss out on the red sandstone cliffs that are covered in fossils.