If you're going on a staycation in the UK, you can't go far wrong with the Jurassic Coast. This near-100 mile stretch of coastline from Devon to Dorset is home to some of our most stunning beaches, camping spots, and is famed for its coastal walks.
In fact, the best way to appreciate the UNESCO World Heritage Site's geological importance is by walking along the cliffs, keeping a keen eye out for fossils. If it's good enough for David Attenborough, then it's good enough for us!
Here are our favourite Jurassic Coast walks.
1. Old Harry Rocks (easy)
2. Smuggler's Inn (easy)
3. Golden Cap (medium-hard)
4. Ringstead to Durdle Door (hard)
5. St Alban's Head (hard)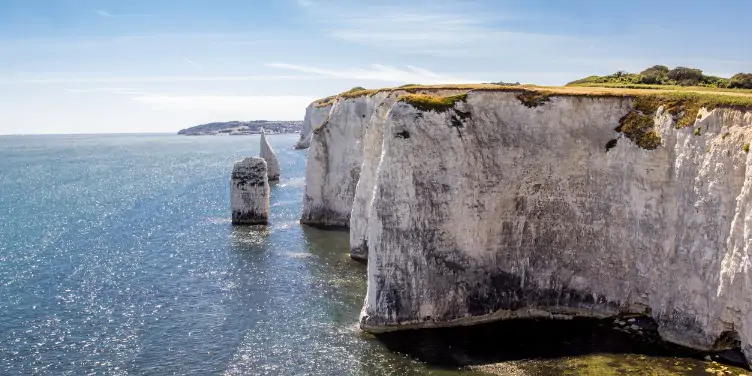 Old Harry Rocks
Rating: Easy
Distance: 3.5 miles
Time: 2 hours
Bright, white chalk stacks jut out of the sea at Handfast Point to create Old Harry Rocks – one of the most impressive sections of coastline in the whole UK.
The circular walking route to Old Harry Rocks, starting and ending in Studland Bay, takes about two hours in total. It's one of the easier hikes in Dorset and it even takes you to one of the most famous landmarks on the whole Jurassic Coast.
Not only that, but the grasslands along the way are full of interesting wildlife that you can appreciate on this relaxing jaunt back through time.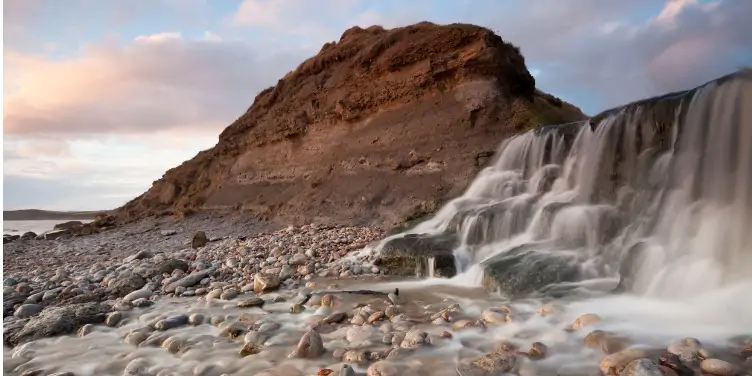 Smuggler's Inn
Rating: Easy
Distance: 5.5 miles
Time: 3 hours
For an undulating adventure, from cliffs to beaches, that leads you right to the pub – Smuggler's Inn is the walk for you.
The route from Bowleaze Cove to the Smuggler's Inn at Osmington Mills follows a short section of the South West Coastal Path. It's a relatively easy walk and only takes just over an hour each way.
On the way, you'll pass Redcliff Point, which is an area that's particularly rich in fossils if you're looking to uncover your own piece of history.
The midpoint is the Smuggler's Inn, a characterful pub and the perfect refuge to refuel for the return journey, which follows the same route. If these walls could talk, they'd tell stories of a notorious smuggler gang who used to be regulars, transporting you to a different era.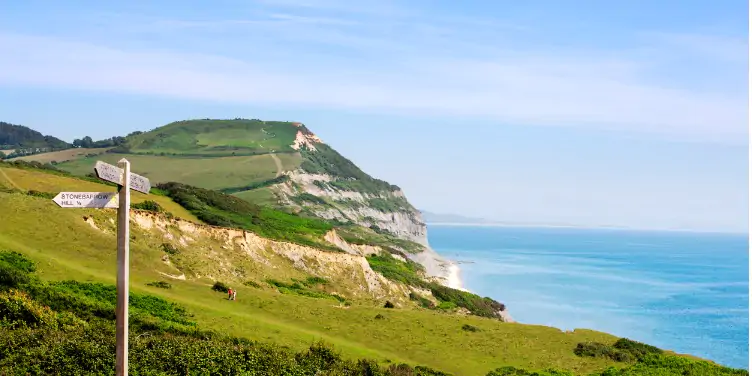 Golden Cap
Rating: Medium-hard
Distance: 4.5 miles (loop)
Time: 2.5 hours
Clocking in at a mighty 191m, Golden Cap – as the name might suggest – is the highest point on the South Coast. It's a must-see for the most expansive views across the surrounding area, where you'll see cliffs sloping away and a blanket of fields covering the landscape.
Depending on the conditions, the walks to Golden Cap can be challenging. When favourable, the difficulty is reasonable, but when it's wet and/or windy then you need to take extra care – especially on the declines – and make sure to bring the correct footwear.
On the bright side, taking your time and taking frequent breaks after the steep climbs will give you plenty of time to appreciate the captivating vistas.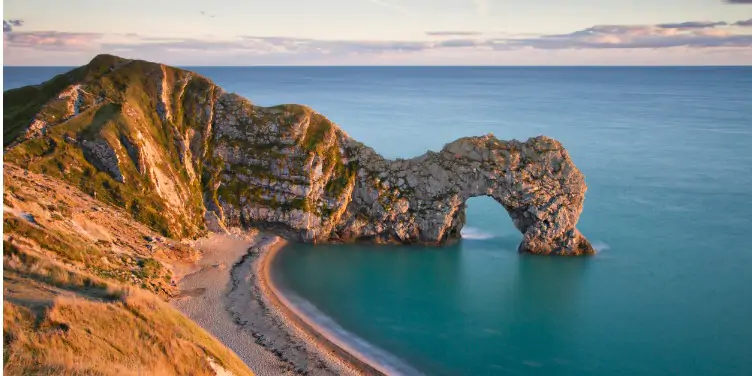 Ringstead to Durdle Door
Rating: Hard
Distance: 8 miles
Time: 4.5 hours
Durdle Door is a Dorset icon, there's no doubt about it. And there are plenty of walking routes you can follow to appreciate it in person, but none match the reward you'll get from the challenging route starting in Ringstead.
It really is a bit of a rollercoaster and one for the bucket list. Something to keep in mind is that many people will have the same idea, so going on the off-season could be a good idea.
This walk isn't just about Durdle Door, either! There are plenty of landmarks to soak in on the way – particularly important to remember if you need a break after some of the steeper climbs.
Highlights of this route's quirks include the quaint row of cottages. Presumably, they used to be for the coastguards, but today they look to be the perfect spot for an isolated and idyllic getaway.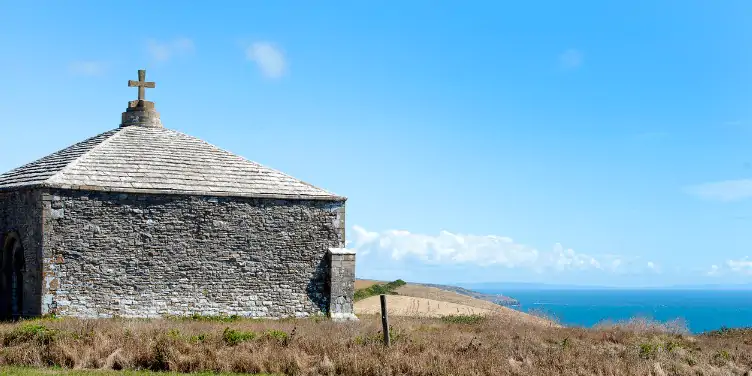 St Alban's Head (St Aldhelm's Head)
Rating: Hard
Distance: 6.5 miles
Time: 3.5 hours
Another tricky test, and that's after you get your head around it having two names, this Jurassic Coast walk is located on the Isle of Purbeck and named after a head jutting more than 400ft from the water, visible for miles. It's so special they named it twice!
You'll start in Worth Matravers and take a journey through a former quarry landscape. The starting point still shows signs of the affluent period in its history with fantastic architecture. The Square and Compass is the famous pub in the village, which is the perfect place to start and end your walk – refreshed from the views and your drink of choice.
When you're taking on this challenging walk, there are plenty of chances to take a breather – because you might need it. There's St Aldhelm's Chapel, a landmark rumoured to be more than 1000 years old; a sculpture to remember the significant telecommunications efforts from the area during WWII; even fossil hotspots thanks to the soft soil.
Heading on a walking staycation? Don't forget your travel insurance
If you're feeling inspired to take a walking holiday in the UK after hearing about the Jurassic Coast's best offerings, don't forget to take out travel insurance.
We have UK travel insurance policies to make sure you're protected when you go away. You just need to make sure you've booked a place to stay for at least two consecutive nights and you should be ready to take out your policy!