Long-distance walking holidays are becoming increasingly popular in the UK. The country is covered in a fantastic network of long-distance footpaths providing access to all kinds of scenery and habitat from mountains and moorland to coast, river valleys, forests and National Parks.
Some paths are based on the scenery, some on history or culture and while some have only been around for only a few years others have been walked on for hundreds, even thousands, of years.
If you're new to long-distance walking, be sure to look at the difficulty and terrain of your chosen route. Coastal and mountain paths can be especially tiring, dropping steeply before ascending again.
Here are some of our favourite walks in the UK. Remember, you don't have to do all the sections of a walk at once. Walking them over a period of time is still an incredible sense of achievement!
England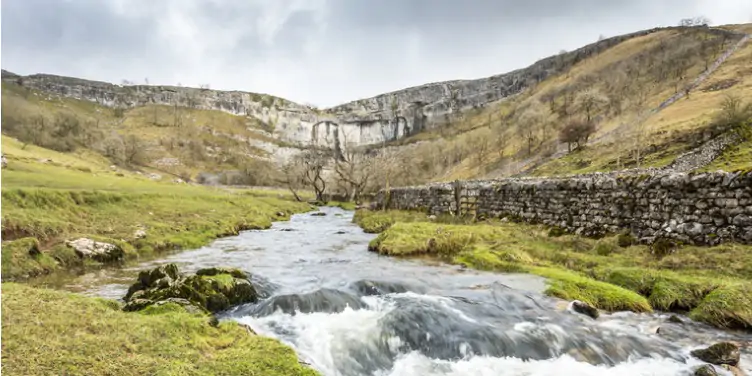 1. The Pennine Way
256 miles (412 km)
Around 16-19 days
The Pennine Way follows a high route along the spine of the Pennine Hills, from Edale in the Derbyshire Peak District and then along the Yorkshire Dales. It passes through the wonderfully scenic Swaledale Valley, across the North Pennines.
After a short section following Hadrian's Wall it goes north to reach the Scottish border at Kirk Yetholm by way of the lovely, but very remote, Cheviot Hills.
It's the most challenging walk in England. The combined ascents are roughly equivalent to those of Mount Everest! It also takes you across some high, wild and dangerous country where the weather can change quickly. So, it's important to look at these sections and only consider tackling them, especially in the winter, if you're an experienced walker.
In some places, the path is firm, wide and solid, but other areas can be boggy, wet and narrow. May to September are the best months to avoid the sudden weather changes but it is walkable all year round.
You'll definitely need to pack specialist walking equipment for this one. High quality walking boots and poles, full waterproofs, a first aid kit, navigation tools and plenty of food and water are a must.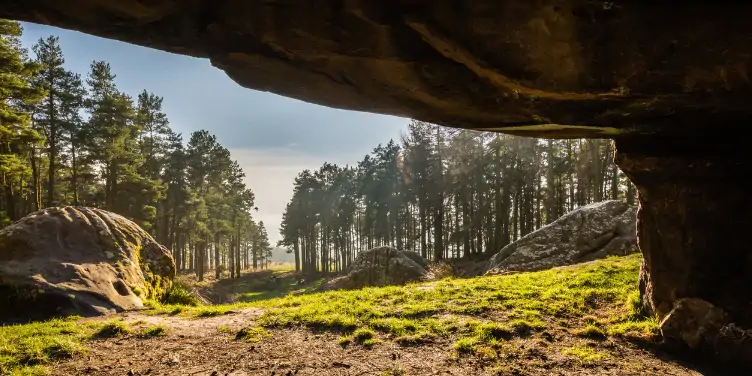 2. St Cuthbert's Way
62.5 miles (100 km)
Around 5 days
St Cuthbert's Way is based around the life of its namesake, a 7th-century Anglo Saxon monk and a missionary, and is one of the most beautiful and varied long-distance walking routes in the UK.
Crossing the national border between Scotland and England, this inspiring route starts at Melrose in the Scottish Borders. Winding southwards it crosses the Tweed and finishes at the Holy Island of Lindisfarne off the Northumberland coast – St Cuthbert's original pilgrimage shrine.
It's fairly flat throughout, so you don't need the higher fitness levels required for some of the tougher walks in the UK.
The last few miles are across the tidal flats of Lindisfarne Bay, so check the tide times and give yourself plenty of time to get across safely.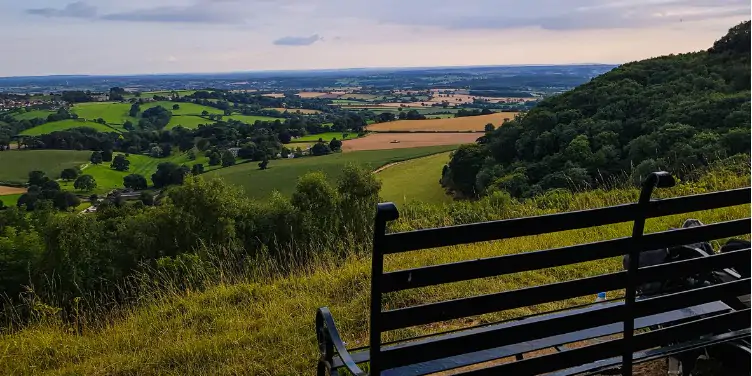 3. Cotswold Way
102 miles (164 km)
Around 3-4 days
The Cotswold Way runs along the escarpment, offering wonderful views of the rolling landscape of the Cotswold Hills.
Starting in the market town of Chipping Campden and ending in the Roman city of Bath, the trail journeys through undulating pastures, beech woodland and those lovely chocolate-box, honey-coloured villages made of Cotswold stone.
Haresfield Beacon, in the care of the National Trust, presents outstanding views across to the Severn and marks the trail's halfway point. It's a good idea to do the extra bit to reach the top of the Beacon as from here, the Cotswolds unfolds below you.
Anyone who is fairly fit is able to complete the Cotswold Way, but do be aware there are a few steep climbs.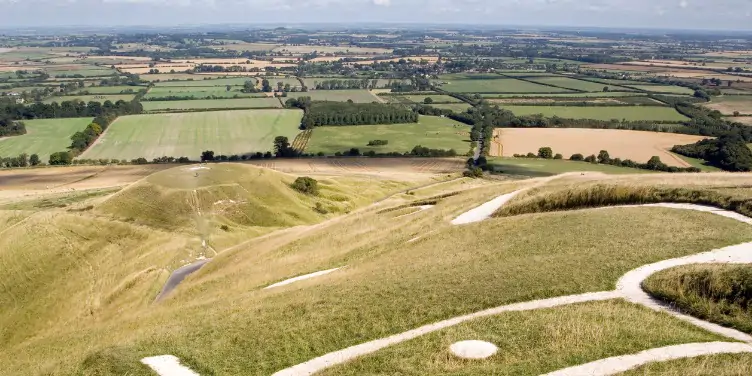 4. The Ridgeway
87 miles (139 km)
Around 6 days
Following the ridge of chalk hills in southern England is The Ridgeway National Trail, a pathway that has been used for over 4,000 years. From Neolithic farmers to 18th-century cattle drovers, it's known as the UK's oldest road.
It runs from the Avebury Stone Circle to Ivinghoe Beacon, just to the northwest of London. On the way, you'll pass through the North Wessex Downs and see why it's a designated Area of Outstanding Natural Beauty. The long, prehistoric barrows and famous white horse cut into the hills are not to be missed.
You'll then pass through the Chilterns, with woodlands carpeted in bluebells in early May and enchanting nature reserves.
You can tackle the trail all year round, but visit between spring and late summer for the best views and wildlife spotting opportunities, as well as better walking conditions.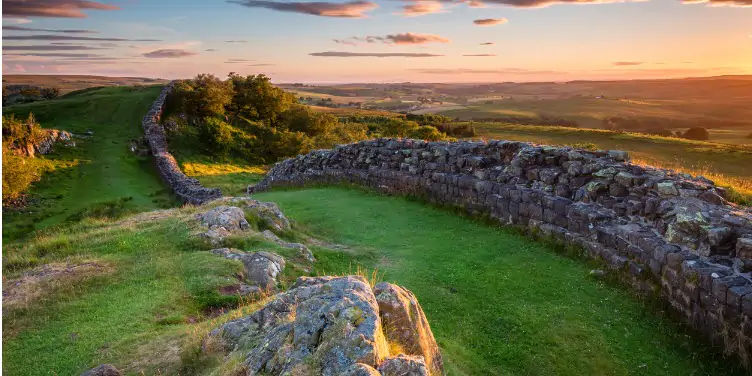 5. Hadrian's Wall Path
84 miles (135 km)
Around 6-8 days
The Hadrian's Wall Path stretches coast to coast, from Wallsend in Newcastle-upon-Tyne in the east to Bowness-on-Solway in Cumbria in the west. It follows the line of the Hadrian's Wall UNESCO World Heritage Site, passing through the beautiful Northumberland National Park on the way.
The route is relatively approachable and you should get along just fine with a normal walking fitness level. Keep in mind that the 23-mile (37 km) section between Chollerford and Birdoswald is a bit more of a challenge – there are many short climbs and descents that add up.
For more favourable weather conditions, it's best to walk from west to east. In wet weather, the path can become very wet and muddy, so think about visiting between May and September.
Keep in mind that Hadrian's Wall is very popular with tourists so it can be busy during the summer.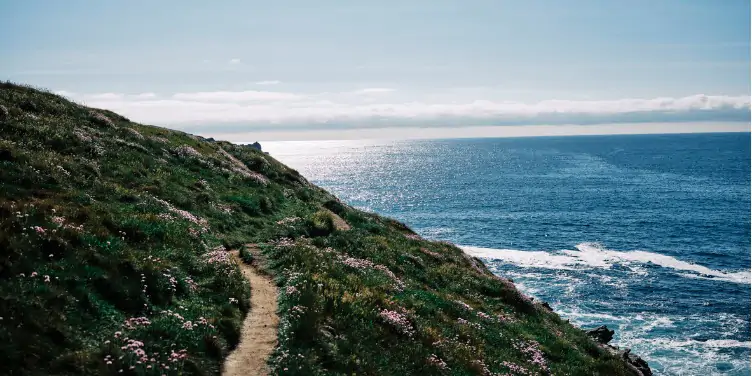 6. Cornish Coast Path
296 miles (477 km)
Around 8-9 days
The Cornish Coastal Path, as you might expect, follows the entire coastline of Cornwall. This means there's plenty to see: from gentle stretches to dramatic clifftops; steep coastal valleys to sheltered estuaries; busy harbours to hidden coves with sandy beaches.
Some of the highlights to look out for along the way include Tintagel, Poldark Country, The Lizard and Lands End.
Expect some tricky climbs here, but you also get mile after mile of stunning coastal scenery and plenty of pubs or a nice cream tea in lovely fishing villages and harbours! You also don't have to walk miles off the path to find accommodation.
The 17-mile stretch between St Ives and St Agnes is particularly strenuous, with many steep descents, so do plan for this. Coastal erosion of cliffs is another thing to watch out for here, so please take care at all times.
Scotland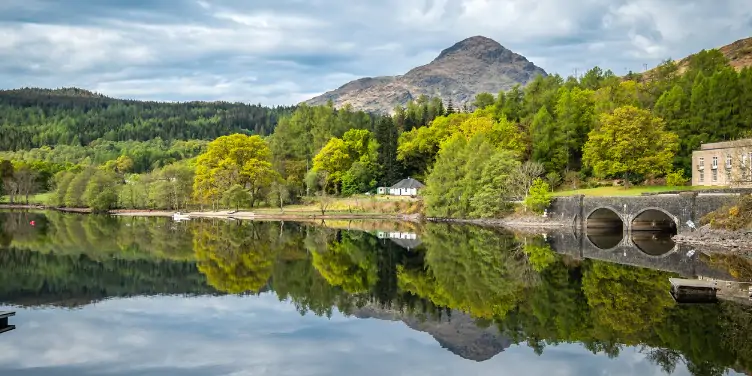 7. The John Muir Way
134 miles (215 km)
Around 3-4 days
The John Muir Way is one of Scotland's greatest trails: named after the conservationist and 'father of national parks' in America.
It offers a journey through Scotland's landscapes, history and heritage. The path runs from Helensburgh in the west, where Jon Muir boarded the ship to America, to his birthplace in Dunbar on the east coast and is fully way-marked.
The walking is very easy, so perfect for those new to long-distance walking. On your way, you'll encounter Loch Lomond, disused railway lines, canal towpaths and country lanes. It also takes in the ancient town of Linlithgow and the outer fringes of Edinburgh before walking along the southern shore of the Firth of Forth.
The section from Balloch to Srathblane crosses the wild moorland of the Kilpatrick Hills and is the highest point of the whole route. It's also the most remote, so make sure to bring your bad weather gear.
Other sections of the route highlight Scotland's history including following the Roman Antonine Wall and the Falkirk Wheel.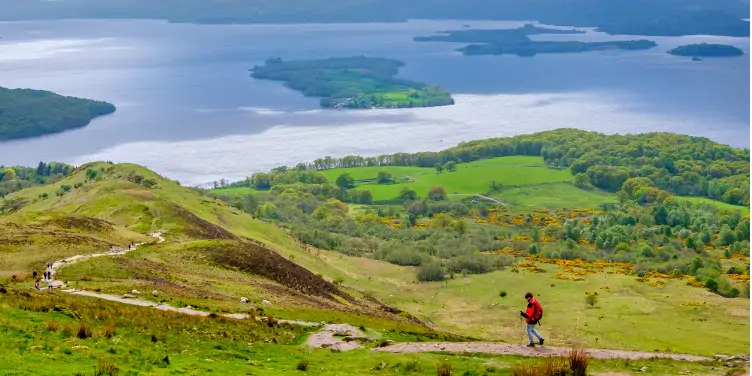 8. West Highland Way
96 miles (154 km)
Around 6-8 days
The West Highland Way stretches from Milngavie, north of Glasgow, to Fort William in the shadow of Ben Nevis. It offers a variety of scenery from countryside parks to heather-clad moorlands and high steep mountains.
Highlights include the Loch Lomond and The Trossachs National Park and the remote open spaces of Rannoch Moor before entering the mountains of Glen Coe.
Most people attempt the route from south to north, as the southern stages are easier and prepare you for the more rigorous northern stages, which include an element of hillwalking. You'll need to be quite fit and take the proper safety gear, like walking poles, a first aid kit, a torch and navigation aids, with you for this route.
Along the route, feral goats, descendants of those left from the Highland Clearances, red deer and golden eagles can all be seen.
Wales
9. Ceredigion Coast Path
60 miles (90 km)
Around 7 days
The Ceredigion Coast Path forms one of the most beautiful parts of the Welsh Coast Path. Running alongside Cardigan Bay, it has wonderful views north towards Snowdonia and south towards Pembrokeshire.
The path has a wealth of coastal cliff views, with seabirds easily spotted on the cliffs and a colourful history to discover along the way. It can be tackled in up to seven sections – representing seven days walking.
Each section ends in a town or village, such as Aberystwyth, where you can find accommodation and a bite to eat.
Much of the route is along a designated Heritage Coast and includes some of the favourite walks of Dylan Thomas, the Welsh poet, who lived nearby during the 20th century.
Preparing for long-distance walking trips
Book accommodation in advance, and don't forget that many B&Bs need you to book for two or more consecutive nights.
Take more than enough water, especially in hot weather. High protein snack bars should help you to keep going on long walking days.
Pack a first aid kit with suncream, plasters for blisters and insect sting treatment.
Bring a compass and large maps from the OS Explorer series.
Waterproofs, lightweight and warm jackets and fleeces, hats and gloves are all important for protecting you from the great British weather.
Make sure your hiking boots are in tip-top condition or broken in if they're new. Extra pairs of socks are a must-pack so you don't have to put wet ones on the next day.
Last but not least: plan, plan, plan. Be clear on each stage of your trip, book places to stay, and prepare your body by going on some long walks before you go away.