Croatia is now an established holiday choice by holidaymakers keen to enjoy the many delights the country offers. Whether your tastes are for the beach, wonderful scenery, history, city life or nature, Croatia has it in abundance.
Cities
Dubrovnik on the coast is popular as a city break destination, but is also good for longer stays and is undoubtedly a must-see if you're anywhere near it when you visit.
This pretty and picturesque city bustles with lively markets, bars, restaurants, cafes and boutiques, all set against some lovely Gothic Renaissance architecture. Highlights include a stroll down the Placa promenade and a ride on the cable car giving stunning views over the city and across the sea.
The capital Zagreb offers a mix of historic and modern. The Upper Town has the historic churches, art galleries, museums and cobbled streets whereas the modern district revolves more around lively theatres, restaurants and shopping centres.
Islands
There's no shortage, with 1,185 islands, of which 66 are inhabited. Hvar Island is probably the best-known with its lovely 16th century St Stephen's Cathedral. Other popular islands include Rab, Lopud and Brac.
Beaches
Croatia offers some of the prettiest, safest and cleanest beaches in Europe. Most are shingle which makes for crystal clear water, although there are some sandy varieties to choose from, including Lapad beach in Dubrovnik.
Nature
For a super selection of natural scenery, many travellers say Croatia offers some of the best scenery in Eastern Europe. There are two national parks worth a visit: Krka and Plitvice boasting lush forests, lakes, waterfalls and historic sites.
Historical sites
There are n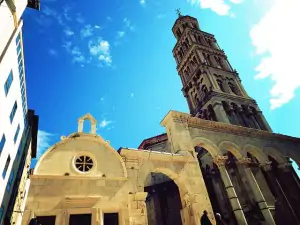 o less than seven UNESCO World Heritage Sites including the Old City of Dubrovnik and the ruins of Diocletian's Palace. Other sites include the Roman amphitheatre of Pula Arean and the picturesque Rovinj.
The Brijuni National Park, located on one of the Adriatic islands just off the Istrian Peninsula, offers such contrasts as 100 million year old dinosaur footprints to Cadillacs from the 1950's – not to mention a 1,600 year old olive tree and a safari park.
Weather
Of course, the weather often holds the key as to whether somewhere is desirable to visit, and Croatia delivers perfectly. It's a mostly Mediterranean climate with long, dry summers with a light sea breeze and temperatures around 30 degrees.
The temperatures inland can be higher in the absence of the sea breeze, but they're still bearable and suitable for adventure and exploration.
There's plenty of daylight, too – the sun doesn't set until around 9.00pm, and when it does you can enjoy one of the stunning sunsets Croatia is known for.
Sailing
A great way to explore the Adriatic coast, and considered a must if only for a day or two. It's a great excuse to s
top off for sustenance in the form of fresh fish from a restaurant such as the well-known Konoba Opat.
Walking and cycling
You're spoilt for choice when it comes to exploring – and what better way to do it than on foot or by bike? There are panoramic views, mountains, the chance to see all types of wildlife and breathing the lovely clear air.
For cycling fans, Croatia is very popular. Some visitors combine cycling with boating so as to cover the inland and coastal tours and get the best of both worlds. Some companies, such as this one, organize cycling and boating tours, and the Istrian tourism department provide guides to give you some ideas.
Food and drink
One of the ultimate holiday pleasures is sampling the local cuisine, and in Croatia fresh fish is an absolute must. A fish-related favourite is a black risotto made from cuttlefish or, if seafood isn't your thing, then there are plenty of meat and vegetarian options.
If you like coffee, you'll love Croatia. They take their coffee very seriously – Croations drink an average 5 kg of coffee per person per year and spend an average half an hour per day per person in doing so.
Enjoy Croatia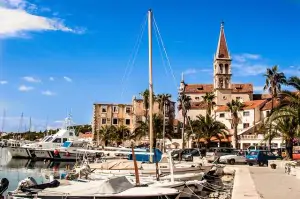 As you can see, Croatia makes for a wonderful holiday choice offering something to cater to pretty much all tastes. If you decide to give it a go, and particularly if you plan on taking advantage of some of the activities like walking and visiting the natural beauty spots, then good levels of insurance cover are important.
The key is to select a level of insurance that will adequately cover you and give you peace of mind and let you enjoy your holiday. Choosing from a company who specialise in providing different levels of cover including a basic budget cover and holiday insurance makes a lot of sense.
Whether you choose to cycle, hike, sail or simply relax, then Croatia could be your ideal destination.