Spain is arguably one of the best adventure holiday destinations in Europe. The contrasting terrains between the north and south offers an endless list of activities for travellers of all ages and skill to enjoy.
Pick the right time and place, and you'll have an amazing adventure holiday of a lifetime lined up.
In this blog you'll learn about all the different activities you can try, with my first hand experience helping you to decide what to go for depending on your fitness levels.
So, what is an adventure holiday?
Adventure holidays, also known as active holidays, activity holidays or experience holidays, involve some form of physical activity and/or going to places or taking part in experiences that are new to you.
It's important to match your personal fitness level to the holiday you choose. So, throughout this blog we've marked each activity with a 'level of fitness rating'.
★☆☆☆☆ Easy-going, generally good for people of all fitness levels
★★★★★ Suitable for experienced adventure-goers, with a high level of fitness
Cycling in Spain
Cycling is one the most popular choices for active holidays in Spain, especially with the rise in popularity of the electric bike. Electric bikes let you take the steeper sections in your stride, and opens up huge areas of the country you may not have had the energy to explore on a regular bike.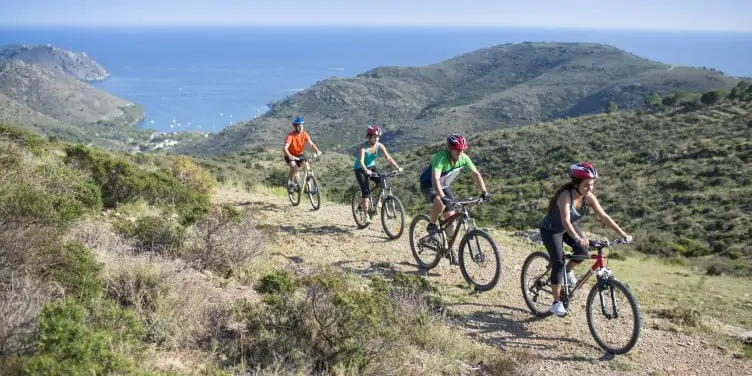 Most hire bikes are hybrid or mountain bicycles, but many companies are starting to offer electric too. Make sure you check before booking. You'll pay extra to hire electric bikes but it's well worth it as you can explore even further.
Choose to go wherever the sea breeze takes you. Or, you can book onto a small group holiday where you follow a guided route. Small group holidays with a leader are a good idea if you're not a regular cyclist as the tours are all fitness graded. Also check that the leader has expert knowledge about your chosen area.
Cycling destinations in Spain
Catalonia, for example, is home to scenic mountains and the sparkling Mediterranean coast. Places like the Garrotxa Natural Park the vibrant city of Girona (the cyclist's favourite), and the coastal town of Sant Feliu offer an endless choice of excellent cycling routes. ★★★☆☆
It may have a reputation as a party island but cycling in Ibiza is a wonderful way to explore its stunning scenery. There are more than 700-miles of cycle routes running through the island, with very little traffic. Routes are marked by colour, indicating the degree of difficulty. Handy for beginners or those looking for a new challenge.
The 10-mile Port des Torrent route runs through the bay of San Antonio and ends at Cala Conta. The terrain is easy-going and ideal for beginners, or those looking to explore at a more relaxed pace. ★☆☆☆☆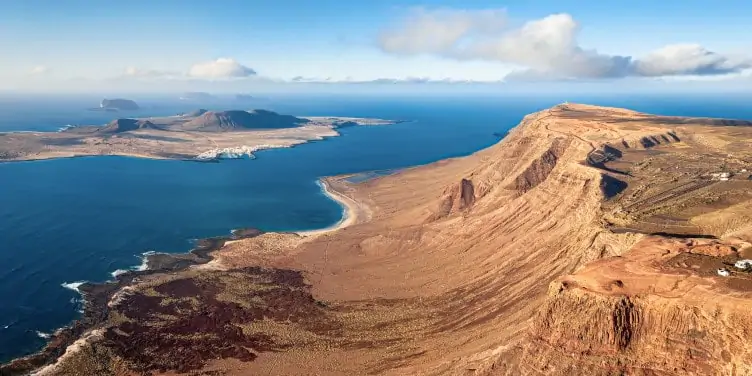 If you are a serious cyclist who likes a day challenge, then you've probably heard of Lanzarote's Mirador del Rio and Northern Lanzarote loop. Over 100-miles long with a climb of 6,500ft it is a tough ride, but the views across the volcanic island are incredible. ★★★★★
Walking and trekking in Spain
Perhaps the ultimate of all the adventurous holidays in Spain is to walk the Camino de Santiago. The pilgrimage to the Cathedral of Santiago de Compostela in Galicia, in the North West. Legend has it that the remains of the Apostle Saint James the Great were buried here.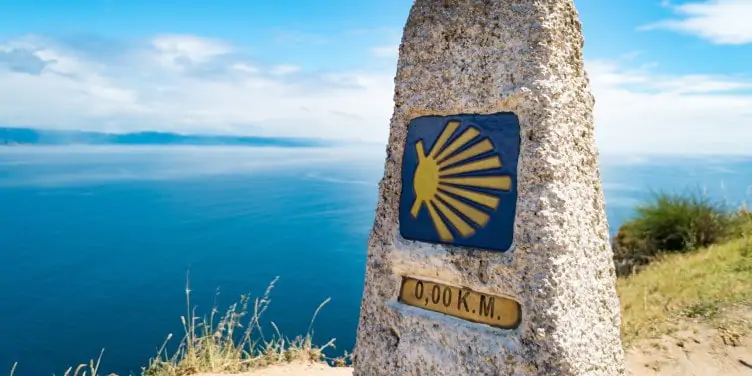 There are many walking routes in Spain to reach the cathedral, all of which are marked by the sign of the oyster shell. Some last a week, such as from the Galician town of Sarria (★★☆☆☆) while others can take up to six weeks. That's walking up to twenty miles a day! For a real challenge, cross the Pyrenees to join the Camino Frances at the border. ★★★★★
I wouldn't recommend walking one of the longer routes unless you're a very fit, very experienced walker. The first two days are fine, but then the inexperienced walkers fall out of the walk due to foot injuries or severe blisters.
The Camino Ingles, or 'The English Way', was the preferred route for pilgrims from Britain and Ireland, who landed at Ferrol or Corunna. It also happens to be the shortest Camino route. The landscape is hilly and it should take you five days with comfortable walking. ★★★☆☆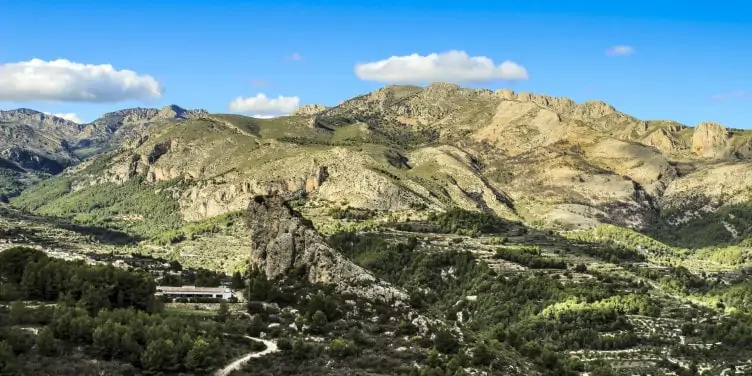 Walking in Spain doesn't have limitations
Walking and hiking holidays in Spain are by no means restricted to the Camino. The Sierra Aitana dominates the skyline, and is the highest point in all of Valencia at 1,558 metres above sea level. You can easily walk the ridge line in a day, even with many stops to admire the views of Ibiza to the East, Valencia to the North and Alicante to the South. ★★☆☆☆
Why not island hop in the Canaries by joining a cruise and walk holiday? When the other passengers take a coach to a museum your minibus drops you off in the wilds for a day's walking and returns you to the ship at night. The next morning you wake up to a new island and a new walk. ★★☆☆☆
Rail journeys across Spain
Adventurous holidays in Spain don't all have to have a high fitness level. Sometimes the journey can be an adventure in itself.
If you're staying in Mallorca, hop on the T1 train from Palma that runs eastwards to explore what the smaller towns and villages have to offer. At Inca you can catch a bus to the Lluc monastery – at Lloseta it splits to take you north or south.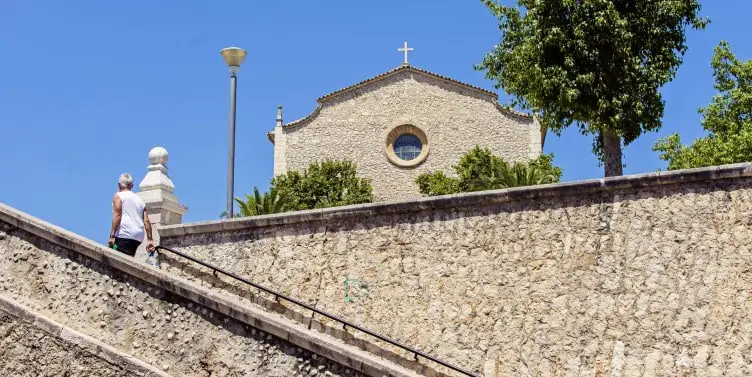 Study the line's stops before you go and decide which places you would like to visit. If you can, go on a Wednesday and take the southern branch to the hilltop village of Sineu to see the largest traditional market on the island.
The market at Sineu is an adventure in its own right. You'll be greeted by over one hundred stalls, selling everything from poultry, goats and olives, to fish, vegetables and ceramics. You'll need to get there early before the tourist buses arrive, but it will take you all morning to explore.
Do go back another day and have a beer when the village is quiet, then take the next stop up the line to the delightful village of Petra with its lovely square and fountains.
Another option is to take the charming wooden carriage, narrow gauge railway northwards to the town of Soller. The route takes you over the high mountains with incredible views passing through mile long tunnels and across stunning viaducts.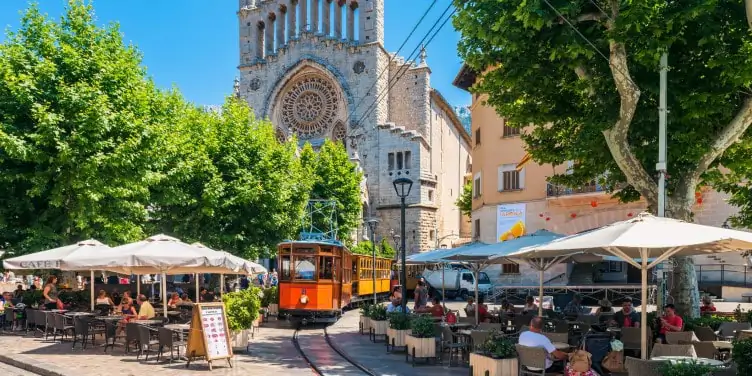 Beware though, if you choose to stop for a coffee in the town square, watch out for the wooden tram – it takes you down to the port, but its route runs between the tables, so you'll need to hang on to your drinks!
If you feel like taking a luxurious adventure holiday in Spain The Al Andalus train – think Orient Express – takes 7 days and 6 nights to complete its journey through cities such as Seville, Cordoba, Cadiz and Granada. There are a number of tours and excursions along the way, including visits to the mosque at Cordoba and the Alhambra in Granada.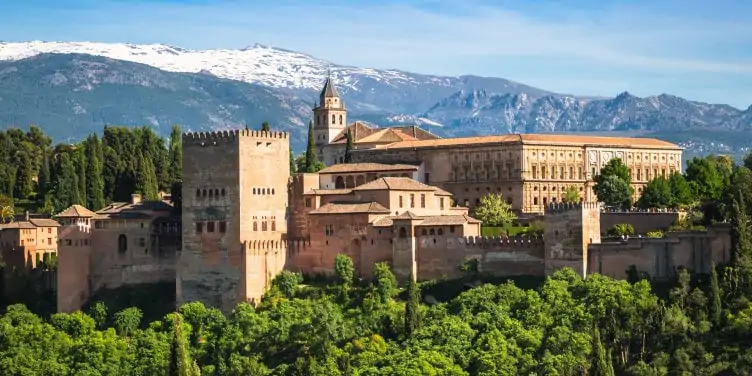 You can also take the grand Transcantabrico Train which over seven days takes you across north-western Spain, from the pilgrimage town of Santiago de Compostela to San Sebastian in the Basque country.
The train travels through Galicia, Asturias, Cantabria and then to the Basque heartlands. The gastronomy and wines of these areas are reflected in the food served in the luxury dining room.
Multi-activity holidays in Spain
If you are not sure what type of adventure holiday you want, then a multi-activity holiday is a great introduction to adventure holidays.
Mix several activities such as canyoning, climbing, canoeing and mountain biking in a week and try each one to find out what takes your fancy.
On the coast you can try surfing, windsurfing, paddle boarding and have a go at sand yachting with three wheeled buggies and a sail where you can reach quite high speeds.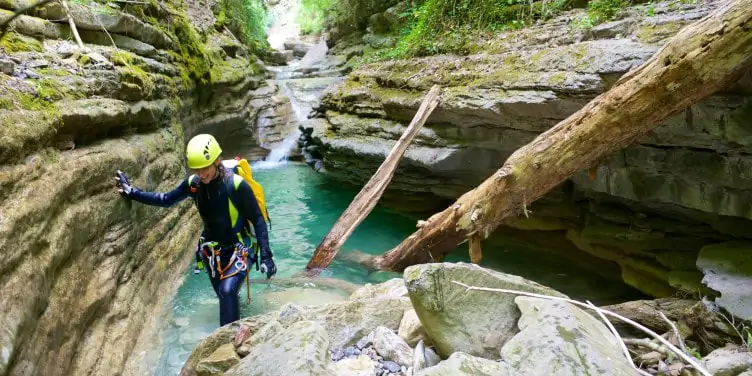 Growing in popularity, canyoning involves following a river as it descends in its canyon or gorge for a few miles. You're kitted out in a wetsuit, helmet and buoyancy aid so you can safely get involved in abseiling, swimming, sliding and jumping down into rock pools. ★★★★★
Important: Always check what activities you can and can't be covered for on your travel insurance before you set off.
Inland you can visit centres that offer canoeing on rivers and lakes (★★☆☆☆) along with mountain biking to suit beginner and advanced levels.
Do also try rock climbing along a laid out fixed rope course often referred to as gorge walking or karibining. It can be nerve-wracking but also exhilarating as you cross obstacles, rope bridges, tightropes and zip wires to get to the next level. Just don't look down! ★★☆☆☆
Exploring Spain on the road
If you were compiling a list of adventure holidays in Spain exploring by car on a road trip may not appear near the top of the list, but it definitely should be.
Discover Menorca, which is much less developed than its big sister Mallorca next door. A road trip along the Cami De Kane, the old military road that links the current capital, Mahon, with the former capital, Ciutadella, shows you the fields and dry stone walls the island is famous for.
It's a must to drive up to El Toro, the tallest hill of the island, 900ft high to the Sanctuary of the Verge del Toro from where you get a fantastic view of the island. It's quite an experience to watch the sunrise on the east coast and know you are the first person in Spain on that day to see it!
You can even get a short ferry ride to Mallorca to explore that fascinating island too.
If you are intrigued by the Moorish side of Spain then why not take a round trip from Madrid down to Andalucia? Stop off via Granada and The Alhambra, Ronda with the huge gorge and incredible bridge that divides the city into two parts and then on to Seville and Córdoba.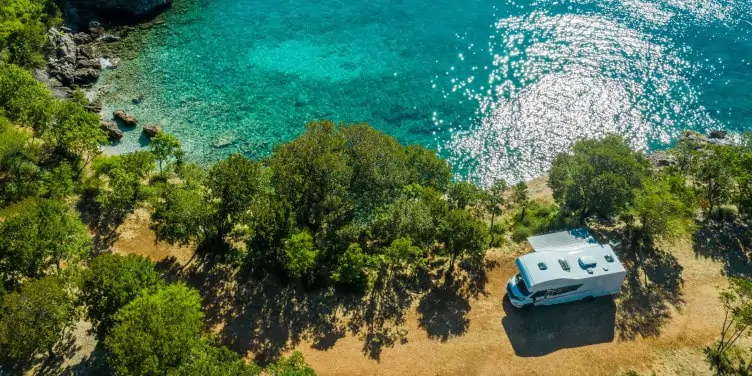 Of all the self-drive related adventurous holidays you can take in Spain, the greatest has to be using a motor home to really explore.
What could be nicer than to buy your food at local markets or harbours, then parking up and spending the night on a beach? Or perhaps on a cliff top in the Sierra de Gredos mountain range in central Spain or the Anaga Mountains that occupy a large section of the northeast of Tenerife. Heaven!
Looking for more inspiration? Check out our top 7 adventure holidays to take worldwide at any age. And don't forget to take out a travel insurance policy before you set off, making sure the activities you want to take part in can be covered.