As demand for sustainable travel grows, cycling is a great way of minimising your carbon footprint while exploring.
Integrated into city breaks, cycling brings opportunities to cover distances while sight-seeing. Guided bicycle tours introduce places of interest and bring opportunities to meet fellow travellers. Beyond that, cycling can just be good, simple fun.
Hiring a bicycle at your destination saves the hassle of transporting your own. If you're not sure you have the stamina to spend a day cycling, you can always save your legs and hire yourself an e-bike to zip around on.
Here's a look at five of the most bike friendly cities in Europe: 

Cycling in bike-friendly Munich
Central Munich is relatively flat, one of the key characteristics of cycle friendly cities, and offers plenty to do and see. 
Bicycles are available for hire from Munich Central Station, meaning it's possible to mount-up straight after stepping off the train. The well-developed network of cycle lanes in Bavaria's state capital makes it easy to pedal between points of interest. 
Locals take pride in explaining that the Englischer Garten, Munich's public park, is larger than New York's Central Park. The park is bike-friendly and landmarks are connected by cycle lanes. They include the temple-like Monopteros and wooden Chinese Tower, a multi-level pagoda within a popular beer garden.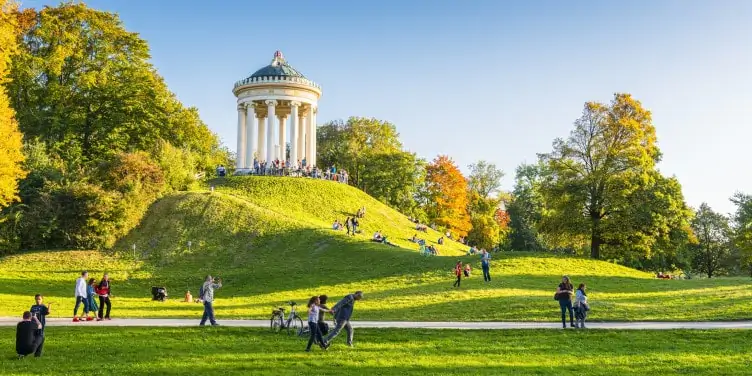 Packed with information delivered in an entertaining way, guided bike tours are an easy-paced way of getting to know the city. Highlights often include the grand former Residence of Bavaria's rulers and the Neogothic New Town Hall. 
The municipal building's chiming clock tower in the city centre draws crowds to Marienplatz to watch 32 animated figures jousting and dancing, reenacting two key events in the city's history. Gather around the Glockenspiel to watch the show at 11am, 12 midday (and 5pm during summer months).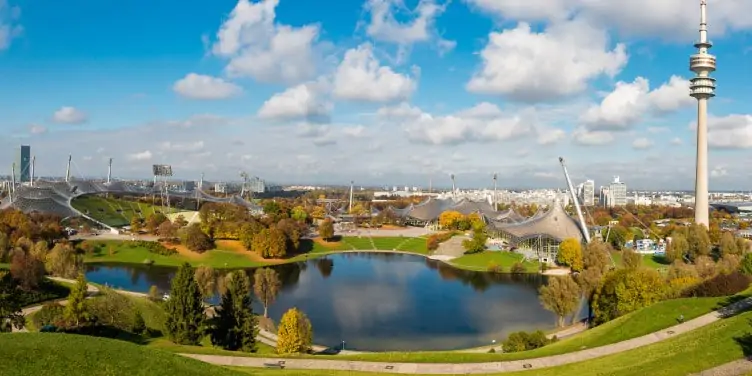 Nymphenburg Palace is an elegant summer residence set within parkland, a 30-minute ride from the city centre. The Olympic Park, landscaped to host the 1972 Summer Games, is just six kilometres from Marienplatz. Munich Zoo is also a pleasant, 20-minute ride along the banks of the River Isar.
Europe's most cycle-friendly city
Famously, the Netherlands counts among the world's most bike-friendly countries. If you're a first-time visitor to Amsterdam, remember to look both ways before stepping into cobbled cycle lanes! They often clank and rattle with masses of bicycles. Cyclists have the right of way over pedestrians and it's common courtesy to let them pass before crossing lanes.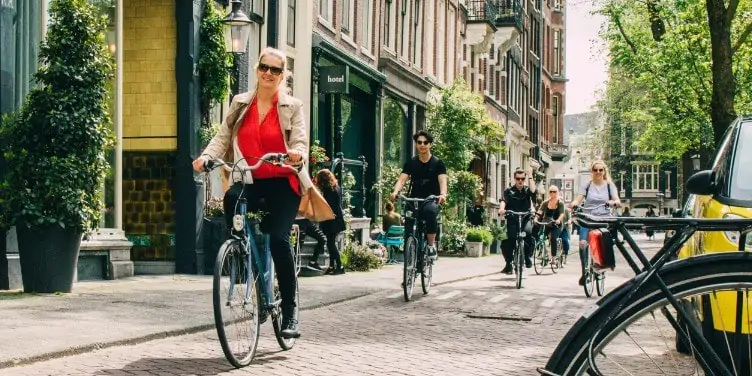 A little over two hour's train ride from Amsterdam, you'll find yourself in Groningen, whose cycle routes are a great way to explore. Groningen's St Joseph Cathedral was designed by Pierre Cuypers, the architect who designed the capital city's central station and the popular Rijksmuseum – don't forget to explore the bike path running underneath
Bicycles are available to hire from street side locations in Groningen's city centre and across the Netherlands. A days' rental costs less than £5.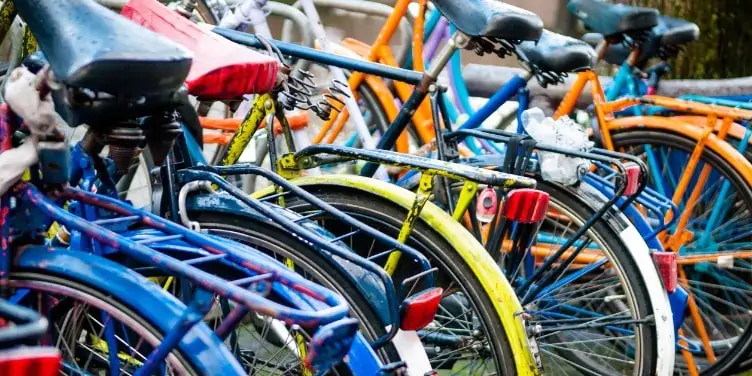 Guided cycling tours are a way of getting your bearings in Groningen. Highlights include Prinsentuin garden and nearby Martinikerk. Afterwards, climb the 260-steps of the spiral staircase in the mediaeval tower for stunning panoramic views over the city. 
Reitdiep Marina is a flat and easy 15 minute ride from the city centre. From there you follow the waterway through the countryside. Here you'll find colourful architecture and impressive yachts floating peacefully on the water.
Exploring Copenhagen by bike
The townhouses overlooking the Nynhaven canal in central Copenhagen make it one of Europe's most photographed streets. The oldest of the many colourful properties dates from the late-17th century.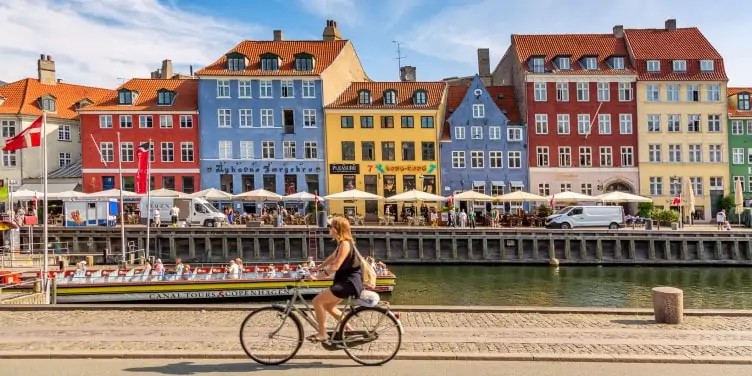 From there, it's an easy 10-minute cycle ride to the promenade at Langelinie, where you'lll find the bronze statue of Andersen's The Little Mermaid. Though Edvard Eriksen's sculpture has been said to underwhelm many visitors, the waterfront area is well worth seeing for its relaxed atmosphere.
Most of Copenhagen's commuters use bicycles to get about and a scattering of cycle hire shops across the city makes it easy for visitors to join them. As the city has been designed with the needs of cyclists in mind, the Danish capital feels reassuringly safe and is possibly one the most bike-friendly cities in the world. 
That said, no matter where you are, it's important to stay alert for traffic and other potential dangers when combining cycling and sightseeing.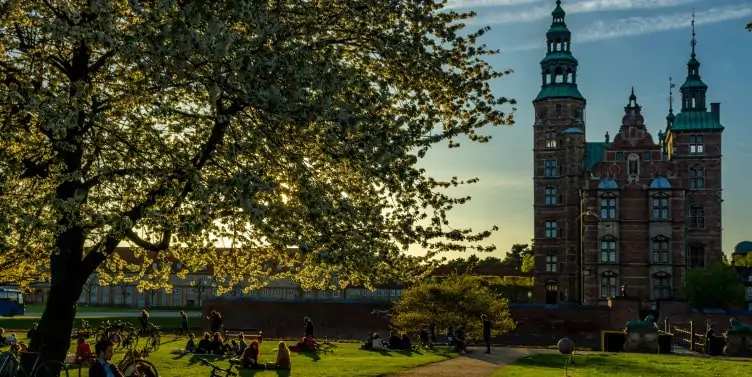 If you'd like to witness the Danish crown jewels, take a ride to nearby Rosenborg Castle in the heart of the city. 
Further away lies Frederiksborg Castle, the former royal palace that is today home to Denmark's Museum of National History. If a two hour bike-ride isn't for you, you can head there by train (with your bike) to enjoy the lakeside views.
Half-day guided contemporary architecture tours point out some of the city's boldest modern designs, including state-of-the-art student housing and the Royal Danish Opera House.
Porto, an underrated destination for cycling holidays
On a continent dotted with so many bike friendly cities, Portugal is often overlooked as a destination for cycling holidays. Yet the country's warm, sunny climate makes it a rewarding European city to explore by bike.
Central Porto has more than 50 kilometres of cycle paths. Three-hour guided tours on e-bikes are a fun way to see its key attractions, including the grand premises of Palacio da Bolsa and the vibrant Ribeiro district, which looks onto the River Douro. 
Port wine is blended and aged across the arching Dom Luis I Bridge in neighbouring Vila Nova de Gaia. The steep, cobbled streets rising from the riverside can prove challenging on a bicycle but they're worth climbing to visit the port houses.
Hiring a bicycle or e-bike is a great way of getting to the impressive Serralves Museum of Contemporary Art. From there continue to Portugal's largest urban park, the Parque da Cidade do Porto, before relaxing on one of the beaches lapped by the Atlantic.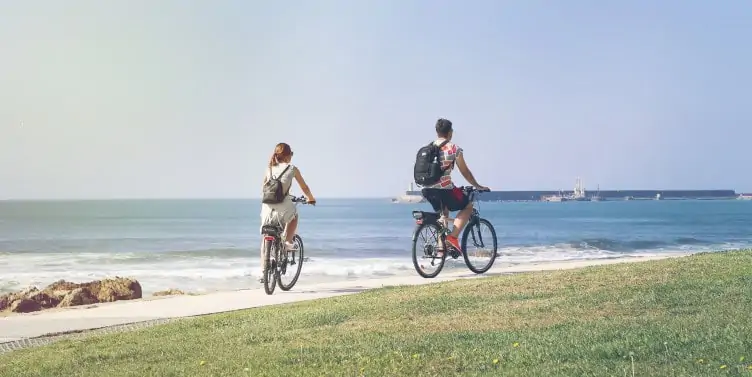 South of the Douro's mouth you have the option of joining the Atlantic Coast Route long-distance cycle path, otherwise known as Euro Velo 1. The route continues through Lisbon on its way to Sagrés and following it is ideal for a multi-day cycling holiday. 
Immediately south of Porto, cycle routes lead you to some of the region's most beautiful beaches, including Praia da Magdalenajust 14 kilometres from the city centre.
Leuven, Belgium's bike-friendly university city
Belgium is renowned for being home to some of the most bike-friendly countries in Europe. Among them is the city of Leuven in Flanders. 
With colleges throughout the city, the KU Leuven traces its roots back to 1425. Unsurprisingly, many of the university's students and teaching staff still use bicycles to get around.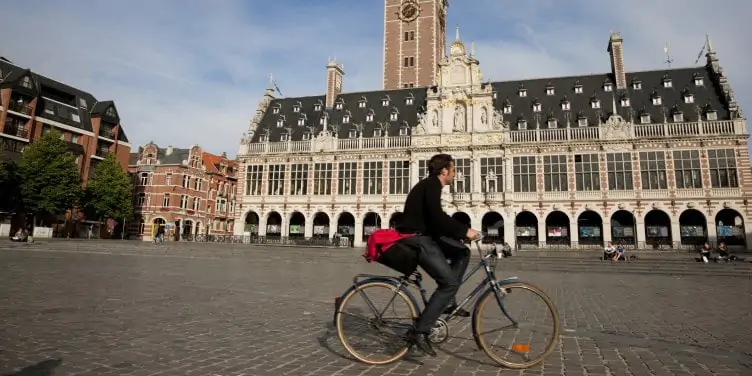 Offering spectacular views over Leuven's rooftops, the tower of the University Library is a great place to find your bearings.
Park Abbey, a stunning 12th-century heritage site, is just a 10-minute ride south of the city centre. While heading that way, it's worth calling at the UNESCO-designated Great Beguinage, a historic gated community with the feel of a city within the city. Built to house Christian women, it has cobbled streets and 17th century houses with religious sculptures above doorways.
Leuven Leisure rents out bicycles and e-bikes, and operates guided cycle tours. If you like the idea of visiting local breweries, join the tour that introduces Leuven's brewing heritage and takes you past the city's key sights.
Leuven's highlights include the mediaeval town hall, which is adorned by sculptures of 236 figures associated with the city, including the artist Dieric Bouts. His Altarpiece of the Holy Sacrament predates Leonardo Da Vinci's depiction of the last supper and is displayed in St Peter's Church.
Pack your travel insurance
Tempted by the idea of cycling your way through your next city break? Don't forget your travel insurance!
Read our policy documents for terms and conditions relating to sports and activities.