Christmas in Austria is a special experience. Much like its neighbouring Germany, Austria is world-famous for having rich festive traditions.
From glühwein and gingerbread to handmade ornaments and intricately decorated trees, it's hard to beat an authentic Austrian Christmas market.
Here you'll find some of our favourite cities in Austria for you to visit this Christmas.
Don't forget: To visit these Christmas markets, you'll usually need proof of Covid-19 vaccination, a past Covid-19 infection, or a negative Covid-19 test.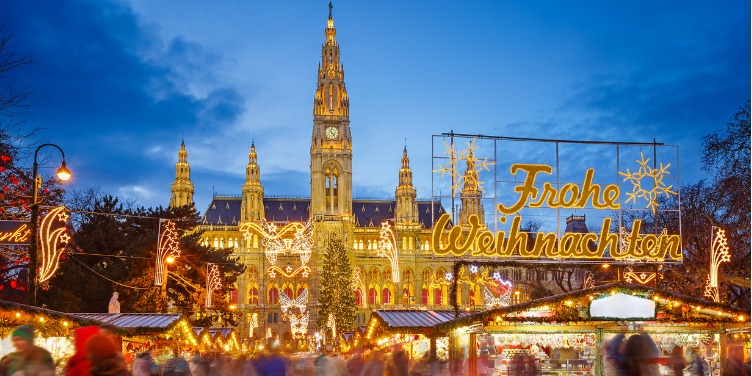 Vienna: History and handicrafts
The historic Vienna, capital of Austria and rich with artistic heritage, is the perfect place to browse the traditional market stalls at Christmas.
The 'Krippenmarkts' (December markets) have been held here since 1296, so they know a thing or two about Advent.
Viennese Dream Christmas Market (City Hall, Vienna)
In the foreground of Vienna's famous City Hall, the Viennese Dream Christmas Market is a highlight for its Christmas calibre and the uniqueness of its setting.
Highlights include craft-making for kids on the ground floor of the City Hall, and the international choirs that bring their sweet sounds to the 'Musical Centre of Europe'.
When: 12 November – 26 December 2021
The Christmas Village (Belvedere Palace)
One of Austria's most-revered spots come Christmas time, the Christmas Village set in the grounds of the Baroque Belvedere Palace is nothing short of a fairytale.
There are more than 40 stalls with festive food, drink, and handcrafted goods for you to enjoy.
When: 19 November – 26 December 2021
Art Advent (Karlsplatz)
On the grounds of the Karlskirche Church in Karlsplatz, Divina Art play host to Art Advent, an alternative, unique, and artisan take on a Christmas market in an historic Christmas city.
There are no traders at Art Advent, instead, a board of judges hand-selects a range of high quality and diverse traders and artisans to set up stalls.
So whether you're after clothes, gifts, ceramics, jewellery, food, or just a truly original and authentic Christmas experience near Vienna, this is the place for you.
When: 19 November – 23 December 2021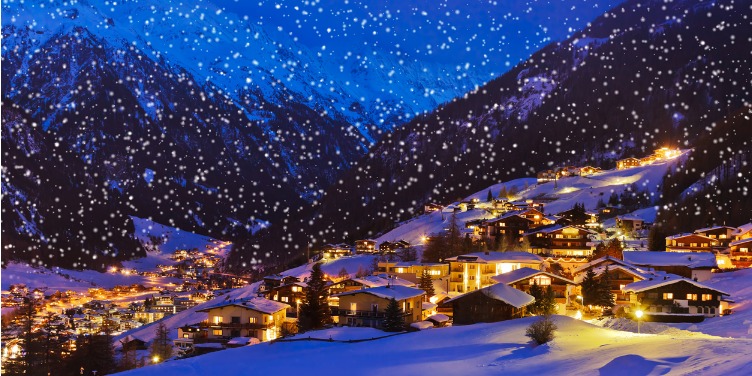 Innsbruck: Christmas in the Alps
The capital city of the Tyrol region, Innsbruck is home to some of the most beautiful Christmas markets in the alpine region – and a truly unique chance to experience Christmas from the heights of the Alps.
Old Town Christmas Market (city centre)
Surrounded by the medieval facades and signposted by the 14m tall Christmas tree in front of the Golden Roof, the Old Town Christmas Market is a traditional offering in a serene setting.
When: 15 November – 23 December 2021
Panorama Christmas Market (Hungerburg)
To reach the aptly named Panorama Christmas Market, you must take the funicular railway line to the top of Hungerburg Hill. Here you'll find breathtaking views of Innsbruck, mountain snow, and culinary delights, and the unique experience of Christmas at the height of the Alps.
It's also absolutely worth timing your trip to experience the atmospheric music programme, which takes place every Sunday evening during the market.
When: 27 November – 23 December 2021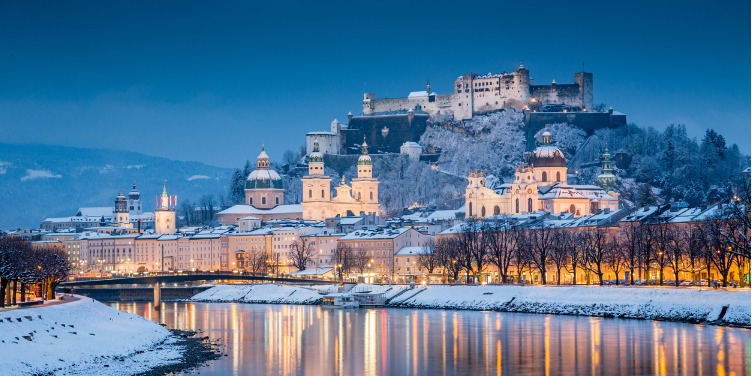 Salzburg: Music and romance
One of the most romantic cities to spend Christmas in Austria is picturesque Salzburg, with its pretty skyline of domes and towers and the renowned Salzburg Advent Singing.
Salzburg Christmas Market (city centre)
Another historic one, the Salzburg Christmas Market dates back as far as the 15th century. Located at the foot of the imposing Hohensalzburg fortress and the stunning Cathedral of Salzburg is a rich schedule of festivities.
Choir singing echoes around the walls of two of the city's icons, nativity exhibits tell the traditional Christmas story, and of course, there are all the usual stalls for your perusing pleasure!
When: 18 November – 26 December 2021
Advent Magic (Hellbrunn Palace)
For a Christmas filled with romantic lighting, tempting treats, and an oversized Advent calendar, Advent Magic (part of the Hellbrunner Adventzauber) at Hellbrunn Palace is the place to be.
Nestled in the charming courtyard setting of the palace is a truly intimate Christmas market, complete with reindeer-drawn sledge rides for all to enjoy.
When: 18 November – 24 December 2021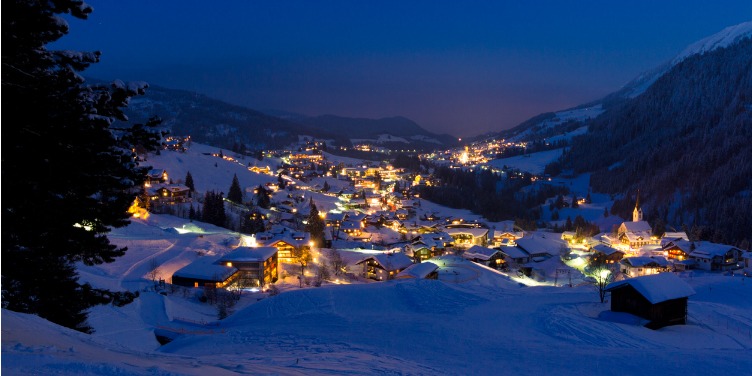 Feldkirch: Away from the tourists
Tucked away next to Lake Constance in the western region of Vorarlberg, where Austria meets Germany, Switzerland and Lichtenstein, is an Austrian Christmas market without the raft of tourists you might expect.
Feldkirch Christmas Market (city centre)
In this small, medieval town, you'll find Feldkirch Christmas Market, of the prettiest Weihnachtsmarkts in Austria. There's a stronger focus on sentiment than sales when you visit the stalls lined along the cobbled streets of the listed city centre.
It's a little less touristy than other places but still only a stone's throw from the Alps and Lake Constance, plus the Marktgasse is particularly photogenic at Christmas time.
When: 26 November – 24 December 2021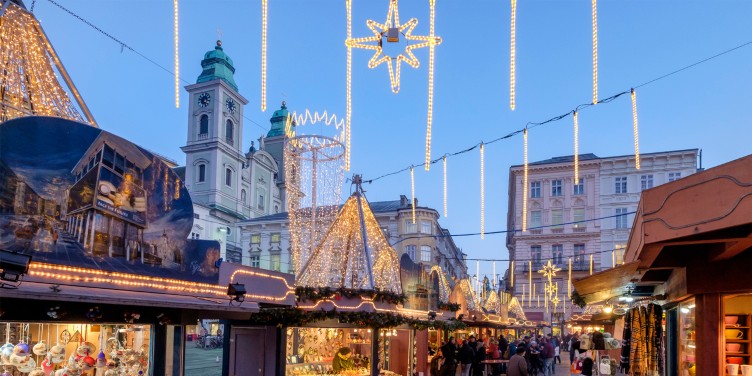 Linz: Indulge your sweet tooth
Naturally, the home of the famous Linzer Torte is a must-see for the majority of us who see the highlight of any Christmas market as the food.
It's not just about a spiced jam tart from the Baroque period either. There's local gingerbread, the Linz Cookie Market, and the Josef Linz Restaurant to visit, with all of the usual Christmas market mainstay mixed in for good measure.
Christmas Market (main square)
The Christmas Market in the main square of Linz is a uniquely Baroque paradise. There are endearing handicrafts, hot punch, and all of the delightful delicacies we've already come to associate with Linz.
When: 20 November – 24 December 2021
Christmas Market (Volksgarten)
The Christmas Market in the Volksgarten is a traditional, family-focused affair, famous for its fairytale figures that children (and adults!) are always happy to see.
There's a wide range of gifts and delicacies available from the festive stalls, as you'd expect, and it's great fun for all the family.
When: 20 November – 24 December 2021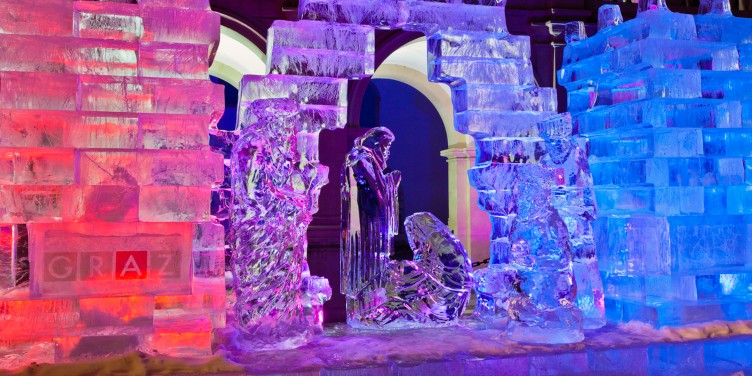 Graz: Fire and ice
The Styrian capital in southern Austria does Christmas a little differently. You can find the Giant Rathaus Advent calendar and you can also find a truly one-off nativity scene carved from ice.
Advent Market (City Hall)
For a fantastic, authentic Christmas market experience in Graz, you can't beat the Advent Market outside City Hall. They have all the stalls, crafts, and culinary treats you might expect.
Not only that, but you can enjoy the local festive tipple 'Feuerzangenbowle', which is a blend of wine and rum which is set on fire – there's no better way to warm your cockles on a frosty winter evening.
When: 19 November – 24 December 2021
Ice Nativity (Lanhaushof courtyard)
Not only are they masters of fire in Graz, they've got a pretty good handle on the ice as well. Perfectly placed in the Renaissance courtyard of Lanhaushof is the Ice Crib, a unique scene carved from crystal clear ice and one of the most impressive sights you'll see this time of year.
When: 27 November – 6 January 2021
Planning to travel to Europe for a white Christmas? Don't forget to have travel insurance in place to cover your next trip.