With its World Heritage architecture, rich history and delicious cuisine, Lisbon city breaks have always been popular with us Brits.
Lisbon holidays offer the added bonus of golden Atlantic sands and quiet countryside within reach of the city, not to mention the promise of up to 300 sunshine days a year… Is Lisbon worth visiting?
Here's why you should shortlist it.
You can travel like a local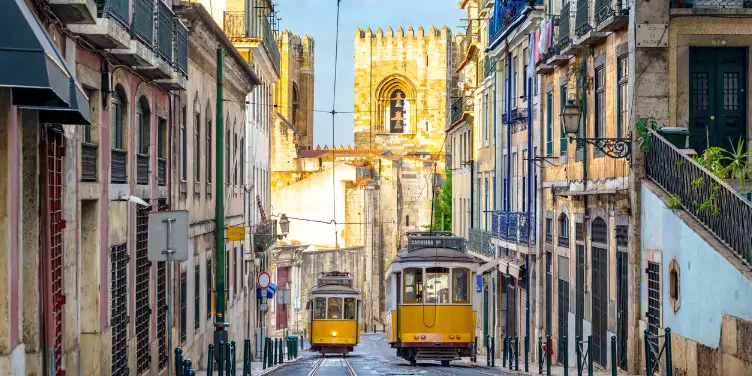 Lisbon is famously surrounded by seven hills, but you don't have to be super-fit to explore. The city centre itself is level and easily walkable. In fact, the culture is part of what makes Lisbon walkable, with the historic trams that let you travel like a local.
Eventually you'll want to head uphill, so thankfully this welcoming city has funiculars and elevators to whisk you seamlessly upwards.
The wrought-iron Elevador de Santa Justa, for instance, is a tourist attraction in its own right.
Designed by a Portuguese pupil of Gustav Eiffel, the famous landmark now links the low-level Baixa district to the hilltop Chiado and Bairro Alto districts.
If you've a head for heights, I also recommend taking the short spiral staircase to the roof of the elevator, 45 metres above street level, for circular views over the rooftops to the river Tagus.
Is Lisbon walkable?
It's easy to explore Lisbon on foot, but cobbled streets mean comfortable footwear is a must-have.
Driving around Lisbon can be tricky, with narrow streets and not much parking available. But there is plenty of public transport, so you can get around by tram, bus or even tuk-tuk.
Explore the soul of the city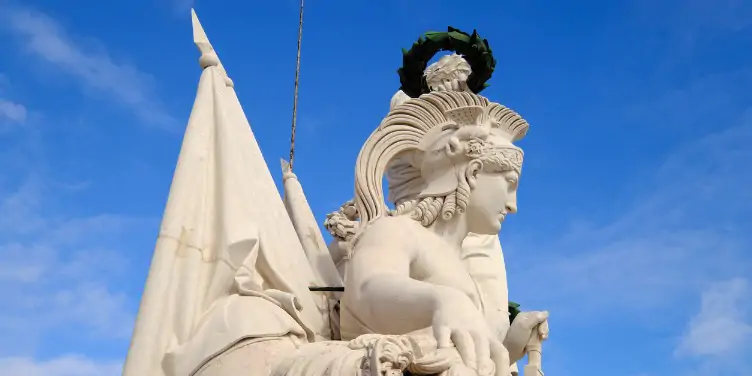 You can't explore Lisbon without finding yourself in the Praça do Comércio, a vast square that fronts the Tagus, or Tejo in Portuguese. This impressive city hub, redesigned by Marquis de Pompal, was created after the old city centre was flattened in 1755 by a major earthquake and tsunami.
Take the lift to the top of the Rua Augusta Arch at the back of Praça do Comércio to enjoy panoramic views over Pombaline Lisbon.
Before you set off exploring, I'd also recommend crossing the square to visit the multimedia Lisboa Story Centre beside the Tourist Information Office. It's an easy way to absorb the city's rich history and really helped me get a feel for this seafaring city and its people.
Discover how 16th century explorers like Vasco da Gama made the city prosperous and see how the city recovered after the earthquake.
Discover the cultural attractions
One of the best ways to soak up the cultural attractions is with a Lisboa Card. It includes entry to 37 attractions (museums and places of interest) and unlimited rides on local public transport.
The most visited museum in the city is the National Coach Museum, created in 1905 to preserve the collection of Royal vehicles that ranges from sedan chairs to carriages.
Other museums offer the chance to appreciate traditional Fado music, view fine art from across Europe, and discover the story of Portuguese aviation.
Don't miss my favourite, the National Tile Museum, which showcases Portugal's distinctive blue and white tiles inside a glorious Baroque monastery adorned with paintings, panelling and gilded wood. Gloriously over-the-top!
Wherever you wander in the city, you'll almost certainly see the Moorish castle towers of the hilltop Castelo de São Jorge, built in the 11th century.Bag a spot on its ramparts for a front row view of the sunset. Lisbon's City website also has many other ideas for high-level views.
If you're an art lover and enjoy visiting different art collections, then Calouste Gulbenkian Museum is one to add to the itinerary. This museum is also surrounded by one of Portugal's most emblematic modern gardens, perfect for an afternoon stroll.
Venture beyond the city centre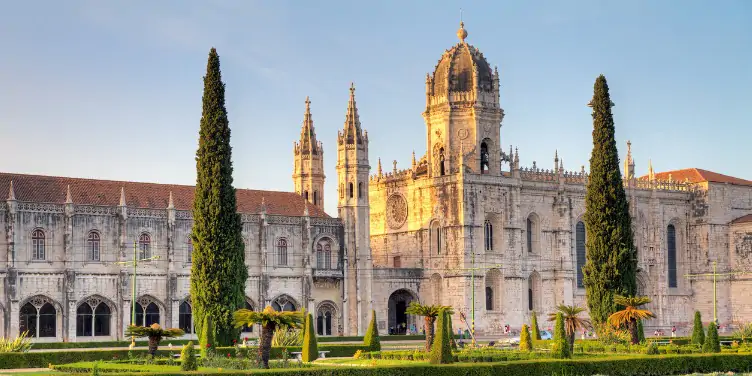 A 20-minute tram ride from the city centre, Belem is a must-see, home to the Jerónimos Monastery.
Set back from the Tagus behind landscaped public gardens, this fabulous 16th century building carries UNESCO World Heritage Site status and is the last resting place of explorer Vasco da Gama.
And don't miss the nearby Padrão dos Descobrimentos – the Monument to the Discoveries – shaped like the prow of a ship on the bank of the Tagus, nor the Belem Tower, an instantly recognisable symbol of the city built as a defensive tower in the 16th century.
Relax by the beach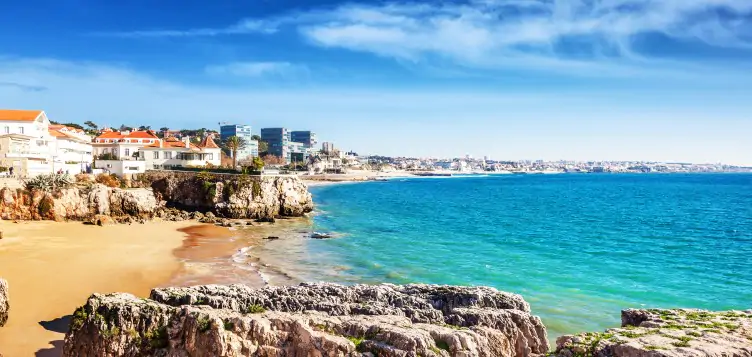 A day at the beach perhaps? Estoril and Cascais are the best-known beaches, but there are many other sandy spots to choose from.
A favourite of mine has to be the Praia da Conceição, surrounded by stunning scenery! With calm waters, lifeguards and a restaurant, this beach is one to add to the itinerary.
If you prefer a quiet beach, 'unknown' by tourists then Praia da Adraga, is a beautiful alternative. It's about 30 minutes north of the centre of Lisbon and is perfect for an afternoon of relaxation and swimming.
Indulge in local cuisine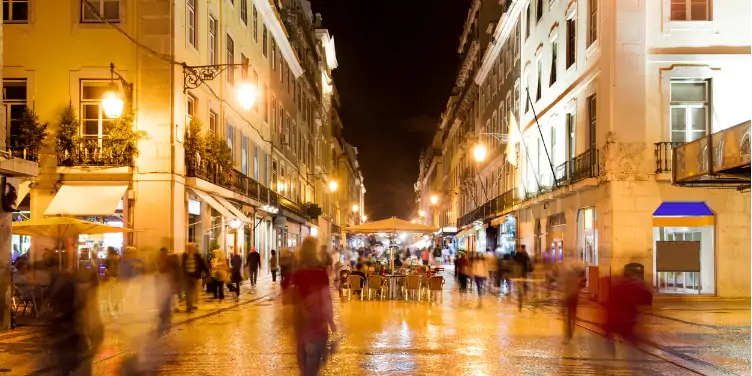 What could be nicer than relaxing on a sun-drenched terrace over delicious Portuguese food and drink? Just be aware that the bread, olives and cheese put on the table aren't on the house, so say if you don't want them!
Salted codfish, or 'bacalhau', has been a local delicacy for centuries. Grilled sardines are another favourite dish. For dessert – or simply as a snack with coffee – try authentic Pastel de Nata custard tarts, best served hot and sprinkled with cinnamon. The original bakery is in Belem, but they're served all over the city.
And to drink, a glass of excellent local wine. The Lisbon area is fast becoming one of Portugal's most exciting wine regions thanks to its new blends of traditional grape varieties.
Look out for the sweet Setúbal muscatel, smooth reds from Palmela, and light fruity whites from Bucelas.
Best places to eat in Lisbon
For atmospheric eating, try the huge Mercado da Ribeira in the waterfront Cais do Sodré district. It's a huge food market with food stalls and pop-up restaurants. Just perfect for lunch.
For dinner, head to the Docas de Santo Amaro beneath the 25 de Abril Bridge, where former warehouses around the marina have been transformed into restaurants and bars with outdoor terraces.
If fine dining is more up your street, then 2-Michelin star contemporary restaurant Alma is a must-visit, just remember to book in advance.
The heart of the city, the hilly Bairro Alto district, comes alive at night with a wide choice of bars and restaurants – a great place to relax and relive your day in the Portuguese capital!
If that hasn't encouraged a weekend stay in Lisbon, then here are 7 more city breaks we love for being easy on the wallet.
Plus, don't forget to pack your European travel insurance.