Imagine sitting on a long, low deck, watching the world as you glide effortlessly along a tranquil river. On either side, picturesque villages, peaceful countryside, and medieval European cities pass you by. 
Travel doesn't come much slower than a river cruise. This is one of the most relaxing ways to explore Europe, and there are a bunch of options to choose from. Here's the low down on some of the best European river cruises.
The Danube River Cruise
Best for: Stunning architecture and historic sights
Flowing from Germany through eight countries including Austria and Serbia, the Danube passes some of Europe's prettiest cities. 
There's medieval Regensburg in Germany, Vienna in Austria, and Budapest in Hungary – one of the most popular stops on a European river cruise. If you have time, keep sailing into Serbia, where the beautiful city of Belgrade is an off-the beaten path gem filled with gorgeous buildings. Most are white, giving the Serbian capital its name, which translates as "White City". It's no wonder Serbia river cruises are so popular!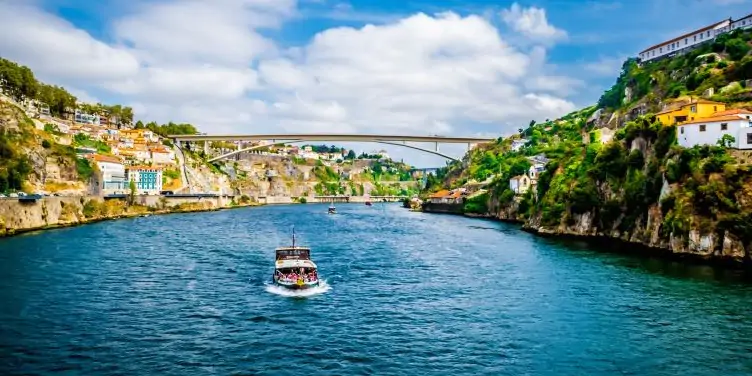 Douro River Cruise
Best for: Great wine and pretty scenery
Think of Portugal and you probably think of beaches, but a river cruise along the Douro could take you into the heart of the country.  In Porto, with its crooked streets and famous wine scene, you'll pass beneath the fabulous viaducts of the Dom Luis, the Maria Pia and Arrabida bridges. Following the river east leads into the picturesque vineyards of the Regua Valley and to the pretty town of Pinhao. Vineyards aplenty, rocky cliffs, and sweeping vistas make this one of the prettiest rivers for cruising in Europe.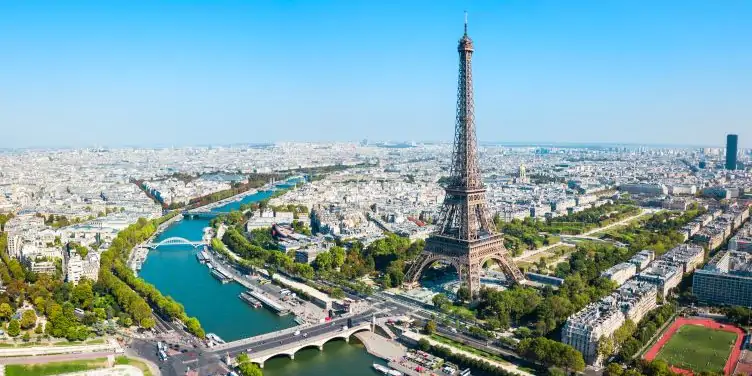 Seine River Cruise
Best for: Fascinating history and Monet's gardens
The Seine is France's longest navigable river. Starting in Burgundy, the Seine flows out of the Côte d'Or region through Paris and across Normandy. 
A cruise here is ideal for history lovers. At Vernon, you can visit the gardens of Giverny which inspired Monet. In Les Andelys, you'll discover the historical Chateau-Gaillard, built by Richard the Lionheart when the country was ruled by England. And the final stop is normally Rouen, the city where Joan of Arc was burnt at the stake. This last stop is also a good base for visiting the nearby Normandy beaches, famous for the D-Day landings of the second world war.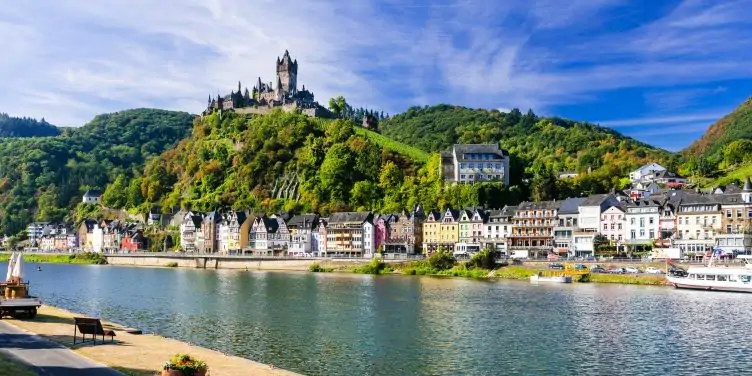 Rhine River Cruise
Best for: Fairytale castles and epic landscapes
Beginning in the Swiss Alps, the Rhine passes through six countries before it empties out into the North Sea off the coast of the Netherlands. But it's the Middle Rhine in Germany which is perhaps the most famous section of this sweeping river.
A cruise here will take you through the Rhine Gorge, where the cliffs tower up to 130 metres above water level. In this valley are over 40 castles and fortresses to explore, most of which can be spotted from the river. This is definitely one of the best river cruises to discover Germany's rich and fascinating history.
What is the best month for a river cruise in Europe?
The summer months tend to be the peak season for European river cruises, the temperatures are warmer and the days are longer – meaning more time to explore! The evening temperature is also fairly mild.
Do bear in mind that August is traditionally a European holiday month, so expect a few crowds!
September is a great month to head on your European river cruise as the weather is likely to still be warm. There'll be less crowding too, so plenty of chances to take some great snaps!
How much is a river cruise in Europe?
Prices for European river cruises can range anywhere between £225 per person, per night, right up to £1,345 for a totally luxurious, all-inclusive trip. 
You'll find more affordable European cruises if you look for seven nights on the Rhine or Danube river, while prices tend to rise if you're cruising in France.
If you're happy to embrace the chillier weather, then Christmas market cruises are usually priced lower than any other time of the year.
Which side of the ship is better on a river cruise?
Wherever you venture on your cruise through Europe, a good view is a must! Luckily either side of the ship will give you spectacular sights, so it all depends on whether you want to be port or river side at night time.
Both sides can have pro's and con's but remember, if you go with river-side you're not guaranteed scenic views. You may be looking on to another ship!
Travel insurance for river cruises
If you have a cruise booked or you're looking to get a date planned in the diary for your next trip, don't forget to take out your specialist cruise travel insurance today.