There are so many wonderful Greek Islands to choose from. For our own trip, we dabbled with sticking to what we knew or trying somewhere different. After some to-ing and fro-ing, and plenty of research, we settled on beautiful Crete – the largest island, and the most southerly.

With just seven days to explore the island, here are my top five activities that I think are unmissable to help plan your next adventure!
1. Take a Land Rover Safari of Crete – The Minoan Route
Around 89€ per person
Explore the central mountainous part of Crete on this 8-hour guided tour. Our tour guide was knowledgeable, sharing insights into the myths, legends and history of Crete.
Away from the tourist resorts, we got to see the real Crete. Spectacular mountains, ancient Roman aqueducts and olive groves revealed themselves as we climbed the Minoan dirt tracks. Once we reached the top, the views of the Lassithi Plateau were spectacular!
2. Dikteon Cave tour
Around 6€ per person
Dikteon Cave is the believed birthplace of Zeus.  
Once inside the cave, there are five chambers to explore. The most impressive sight was the lake, found at the lowest point of the cave, surrounded by dramatic stalactites and stalagmites.
The walk up to the cave is quite steep and can get slippery, so sturdy footwear is a must. The paths can also be a little rocky in places with a lot of steps down to the chamber, making them tricky to navigate depending on your ability. 
It can get a little chilly underground too, so I'd recommend taking something warm to wear.
The tour also stopped in the picturesque village of Kastamonista, where you join the locals for raki olive oil tasting (Crete's main export), and fresh homemade cheese. A traditional BBQ lunch was included, along with a few glasses of wine!
3. Explore the island of Spinalonga
Around 50€ per person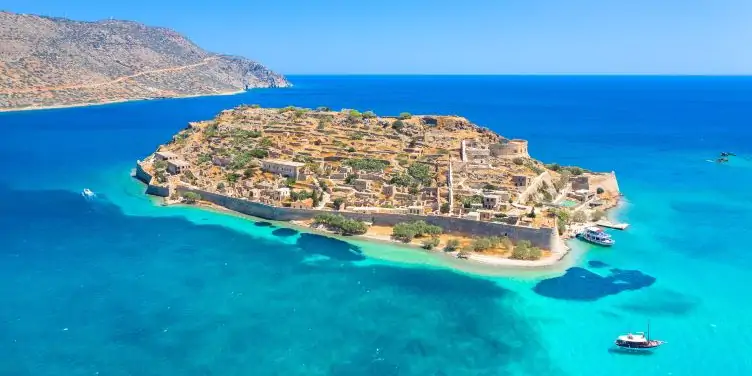 From the coastal city of Agios Nikolaos, board a ship for a guided cruise to some of the smaller islands in the Gulf of Elounda.
First stop is the uninhabited fortress island of Spinalonga, also known as the Island of the Lepers. This is where leprosy patients from all across Greece lived until 1957.
We took a guided tour of Spinalonga and had some free time to explore the 16th-century Venetian fortress on the island (entrance fee is 8€ per person).
The cruise continued to the Bay of Kolokytha for a swim stop in the beautiful turquoise waters, followed by lunch on board.  
Once we got back to Agios Nikolaos, we had around two hours to explore the lovely harbour town. There's fabulous shopping streets, including shops with traditional Cretan jewellery and local produce, and a small lake with waterfront bars and cafés.
4. Experience sunset from a yacht
70€ per person
One of the best ways to see Crete is from the sea. We chose to book a yacht with a maximum capacity of 10 people, so it felt like a private charter!
We thoroughly enjoyed the four hour sailing experience along the Gulf of Malia. We had two swim stops, where the crew supplied masks, snorkels, and floats for the less confident swimmers. Lunch was also given, including wine.

We loved it so much that we booked the exact same cruise in the evening so we could enjoy the incredible sunset!
5. Discover Malia Old Town
Taxi 15€ each way from Sissi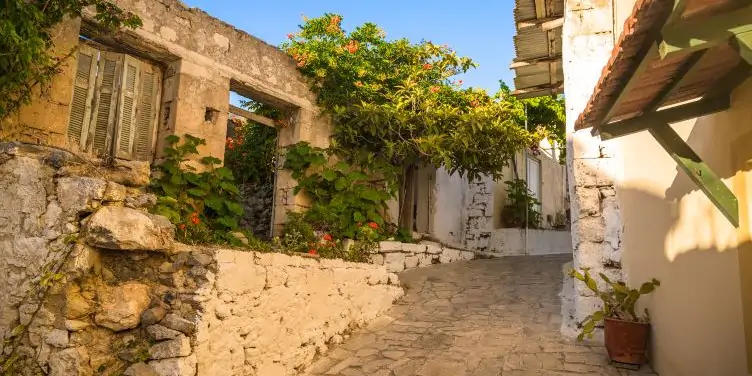 Most people know Malia for its party scene, but thankfully the rowdy bars are confined to the 'Malie Mile'. There's a charming old town to explore for the non-party animals. 
This is a charming place to be, with an old quarter and a maze of streets filled with traditional houses and tavernas. We sheltered from the rain in a delightful little bar, and then headed to a local taverna for a late lunch – the food was incredible and only about 35€ for us both.
Making your next Crete adventure more affordable
With the rise in the cost of living, we wanted to keep in mind ways to make this an affordable – but no less enjoyable – adventure to Crete.
 Here are a few things that might help with your own Crete adventure:
Look out for special offers (you may need to be flexible on dates and destinations)

Avoid travelling in the school summer holidays and half terms

Research the cheapest days of the week to fly

Compare booking independently and with a tour operator/travel agent

Look at different types of accommodation (hotels to self-catering) to see what works out best for your budget and plans
Don't forget your travel insurance – it could save the stress of cancelled flights or injuries, if something does go wrong.
What is the best month to visit Crete?
If you're a sun-seeker looking to relax on the sandy beaches of Crete, then the best months to visit are June to August. You'll be met with average high temperatures of 28-29°C and minimal chance of rain.
If you're keen to explore, September and October are a little cooler, with the average temperature sitting between 20 and 24°C. January is quite a bit chillier, the temperature drops to around 11°C!
If you're trying to save some money, the cheapest months to fly to Crete are between October and April.
What is the nicest part of Crete to stay in?
Finding a place to stay in Crete can be overwhelming. The island is made up of so many fantastic areas it can be a tough choice!
For a classic Crete experience, Chania is a must. Its delightful old town, historic buildings, and choice of delicious restaurants all make for an exciting and authentic holiday.
If it's a short city break you're after, the lively port city of Heraklion could be for you. There's plenty of striking historic sites to see, and you can even join your own convoy in a 4×4 self-drive adventure!
For those wanting a romantic getaway, Rethymno offers old-world charm and a stunning 7-mile stretch of beach. Couples will fall in love with Kournas Lake and there's a chance to explore the magical waterfalls of Argyroupolis too.
Feeling inspired?
If you like the sound of a jam-packed itinerary, why not try an active holiday in Tenerife, or discover adventure in Spain!