Winter is a magical time of year, with snow-capped mountains, frozen lakes, and cosy fireplaces to enjoy. So, whether you're a seasoned skier or a first-time snowshoer, there are plenty of winter adventures to be had right on our doorstep in Europe.
Keep reading to discover five of our top picks for winter adventure.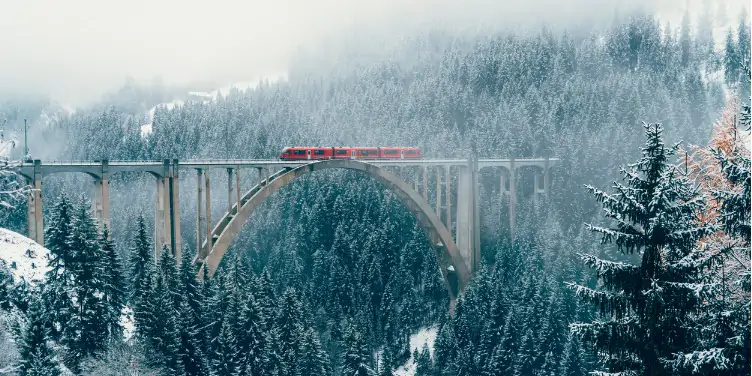 1. Swiss Alps
You can't really go wrong with a trip to the Swiss Alps; it has everything you could think of when dreaming of a winter adventure.
What to do
All of the best winter activities you can fit into your winter adventure to the Swiss Alps are just waiting for you.
You can hike to capture picturesque vistas of Matterhorn from above the clouds, which you might recognise from the logo of Toblerone chocolate.
If you're more of a thrill-seeker, of course, there is some world-class skiing and snow-shoeing in the Swiss Alps. St. Moritz is the standout for winter sports and has as classic a resort atmosphere as anywhere on the planet.
What to see
The best way to truly see all the Swiss Alps has to offer is with a trip on the Glacier Express. This once-in-a-lifetime train journey undulates through the breathtaking landscapes. On the way, you'll cross 291 bridges and travel past some of the most beautiful villages in Europe.
Truth is, no matter where you are in the Swiss Alps, you'll be greeted by more mountains, glaciers, lakes, and valleys than you can shake a stick at. You'll never be far away from seeing a view that stops you right in your tracks.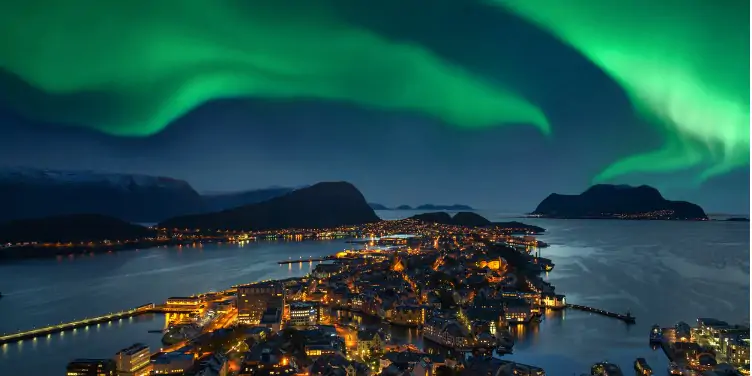 2. Norway
Home to a landscape that created a natural fortress in the Viking Age, Norway is an incredible choice for those seeking winter adventure.
What to do
You can, of course, enjoy plenty of skiing, snowshoeing, and even dog-sledging in Norway. But, you can also oggle at gracious wildlife, like by whale-watching in the Norwegian Sea.
If the conditions are right, the north of Norway is an ideal location to seek out the northern lights. That's a memory that will stick with you for a lifetime.
When it's time to slow things down, how about taking the Flåm Railway? One of the steepest in the world, here you can enjoy 20km of natural wonder and feats of engineering.
What to see
You can soak in all of the mountain-top views your heart desires, visit other-worldly geological phenomena like Magna Geopark, and stand in awe of turquoise fjords unfolding in front of you.
For more recent history, not formed over millions of years but the last few thousand, there are plenty of Viking sites in Norway where you can learn about a fascinating era.
Oslo, with its renowned Scandinavian cleanliness and innovation, is always worth the visit to enjoy the architecture, the culture, and the cuisine.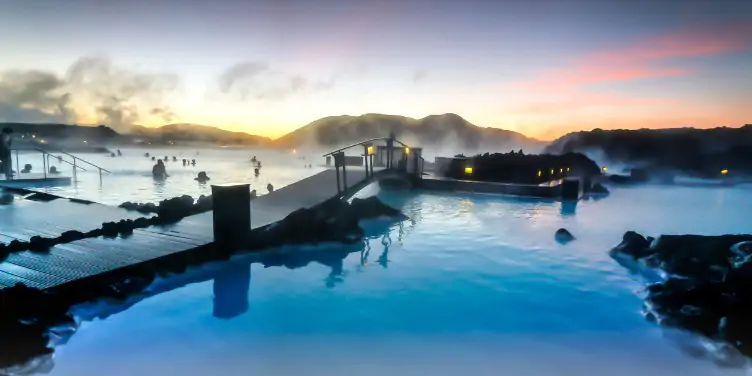 3. Iceland
Another one of the biggies, Iceland is home to endless natural wonders shaped by millions of years of volcanic activity, but it's also far more than that.
What to do
Exploring the natural landscape and wildlife of Iceland is one of the best activities to enjoy while you're there. Whether you decide to take a winter safari ride in the spectacular Snæfellsnes Peninsula or search for whales and puffins by the coast.
For one of the best hikes in the world, beloved by tourists and locals alike, Laugavegur traverses a diverse trail including rhyolite mountains, crystal-clear lakes, and a black sandy desert.
A trip to Iceland would, of course, not be complete without a visit to one of Iceland's many natural spas. Blue Lagoon is the most famous, but there are plenty of places to enjoy the geothermal seawater's relaxing and healing properties.
What to see
As you'll find out from all the information out there, or especially if you walk the Laugavegur hike yourself, there's plenty to see in Iceland.
Of course, the natural landscape is one of the most special in the world. From the volcanoes, to the national parks, to Dettifoss – the world's most powerful waterfall.
But there's a human side to Iceland that should not be ignored. The country is rife with Nordic history, such as Snorrastofa in Reykholt, and the capital, Reykjavik, is a cultural hub that's compact enough to explore in a day.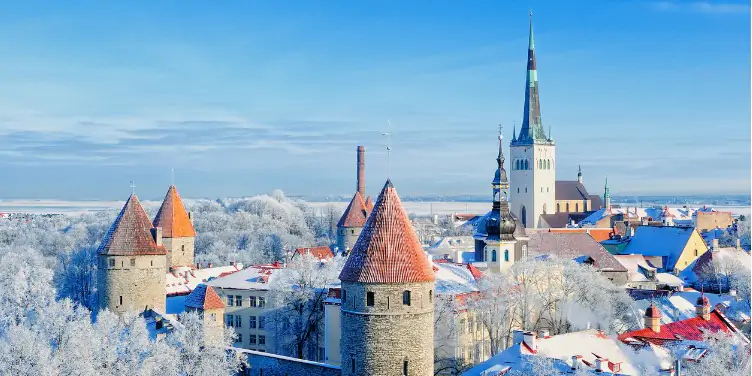 4. Tallinn, Estonia
Winter adventure isn't always all about high-octane activities and exploring the natural beauty of cold countries, although that is nice.
Tallinn, Estonia is the perfect example that magic can be found in a wintry city break as well.
What to do
Tallinn is a fantastic city, full of culture and history to soak up, and it's the perfect place for a winter city break. It might be cold but there are plenty of ways for you to warm up.
After you spend the day exploring the city, there's no better way to warm back up than by visiting a traditional smoke sauna. The hearty food, wine, and local beer are also sure to be welcome in the bracing weather.
Sightseeing is an activity in itself in Tallinn, especially in the Old Town. Kohtuotsa viewing platform gives a perfect panorama over the snow-covered fairytale scenery. After that, head to Harju Street for the famous icerink set in historic surroundings.
What to see
Tallinn Old Town is absolutely a must-see when visiting Estonia. It's one of the best-preserved Hanseatic town centres in the world, and a UNESCO World Heritage Site. The city is filled with unique historic landmarks, such as the Town Hall and St. Alexander Nevsky Cathedral.
To delve deeper into the history of the country, visit Estonian Open Air Museum, where you can learn all about the rural lifestyle from times gone by.
For some natural beauty in Estonia, the nearby wilderness is awe-inspiring. The land is fairly flat, but the small-but-mighty Jägala Waterfall is a brilliant sight in the winter as the water forms icicles from the top.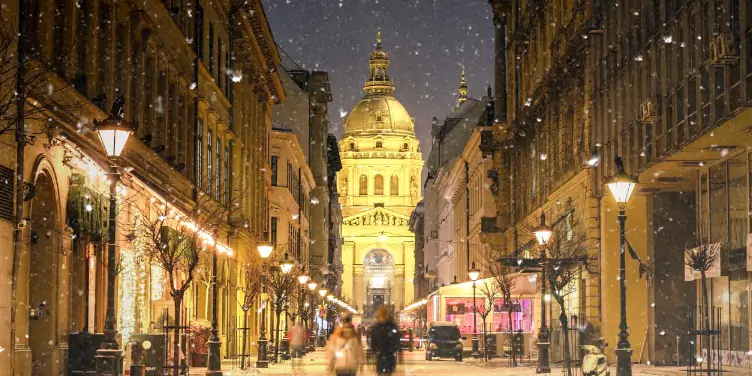 5. Budapest, Hungary
Budapest, much like Tallinn, is the perfect place to be for a magical city break in the depths of winter. The weather will see the historic streets speckled with snow, but the fun you have and the culture you will feel are sure to warm things up.
What to do
Budapest comes alive in the winter months, and it feels like all the best things to do here are a reflection of that.
Hungary is a country steeped in history, culture, and tradition, which you can learn in some of the over 100 museums in the capital.
There are also few better ways to learn about a place than through its cuisine, which you can sample to warm up after a long day of cultural enrichment.
Then there's the world-famous City Park (Varosligeti) Ice Rink, nestled in front of Vajdahunyad Castle – you won't forget this one. Once you've worn yourself out on the ice, it's always a good idea to find out why they call this the 'city of spas'.
What to see
The city is lit up at night to accentuate that magic you feel, from the history to the architecture. Make sure to watch the Basilica Light Show and take a ride on the Christmas Light Tram if you get the chance.
Buda Castle and the neighbouring gardens, Várkert Bazár, are the crown in the 'Pearl of the Danube', and the river that runs through its centre is also well worth enjoying. You can cruise along it for a nice meal, or even take to the ice in certain sections.
Ruin Pubs are something you'll hear a lot about when researching/visiting Budapest – for good reason. They're a quirky chain that turns abandoned buildings into cosy and characterful pubs.
For more winter travel inspiration, here are some great places to travel in January 2023. 
Don't forget to pack your travel insurance
Decided to head for some winter adventure in Europe? Don't forget to pack your travel insurance.
It helps you make the most of your holidays, with the peace of mind that we'll be there if something goes wrong.
Cover limits apply.