It's been a long and difficult winter for so many of us, but as the UK's vaccination programme reaches new heights and government restrictions hopefully ease, thoughts inevitably turn to spring outings.
And where better to lift the spirits than a beautiful park or garden? Here's my 'lucky 13' of horticultural havens, a list that includes some personal favourites, and a few that are firmly on my wish list.
As always, be sure to check online before you travel. At the time of writing, some parks and gardens are only open to members and local visitors for exercise, but over the coming weeks, regulations should continue to relax.
And as indoor spaces open up to visitors again too, many of these beautiful gardens offer the added bonus of a stately home to visit with an on-site shop and café. And we all know that there are no calories in heritage cake!
Bodnant Gardens, Conwy
Home to National Collections and Champion Trees, Bodnant Gardens offers quiet corners and sweeping lawns, grand terraces, and tranquil woodland, all against a backdrop of Snowdonia's mountain peaks. Location for key scenes in the recent film The Secret Garden, Bodnant offers something special in every season, starting with the first daffodils of spring.
Brodsworth Hall and Gardens, South Yorkshire
Every week brings new spring colour to Brodsworth Hall and Gardens, Doncaster, restored to their Victorian splendour after years of neglect. The wildflower lawns and woodland floors are carpeted with daffodils, bluebells, and aconites, as well as more than 500,000 snowdrops. Watch out too for cyclamen, iris and primula adding seasonal colour to the Fern Dell.
The Lost Gardens of Heligan, Cornwall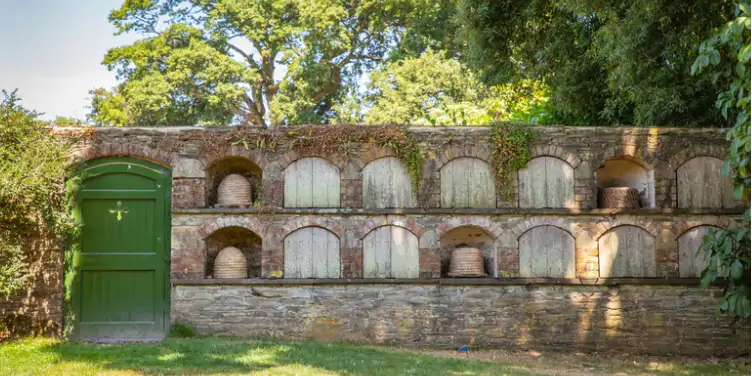 Overgrown and unloved for decades after its workforce was decimated by World War I, the Lost Gardens of Heligan is a magical 200-acre garden that was reawakened in 1990 to become Europe's largest garden restoration project. Explore the National Collection of camellias and rhododendrons, introduced to Heligan pre-1920, by following the self-guided trail that features highlights from the heritage collection.
Dawyck Botanic Garden, Peebles
Park of the Royal Botanic Garden Edinburgh, this 65-acre Dawyck Botanic Garden and arboretum in the Scottish Borders is renowned for its snowdrops and bluebells, followed by rhododendrons and azaleas. Enjoy woodland and burnside walks; follow themed tree trails; and discover the adventures of plant explorers. The garden is now a sanctuary for endangered plants.
Dunham Massey, Cheshire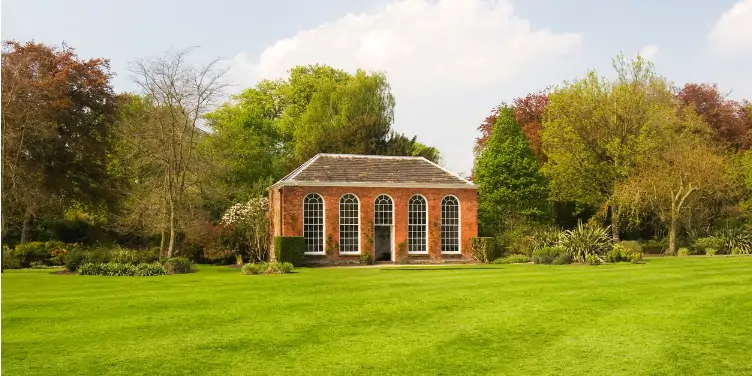 Within easy reach of Manchester, Dunham Massey is home to one of Britain's finest winter gardens that bursts into colour with the arrival of spring flowers. Here you can enjoy the gardens and over 300 acres of historic parkland with your dog, as long as it's on a short lead.
Wrest Park, Bedfordshire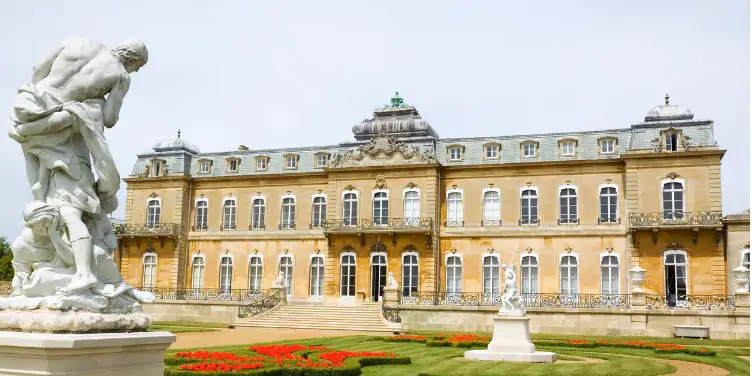 300 years of garden history are evident around the lake, landscaped park, and formal gardens of Wrest Park at Silsoe. Primroses bloom along the woodland paths and scented trees blossom in the woodland garden and pear orchard. There's blossom, too – in the Walled Garden and seasonal colour in the bedding schemes of the formal gardens. And don't miss the camellias in the sub-tropical conservatory.
Springhill, Londonderry
One of the prettiest houses to visit in Northern Ireland, Springhill belonged to the same family for 10 generations. After the glorious display of snowdrops, magnificent magnolias burst into bloom in a blaze of large pink and white flowers. The biggest talking point is always the tree beside the visitor reception that gives off a sweet scent like white chocolate!
Trentham Gardens, Staffordshire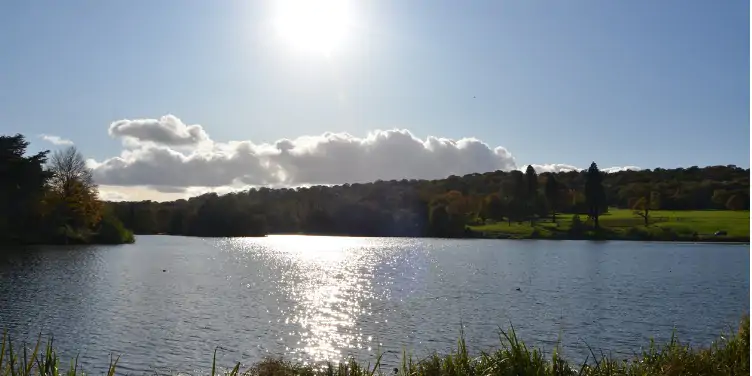 Capability Brown designed the mile-long lake at the centre of the award-winning Trentham Gardens, now restored to their 19th century glory. Enjoy the intricate Italian Garden, sensory Rivers of Grass, and some inspirational Show Gardens. The annual Spring Bulb Festival will this year feature thousands of extra bulbs including six new 'hanging basket' boat displays over the lake. Best time to see the bulbs in bloom is April-May but the festival will go virtual this year if necessary.
Kew Gardens, London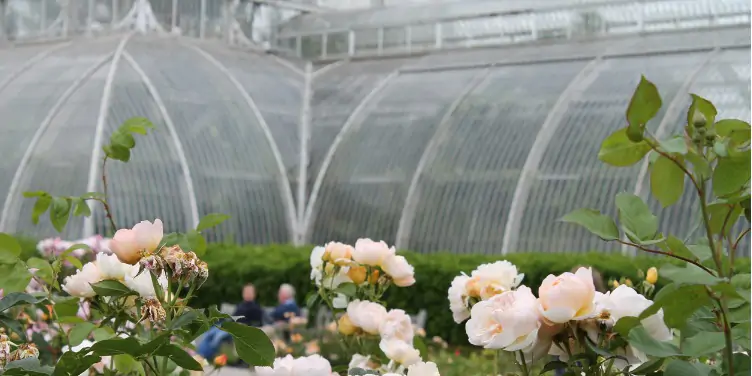 Here beside the Thames in Richmond, the magnificent Royal Botanic Gardens, Kew carry UNESCO World Heritage Site status. Take a cherry blossom walk from the Palm House to see more than 160 trees of 63 varieties. Watch for bees and butterflies amongst the bluebells in the Natural Area from April onwards, and enjoy more blossom and bulbs in the Woodland Garden.
Harlow Carr, North Yorkshire
Harlow Carr, a Royal Horticultural Garden in Harrogate, offers interest throughout the winter, but enters a new dimension in spring as 90,000 snowdrop bulbs bloom in the woodland and hellebores create a tapestry of colour. Evergreen trees in the Arboretum provide texture and colour until the first new leaves emerge along with early flowering shrubs. A fifth RHS garden opens at Bridgewater in Greater Manchester in May, joining Harlow Carr, Hyde Hall (Essex), Rosemoor (Devon), and Wisley (Surrey).
Stourhead, Wiltshire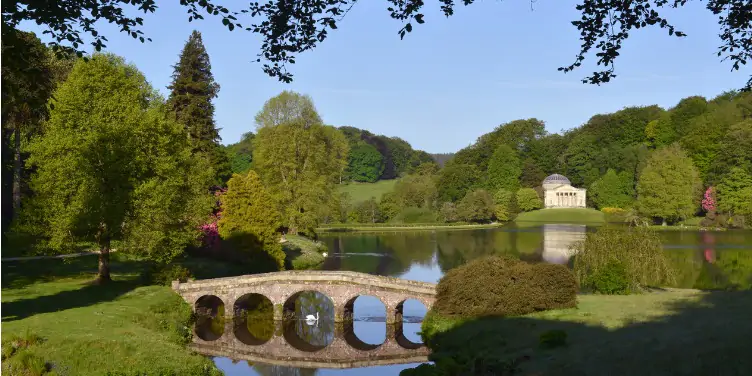 The centrepiece of Stourhead, a magnificent 18th century garden, is a lake reflecting the classical temples, mystical grottoes, and exotic trees along the water's edge. Late spring brings an unrivalled display of rhododendrons and azaleas, creating towering banks of vibrant colour along the woodland paths, so make sure your camera battery is fully charged before you arrive.
Osborne House, Isle of Wight
Once the family retreat of Queen Victoria, Prince Albert, and their children, Osborne House offers a riot of spring blooms, starting with a mass of daffodils in the arboretum and on the banks beside the Durbar lawns. Pockets of primroses spring up in the meadow around the Swiss Cottage – an Alpine-style playhouse for the royal children – and rhododendrons prolong the seasonal colour as spring morphs into early summer.
Belton House, Lincolnshire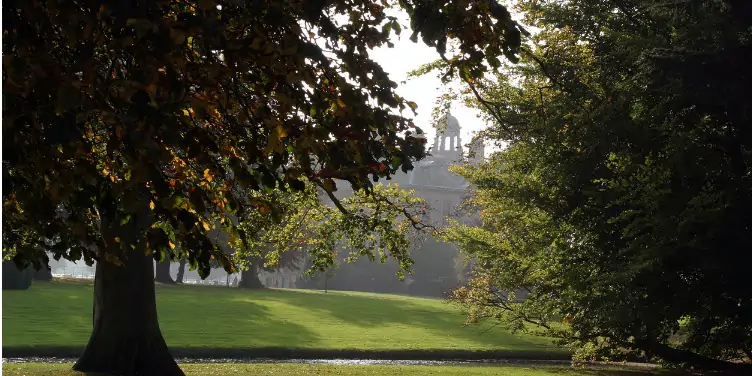 Spring bedding displays are a major feature of the 19th century Italian Garden at Belton House, often cited as the perfect example of an English country-house estate. In early spring, the Pleasure Grounds are carpeted in daffodils, pale yellow primroses, and delicate blue scilla that give way in May to bluebells interspersed with native wildflowers.