Some people don't know that Nepal isn't a part of India – in fact, they're very different. Nepal is a lot quieter and a lot less frenetic. In fact, the time zone in Nepal is 15 minutes ahead of India – a policy put in place by the government to make the point that it's a separate nation.
To many people, Nepal is synonymous with trekking the Himalayas, Gurkha soldiers, and the Yeti. But there's so much more to discover in the country with the densest concentration of World Heritage sites!
Here are four activities for you to enjoy the rich culture of Nepal if you want to plan your visit.
1. Explore the temples of Kathmandu
Kathmandu, Nepal's capital, is a fascinating, ancient city with the sprawling Hindu Pashupatinath Temple and the stunning Buddhist Boudhanath Stupa at its heart. Both of these UNESCO World Heritage sites are visited by tens of thousands each year.
The Pashupatinath Temple is a sacred landmark. Bulls languish on the path and the bridge and force you to take another route, and the smoke of ceremonial cremation fires drifts across the shrine. Local sadhus, holy men who have renounced their worldly life, can be recognised by their painted faces, saffron robes, and jata (dreadlocks).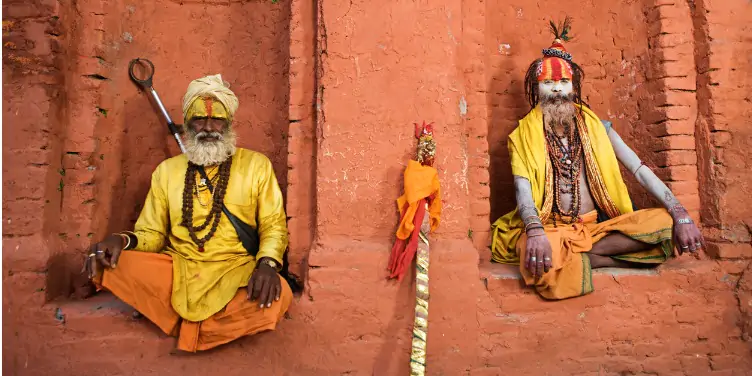 Sadhus don't have any material possessions and live off donations and leftovers, so keep in mind that they may ask for money if you take their picture.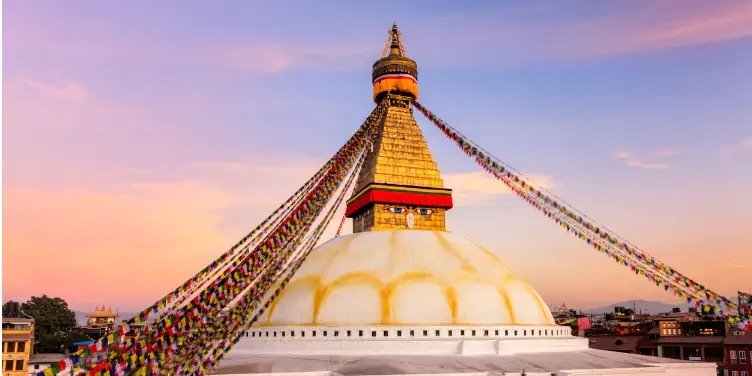 On the other hand, Boudhanath Stupa is a giant dome topped with a golden Buddhist pyramid and painted with all-seeing eyes on all four sides. Set upon large mandala-shaped stairs, the stupa is sacred for Buddhists and was built in the 14th century by Tibetan king Songsten Gampo. Surrounding the stupa are colourful houses, shops, restaurants, and street vendors.
Tibetan pilgrims perform morning and evening koras (ceremonial laps) around the monument, which was constructed with the elements that represent Buddha: earth (the plinth), water (the dome), fire (the square tower), air (the spire), the ether beyond space (the umbrella).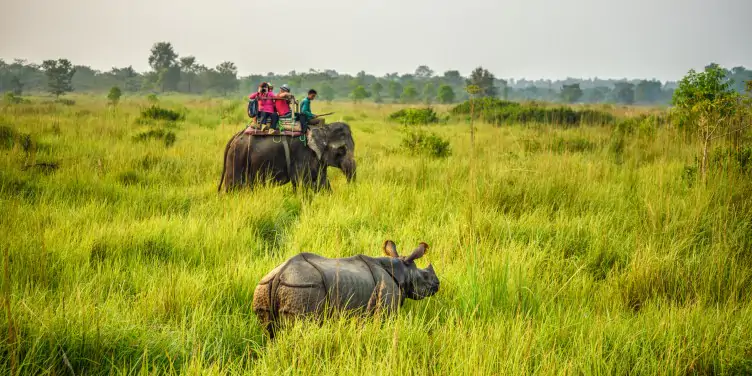 2. Elephant safari in Nepal's national park
After taking in the religious history of Nepal, you can take some time to appreciate the wildlife here.
I'm always a little apprehensive of safaris because of the mistreatment of animals in the tourist trade, but I'm happy to report the animals on my elephant safari in Nepal's national parks were treated with great care and respect.
Exploring the parks on elephant back is highly recommended because it meant we could get incredibly close to other wildlife, like the rhinos, as elephants are accepted by the other animals more than humans and Jeeps.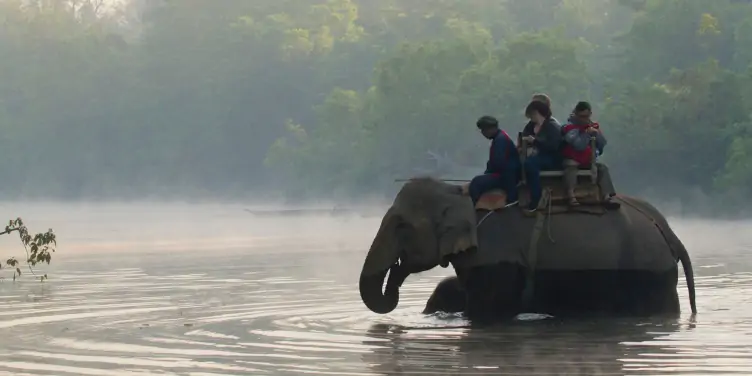 Elephants also have the benefit of being better suited to woodland, open heathland, and riverbanks that are inaccessible to cars and canoes.
The park is definitely not for exploring on your own on foot. There are free-roaming animals, many of them predatory, so it's important to pay close attention to the guides. Two rhinos were only yards away on our walk but the guide was excellent – I would have felt much less safe on my own!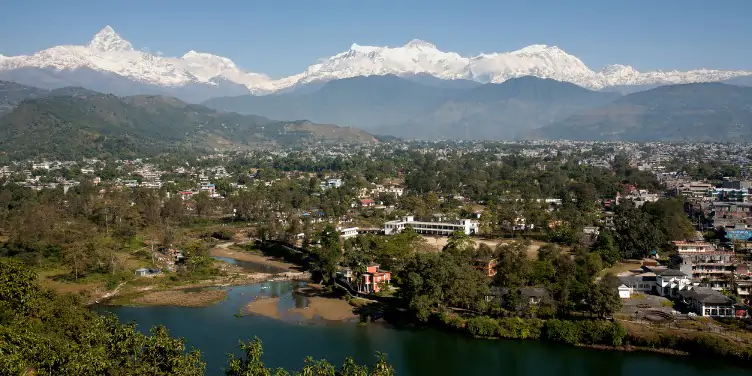 3. Find adventure in Pohkara
There's a very good reason that Nepal is known for its trekking. And, the base for so many solo adventures and family activities is Pokhara.
The Annapurna Circuit is one of the finest, and also one of the most challenging. It usually lasts between 16 and 20 days and covers 100-145 miles of tough, heighty terrain. Along the way, you'll also find some of the most famous and picturesque trekking locations in Nepal.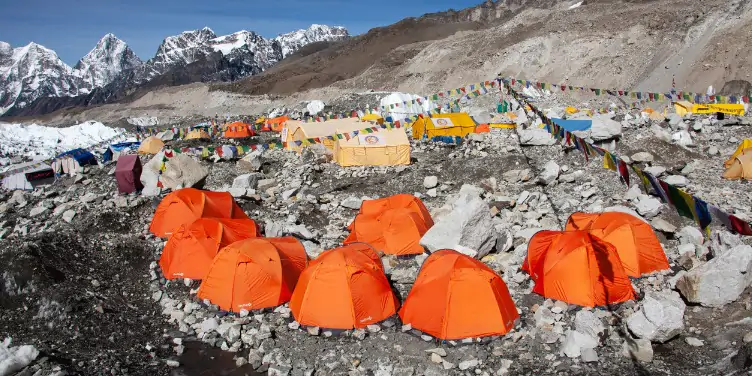 Many travellers prefer to take the route to Everest Base Camp. If, like me, you're not made for trekking, you can actually get a helicopter up to the camp. This is a special experience – you get to soak up the breathtaking scenery up close and from above.
White water rafting is another popular activity in Nepal. Choose between day trips and 3-4 day experiences travelling along the river valleys that cascade down from the peaks of the Himalayas.
Climbing, canyoning, especially at the Village of Lwang, and microlight flying are more popular ways to explore this wonderful country.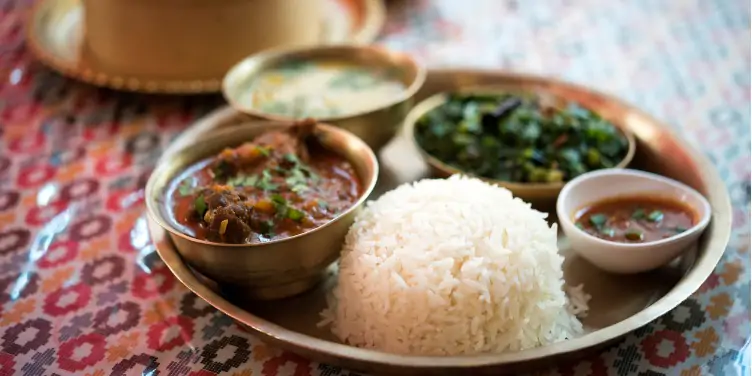 Top tip!
Make sure to try out the local cuisine! Thakali is local to Pokhara and best described as a tapas-like meal with dishes of dal bhat, vegetables, rice, achar, and dhindo on a platter. It pairs perfectly with the local Gorkha Beer.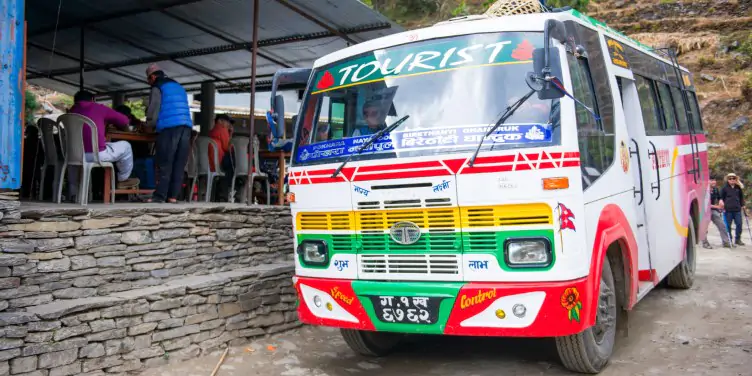 4. How to get around Nepal
Getting around Nepal is very easy and cheap. Taxis are definitely the recommended way of travelling more locally. The locals are experts at navigating the potholes and large trucks that travel on the narrow passes.
There are also specialist buses for tourists, but travelling on a local bus is something well worth experiencing. A tourist bus might get to your destination quicker, but you definitely won't find local vendors selling slices of watermelon onboard!
There are also excellent domestic flights, for example, we took a short 20-minute flight to Pokhara to see the beautiful lake and fascinating Buddhist Temple of Peace there.
Read our policy wording for terms and conditions relating to sports and activities.