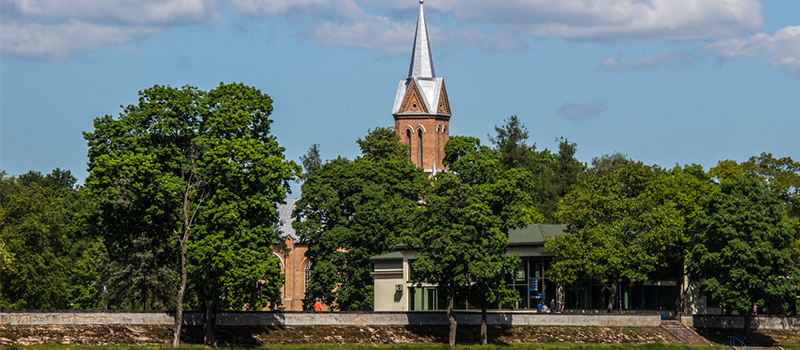 Balloons, Boats and Bubbles in Birštonas, a Lithuanian Spa Town
The traditional spa town of Birštonas in Lithuania sits inside a curve of the River Nemunas. It's a beautiful setting for a wide variety of spa experiences.
Therapies here range from the historically rich – such as those that use the town's water-based history in the Kneipp Garden – to the more modern spa experience such as cryotherapy.
But Birštonas has a lot more to offer as well as its spas and is well worth a visit.
Here, I explore everything Birštonas has to offer from spas to walks and activities:
Exploring Birštonas on foot
Birštonas is a town within a park – the Nemunas Loop Regional Park. The paths criss-crossing the grass through the trees provide a very pleasant way to explore this lovely town.
In the midst of this park is Vytautas Hill also known as the Birštonas Mound where a fourteenth century wooden castle once stood.
Nearby is an impressive statue of the Grand Duke Vytautas the Great. The Duke was a frequent visitor here during the fifteenth century when the area was used as a royal hunting ground. When it comes to statuary there is a surprise around every corner and there are several commemorative walks featuring interesting monuments that are well worth exploring.
The centre of the town is dominated by the neo-Gothic church of Saint Anthony of Padua. Its elegant spire can be seen for miles around.

This church has a beautiful interior with some lovely stained glass windows. Next to the church is the Birštonas Museum of Sacred Art which occupies an old clergy house and tells the story of two martyrs to their faith during the Soviet Union occupation of Lithuania (1944 – 1990). Here, visitors can learn more about the history of the town and the building itself is worth exploring.
A second museum on the outskirts of the town occupies a typical wooden house from the 1930s and relates, somewhat haphazardly, the history of the town. It is quaint and informative using a lot of pictures so do pop in and have a look.
Discovering how Birštonas became a Spa town
When the mineral waters that flow beneath Birštonas were first discovered, Lithuania was part of Tsarist Russia and was granted permission to establish a spa resort.
The resort was destroyed during the First World War, but in 1924 when the Red Cross moved in, they established the first mud baths (still operational as the Tulpės sanatorium).
This was during the period of the First Independent Republic of Lithuania (1918 – 1940). Ornate mineral water drinking fountains were established during this period and today they still provide free mineral water to anyone who wishes to drink it. Bottling and selling the mineral water worldwide is a thriving industry here.
Another free spa facility in the town is the Kneipp Garden.
Here visitors can try the therapies devised by Father Sebastian Kneipp who established a system of holistic therapies based on his belief that water cures everything. The Royal SPA Residence  in Birštonas particularly promotes these therapies as well as a full programme of massages and treatments. In recent times Birštonas has been increasing its range of spas with accommodation that vary from a very large sanatorium to luxury hotels.

Going hot air ballooning over Birštonas
A very popular activity in Birštonas is hot-air ballooning. If you have never done it this is a great place for a maiden flight.
The balloons fly either early morning or early evening. We drifted up into the sky and from our elevated position we could trace the loops of the River Nemunas below us.
We drifted through the silence, passing over the huge forest, punctuated by areas of cultivated land and the occasional farmhouse. It was an exhilarating experience and a great start to the day.

Taking a boat trip on the River Nemunas in Birštonas
The River Nemunas is the focal point for pottering on the water or taking a stroll alongside it as the Nemunas bank promenade links Vytautas Park in the south to Central Park in the north. Benches and cafés along this route offer rest and refreshment.
Boats are available for hire and boat trips of varying lengths can be booked including a trip to Kaunas the second largest city in Lithuania. A short trip on the river is a very pleasant way to idle away some time followed by a coffee, or some hand-crafted ginger beer in the local flower shop that also doubles as a café.

Where to Stay in Birštonas
I stayed at three very good and very different spa hotels:
The Royal SPA Residence is a comfortable hotel surrounded by gardens and is close to the river. It was here I tried halotherapy (the salt chamber) for the first time.
The Eglės Sanatorija offers spa treatments and one of my treatments here involved my body being covered by bubbles created by carbon dioxide in a large warm bath. It was so relaxing I fell fast asleep!
The more luxurious Vytautas Mineral Spa was my favourite as it is situated on a lake, close to the town centre and also includes a fine dining restaurant.

Much as I enjoy indulging in spa treatments I also like to get out and explore and for me Birštonas is the perfect mix of spa treatments, sightseeing and activities. I really enjoyed my visit there.
How to get to Birstonas
The nearest airport to Birstonas is Kaunas International Airport. Regular flights can be found from London Luton, Stansted as well as Bristol and Edinburgh. Flights taking less than 3 hours.
Birstonas is about an hour's drive from the airport, but public transport is available.