Iceland is a fascinating country that is becoming more and more popular as a holiday destination. In addition to the famous Northern Lights, one of the greatest natural wonders of the world, the island also has a unique landscape where visitors will be able to see features such as lava fields and volcanoes as well as beautiful glacial rivers and spectacular waterfalls.
Fire and Rock
This Nordic island is geologically active meaning that the country is home to a large number of volcanoes and a dramatic landscape. This is because Iceland rests on the North Atlantic Ridge; the meeting point of the North American and the Eurasian tectonic plates, which are segments of the Earth's outer crust and lie deep under the ground.
This natural phenomenon has created black sand beaches, volcanoes and lava fields in Iceland's landscape. One particular hotspot for tourists is Lake Myvatn. Here visitors can expect to see vast volcanic landscapes, which appear to closely resemble those seen on the moon. Perhaps unsurprisingly, this is where Neil Armstrong trained for the moon landing.
In addition to this there are also lava fields and boiling mud pools. The lake is also known to be a very fertile spot thanks to its unique features. As a result there is an abundance of plant and animal life and in particular, the lake is a haven for bird life. This would be a great place to visit for keen bird watchers and wildlife photographers. Iceland's geology also means that there are many geysers there, including Geysir, the most famous of the Icelandic geysers, and Strokkur, which erupts every 8-10 minutes.
Ice and Water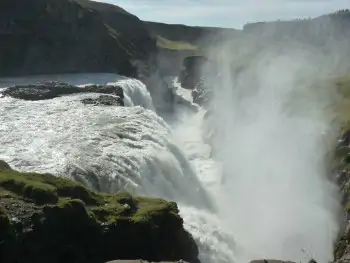 In contrast to the lava and volcanoes, Iceland is also home to many waterfalls, lagoons and glacial scenery. Many choose to take a boat trip on Jokulsarlon Lagoon where they are able to drift between the blue-veined icebergs. Another popular spot is the Skaftafell National Park, a very beautiful, glacial region in Iceland. Here it is possible to go on a glacier trek, for which appropriate equipment can be hired from many companies, and experience breathtaking views of glacial ice sculptures, ice ridges and glacier valleys.
Aside from the ice and glaciers, there are also many waterfalls to visit. Perhaps the most well-known is Gullfoss, the "Golden Waterfall", a powerful waterfall with spray that creates rainbows in the sunlight. Other waterfalls offer tourists the opportunity to walk behind the fall, a very unique experience.
Reykjavik, A Lively Capital City
However, Iceland is not only known for its incredible nature. In addition to its impressive collection of volcanoes and waterfalls, it is also home to Europe's most Northerly capital, Reykjavik. This is a vibrant city, full of colourful houses, interesting architecture and museums. Reykjavik has a unique culture in which Icelandic national traditions meet a modern and cosmopolitan capital. Here visitors can try out the nightlife, Icelandic cuisine or even arrange trips to go whale watching.
Iceland is a perfect destination for nature lovers, offering travellers the opportunity to visit the lively capital Reykjavik as well as a large and diverse range of beautiful landscapes. Iceland is covered by our European travel insurance policies, so whether you are taking a single trip or touring Europe, we can have you covered.