With its aquamarine waters and quiet coves, historic towns and unspoilt natural beauty, Menorca provides everything you need for a relaxed sunshine holiday.
The second largest of Spain's Balearic Islands has now also put a number of reassuring health and safety measures in place, ready to welcome back British holidaymakers.
So if you've yet to experience the charms of 'The Little One' – as Menorca is known alongside 'The Big One', Mallorca – here's why you consider it for your break.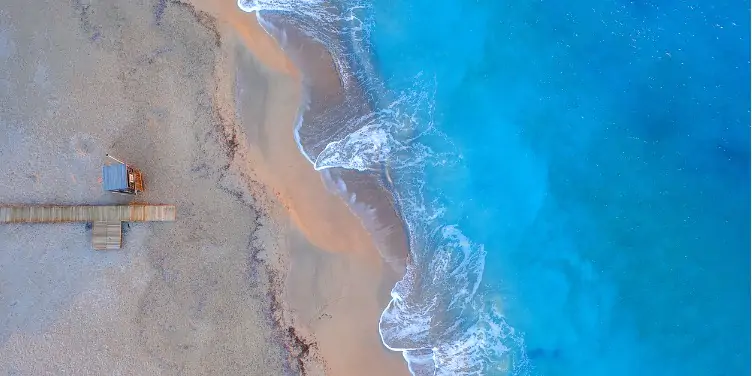 Sun, sea, and sand
Menorca's beaches are the prime draw for many holidaymakers, with their fine white sand and clear turquoise waters. Even at just 35 miles long and 15 miles wide, the island has more than 120 bays and small coves around its undulating shoreline, and resorts are generally small, low-key, and relaxed.
Many south coast beaches like Macarelleta, Cala Galdana and Cala en Turqueta are fringed with fragrant pine trees. Others, like Binidali, are nestled between rugged headlands.
The northern shore presents a complete contrast with its slate outcrops and reddish sand, the oldest geological materials on the island. These beaches share the same clear water as the south but offer a very different landscape, so make sure to sample both sides of the island during your stay.
Menorca offers all kinds of coastal accommodation. Amongst a selection of adults-only hotels is the 4-star Menorca Binibeca residence, part of the Pierre & Vacances network. Just 10km from the airport, it offers bedrooms, suites, and apartments in the small fishing village of Binebeca Vell.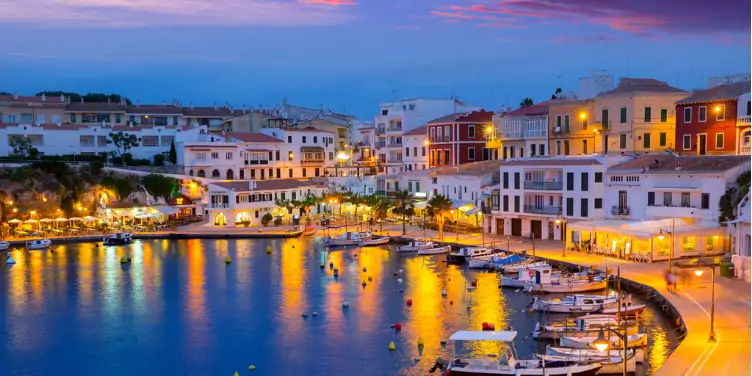 A tale of two capitals
Just 44km separates Menorca's two most important towns. The island's main road slices through the centre of the island from the capital, Mahon, in the east of the former capital of Ciutadella in the west.
There's been a settlement at Ciutadella since the Romans and this historic town oozes atmosphere from every ancient stone. Stroll through sun-dappled squares such as Plaça des Born with its central obelisk; soak up the spectacle of elegant mansions and quaint fishing cottages; explore the narrow streets around the cathedral.
Ciutadella was Menorca's capital until 1708, when the island was captured by the British. Top town status was then transferred to Mahon – or Maó – for its strategic location at the head of a long, deep inlet. Stroll beside the gleaming leisure craft; admire the grand houses of the British aristocrats; take a tour of Fort Marlborough just outside the town.
Also near Mahon, is Hauser & Wirth Menorca, a brand new gallery opening this summer and representing over 75 artists from around the world. Housed in a collection of repurposed historic buildings on the Isla del Rey, this unique art centre is just a 10-minute boat ride from the capital.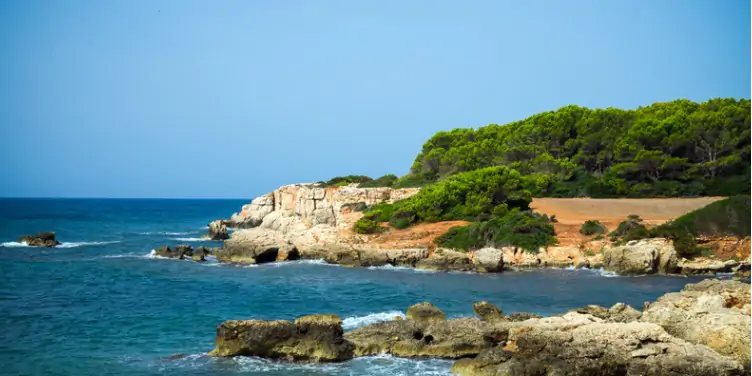 Exploring on foot
Menorca is one of the best-preserved natural areas in the Mediterranean. It was recognised by UNESCO as a natural biosphere reserve in 1993, for its biodiversity, rich flora and fauna, and the quality of its rural landscape and archaeological heritage.
Nothing is far apart on this enchanting island, so it's easy to combine time on the beach with a hike along some of the many marked hiking routes. At the charming Morvedra Nou Hotel, a converted farm in the south-west of the island, I sampled circular routes based on the Cami de Cavalls, a coastal path once used by soldiers guarding the shores against invaders.
One walk led me to one of the island's Neolithic settlements, while another climbed gradually inland from Santa Tomas up a lush gorge to the Cova des Coloms, Menorca's largest cave.
Menorca's highest point is just 357 metres above sea level so there are no great gradients to face, but I would recommend driving to the top of Monte Toro in the centre of the island for a seagull's eye view from shore to shore.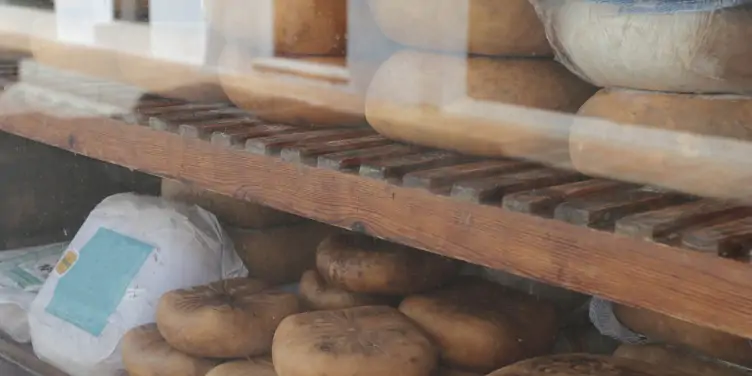 Made in Menorca
For the foodies, Menorca has devised a quartet of routes linking producers and markets, restaurants and specialist shops. Try the Seafaring Gastronomy Route for the best fresh seafood; the Cheese Route for hand-made Mahon-Menorca cheese; and the Wine Route for a little something to wash it all down. Maybe even take a cooking lesson along the Traditional Recipes Route to inspire your home cuisine.
And whether you are wanting to enhance your interior décor or find gifts for family and friends, Menorca's many craft workshops and markets are home to many talented artisans. The Centre Artesanal de Menorca in Es Mercadal holds a permanent display of handicrafts as well as a small shop. Look out for textiles and pottery, jewellery, and beauty products using local flowers.
The island's shoe-making tradition dates back to the 18th century, and skilled artisans still hand-make fashionable styles: from stilettos to flats. So indulge yourself with a pair of traditional Menorcan sandals to take home – a holiday souvenir that will bring back the magic of Menorca every time you wear them!