When you visit Berlin, there's one food that you absolutely have to try: currywurst.
The spicy sausage dish was born in the city just after World War II, and it's become an iconic part of the food scene there. But with hundreds of currywurst stands across the German capital, where can you find the best? During my Berlin weekend break, I hunted down some top local recommendations to create a list of the very best of the 'wurst. Here are my favourites…
What is Currywurst?
Currywurst is a simple fast food dish of sliced bratwurst (sausage) slathered in a lightly spicy ketchup-based sauce, sprinkled with curry powder. It was invented in West Berlin in 1949 by a local lady named Herta Heuwer, who was looking for a way to liven up her dull rations. With curry powder and ketchup borrowed from British soldiers, she created a sauce which she named "Chillup" and served it over a grilled pork sausage from her fast-food stand in the city.
Supposedly, the true recipe died with Herta Heuwer, who refused to sell her secrets. But she inspired a food movement in Berlin, and now hundreds of stands and restaurants have their own currywurst recipe. Today, the dish is generally made with a bratwurst that's been steamed, then fried, before being sliced up and coated in the sauce. It's usually served with French fries in a small paper dish, and eaten at a standing-table in front of the stand.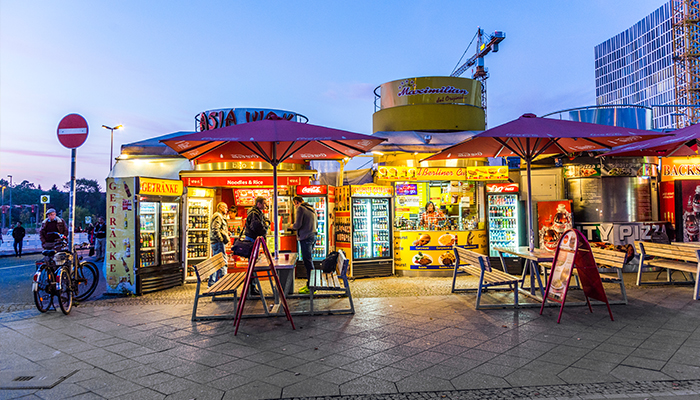 The Oldest: Konnopke's Imbiss
The original currywurst stand in Berlin was Herta Heuwer's, which she opened in the fifties. It became so popular that it later became a restaurant until it closed its doors in 1974. Today, the oldest currywurst stand in Berlin is Konnoppke's Imbiss, which opened in 1930 and began selling currywurst in 1960. Apparently, Konnopke's was the first imbiss (fast food stand) to sell currywurst in East Berlin. So, for a true taste of Berlin's history, visit Konnopke's.
The Educational: Currywurst Museum
Although a museum might not seem like the best place to find fast food, for those interested in Berlin's most famous snack, a trip to the Currywurst Museum is a must. With plenty of fun interactive exhibits, the museum tells the history of how currywurst evolved into one of the most popular snacks in the country.
More importantly, there's a currywurst stand on site, and your entry ticket includes a free sample. Whether you visit the museum or not, you should definitely make a trip to the stand here. They have a wide selection of currywurst options and sauces, so you can try a few different ones and see which is your favourite.
You can also chat to the chef for a bit more insight into the different styles of the dish, and learn how "true Berliners" take it ("skin off and extra spicy", apparently).
The Foodie's Favourite: Curry 61
One of the most popular and well known currywurst stands in Berlin today is Curry 61. A contemporary little shop, Curry 61 always seems to be busy with locals and tourists. It's often listed by bloggers and food tour guides as the best currywurst in Berlin, and it certainly was the best in my experience. They're well known for their quality ingredients and funky modern décor, which sets them apart from some of the older, more casual stands. This is also one of the few places you can find vegetarian currywurst – which means that everyone can try the city's favourite dish.