Adventure travel doesn't have to involve long-haul flights to the far side of the globe. Nor do you need to be super-fit.
If you have a soft spot for wild landscapes, shared history, and some unforgettable wildlife encounters, a cruise around the islands of the North Atlantic ticks all the boxes.
My husband and I recently made the four-hour hop to Iceland's capital, Reykjavik, to enjoy Silversea's 12-day itinerary back to London – with three island stops and a day in the Scottish capital on the way.
Here's what we got up to.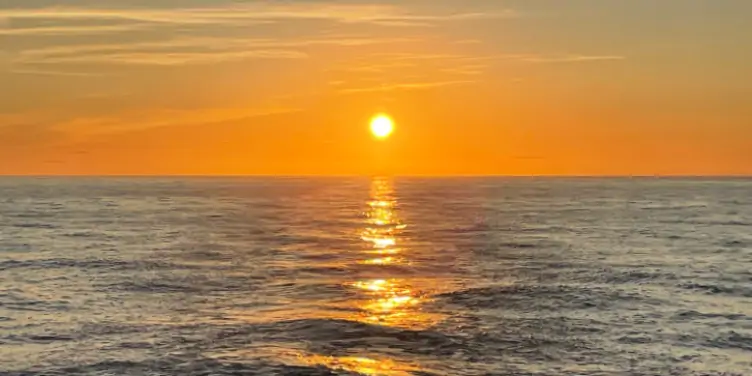 Cruise excursions around Iceland
Our adventure began with four days cruising from Reykjavik on the west coast around the north of Iceland to Seydisfjordur in the east. Most people come here for the scenery and geology, and Iceland's spectacular waterfalls, hot springs, and dramatic volcanic formations deliver from the get-go.
If you want to explore Reykjavik, the world's most northerly capital, I recommend flying out a day or two early. Otherwise, you will simply transfer from the airport to the cruise terminal to board your ship.
Top tip: Cruise ship excursions always indicate the amount of walking involved on each trip and the type of terrain. Also, if you'd rather keep walking to a minimum, there's usually plenty to be enjoyed from the bus window.
Day 1: A waterfall in the west
Our first stop after leaving Reykjavik involved a five-hour excursion in Patreksfjordur, a village in the Westfjords, for a visit to the staggering Dynjandi waterfall. At 100m, it's the tallest waterfall in the area, fanning out 60m across as it descends.
Our bus drove along a mix of remote tarmac and gravel roads through Iceland's oldest landscape to the waterfall. You can view from below or choose to climb the rugged hillside path to the bottom of the largest cascade. I'd recommend doing both if you don't mind the climb!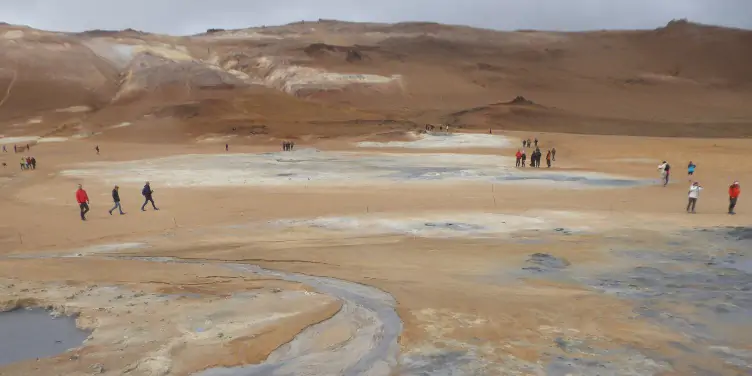 Day 2: A day in the geothermal landscape of North Iceland
Next day, a full-day excursion from Akureyri – capital of the North – included stops to take in the extraordinary geothermal landscape. It's home to fumaroles of hot steam, bubbling mud pools, and solidified lava fields.
Top tip: Gentle walking tours are offered with local guides, but be aware that port towns are generally very small so tours are short.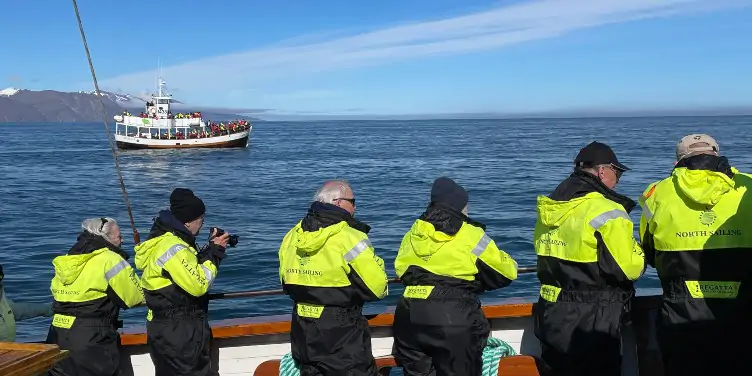 Day 3: Whale-watching in Iceland's oldest settlement
A boat excursion out into the sheltered bay from Húsavík is an unmissable adventure. Although wildlife is unpredictable, we were entertained by a group of humpback whales that repeatedly surfaced close to the boat. Pure magic! We also cruised close to a busy nesting colony of puffins.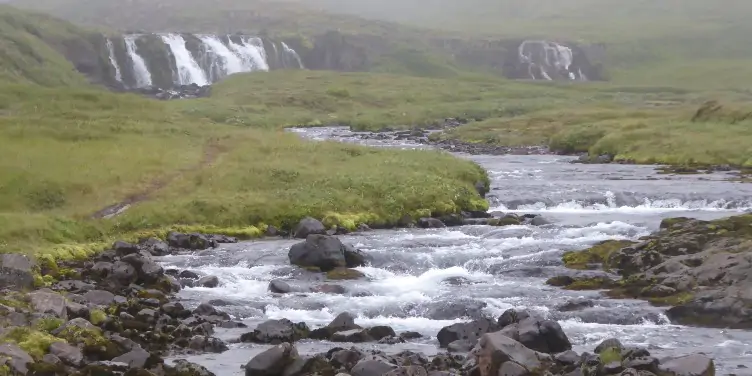 Day 4: Wild birds and even wilder landscapes
On our last Icelandic day, an upland hike above the 'foggy fjord' of Seydisfjordur let more active passengers experience the wild landscape and native bird life at close quarters. In summer, the warning cries of ground-nesting birds mingle here with the constant soundtrack of tumbling water.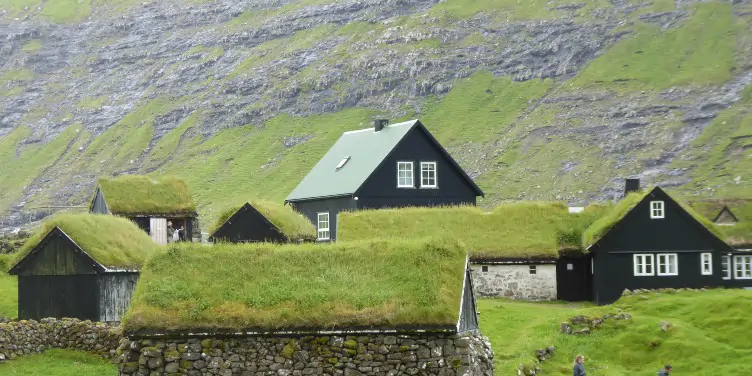 Rural life in Denmark's Faroe Islands
Day 6: Iceland was under Danish rule until 1944 and our next stop – after a relaxing day at sea – is still part of Denmark. The Faroe Islands were the setting for the recent TV crime series Trom as well as the closing scenes of Daniel Craig's final outing as James Bond.
Expect a rugged landscape of bare mountain slopes, glacial valleys, and isolated communities. There are few trees here due to the volcanic terrain, minimal soil, and strong winds – a boon for hay fever sufferers like me!
We chose a scenic outing to a heritage farm in the hamlet of Saksun, nestled at the end of a remote valley that opens onto the coast. And on the way, we walked across The Bridge over the Atlantic, a 220-metre road bridge that crosses a narrow strip of Atlantic Ocean between the archipelago's two main islands. A Faroes must-do!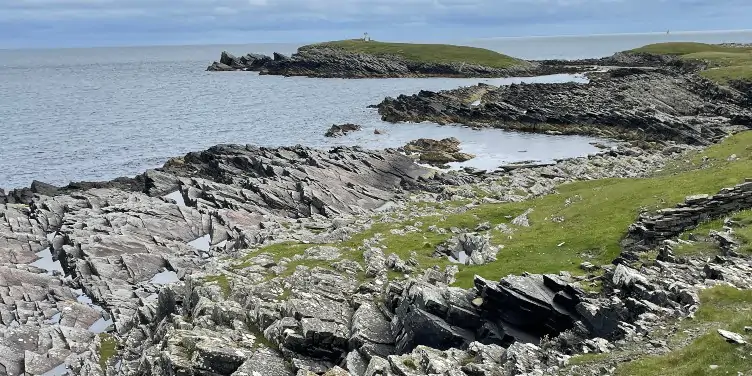 Neolithic and Norse history in the Scottish Islands
Day 7: All these North Atlantic islands share a Scandinavian history, colonised by the Vikings in the ninth century. Our next two stops became part of Scotland in the 15th century, but their Norse history is ever-present in place names and local dialect.
In the Shetland Islands, we chose a guided half-day nature hike on Mousa Island, an RSPB bird reserve ten minutes offshore. And after lunch on the ship, we took the free shuttle bus to explore Lerwick, so familiar from the BBC TV detective series Shetland.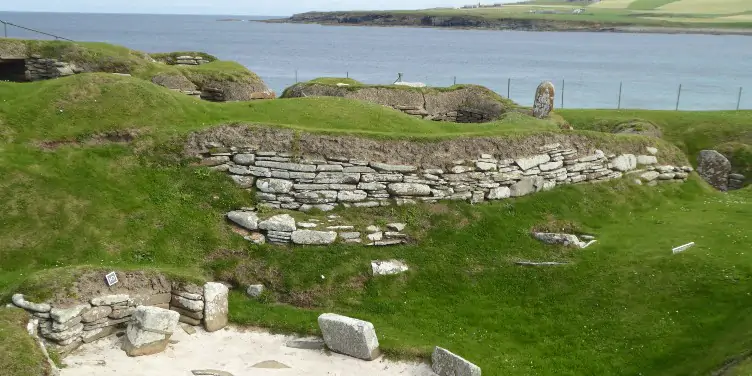 Day 8: Nothing stirs the soul quite like reminders of an ancient civilisation, so the highlight for many cruise passengers from Kirkwall in the Orkney Islands is Skara Brae.
This Neolithic coastal village is UNESCO-listed, along with the nearby Ring of Brodgar, a vast circle of standing stones. People lived and worshipped here more than 4,500 years ago and to walk in their footsteps is a spine-tingling adventure back in time.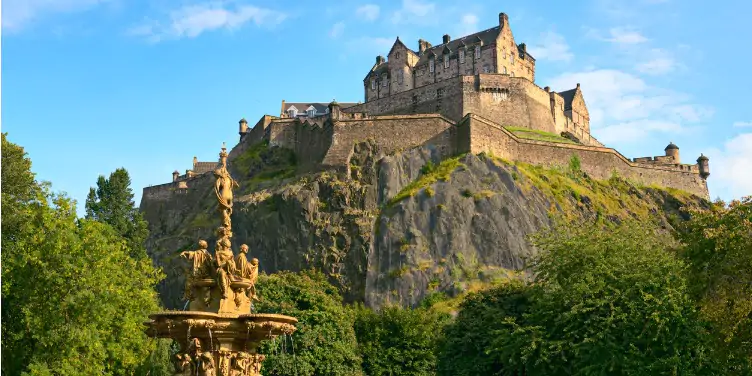 Sailing into Edinburgh and London
Day 9: Silver Whisper, the ship we were on, is small enough to berth at Edinburgh's Ocean Terminal in Leith, close to the Royal Yacht Britannia, now a fascinating tourist destination. Excursion options in the Scottish capital included Edinburgh Castle and the renowned Botanic Gardens.
But as Edinburgh veterans, we chose a fascinating guided tour of the ornately carved Rosslyn Chapel, immortalised in Dan Brown's blockbuster novel The Da Vinci Code.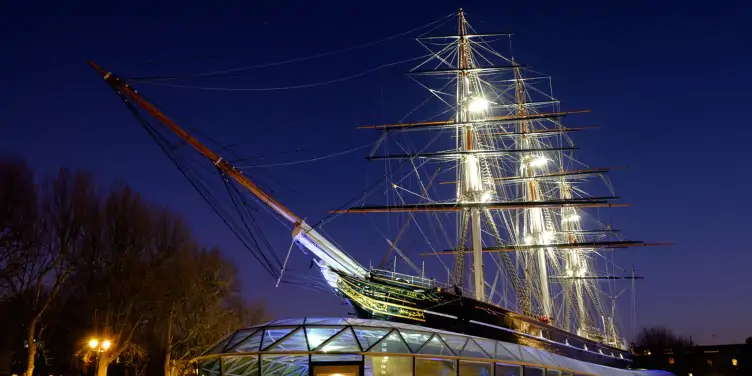 Days 10-12: After two relaxing sea days, our island cruise finished in London with a rare opportunity to sail up the Thames estuary as night fell, passing through the floodlit Thames Barrier, past Canary Wharf and the O2 arena to Greenwich Palace.
Nothing remains of the Tudor palace today, but the elegant facades of the Old Royal Naval College, the National Maritime Museum, and the Queen's House pack a picturesque punch.
As we moored up in sight of the illuminated Cutty Sark – last of the 19th-century tea clippers – there seemed no better place to end our maritime adventure.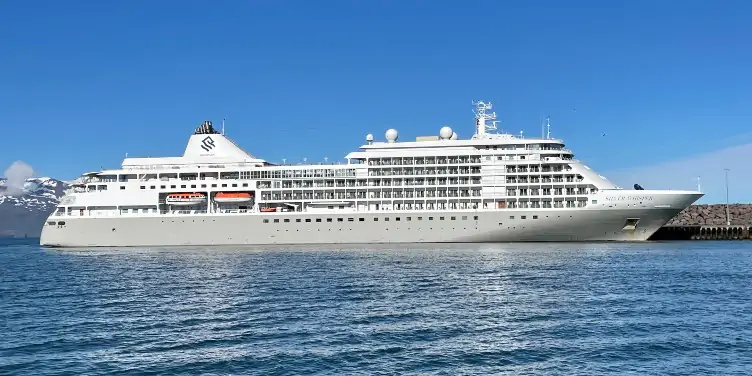 On board Silversea's Silver Whisper
We travelled around the North Atlantic on board the Silver Whisper, which carries 392 passengers in an atmosphere of understated luxury with impeccably trained staff who have an enviable ability to remember guests' names.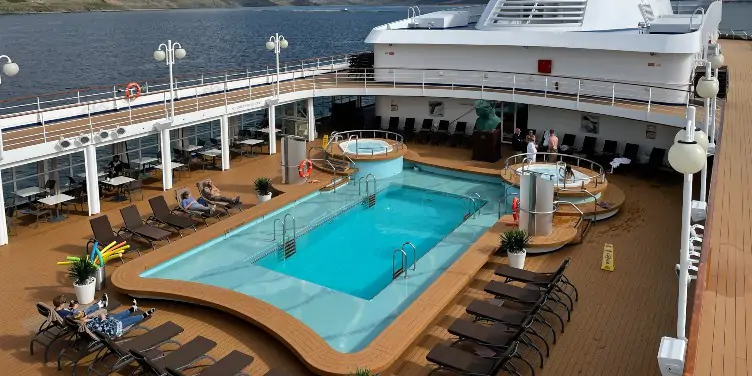 On-board activities are low-key, so Silver Whisper isn't a ship for party animals. Expect daytime quizzes and music from the resident entertainers plus a small casino and a couple of boutiques, rather than expert lectures or big-name entertainers.
We enjoyed the quiet atmosphere and embraced the three sea days as a welcome chance to relax and catch up on our holiday reading.