My visit to South Korea in April was timed to coincide with the cherry blossom. When I arrived in Seoul the trees were bare. But there were still plenty of colourful traditions to enjoy.
Deoksu Palace has revved a royal tradition, the changing of the guards. This takes place three times daily (except Mondays) when the royal gate is opened and closed as the gate-keepers change. The ceremony includes traditional instruments and the beating of a huge drum. During the 30 minute ceremony there is a solemn exchange of passwords and a procession of guards and officials. The primary colours of the uniforms worn by those taking part make it very special.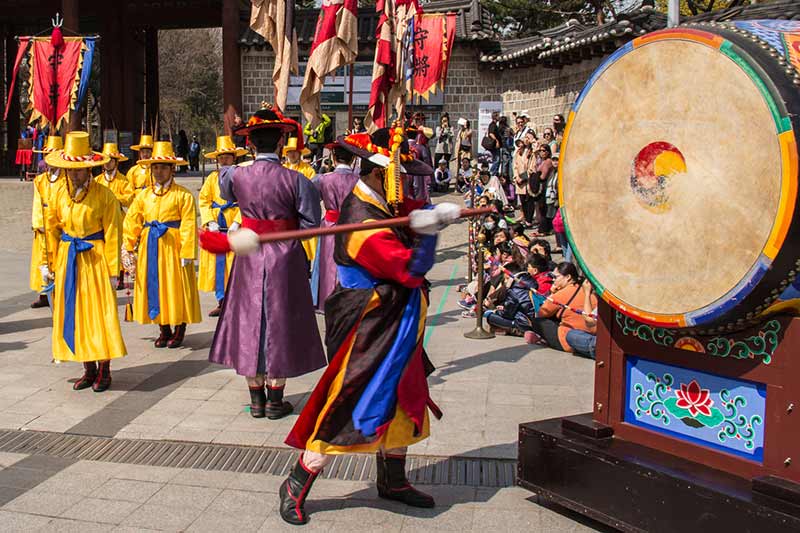 Gwangjang market, is the largest and most famous market in Seoul. It features a huge bedding department. I was very impressed by the kaleidoscopic display of traditional bedding topped by small, hard pillows.
I was surprised to learn that many Koreans still follow a long-standing tradition of sleeping on the floor. As the bedrooms have underfloor heating then mattresses are placed on the floor to get as close to the source of warmth as possible. Here, in this market, couples about to get married can buy all the essentials of a South Korean wedding, including a full set of bedding for the in-laws.
Street food is very popular everywhere in South Korea. It is sold from little carts that line the streets or small tents known as Pojangmacha. It is most popular in the early evening as people make their way home from work.
The food is cheap and delicious and ranges from meat kebabs, fish cakes, pancakes and noodles, to my favourite, a battered hot dog deep fried and then fried again, then covered in chips. A meal on a stick. The most unusual and colourful are the Jipangyi – hollow canes made from maize that are filled with ice cream.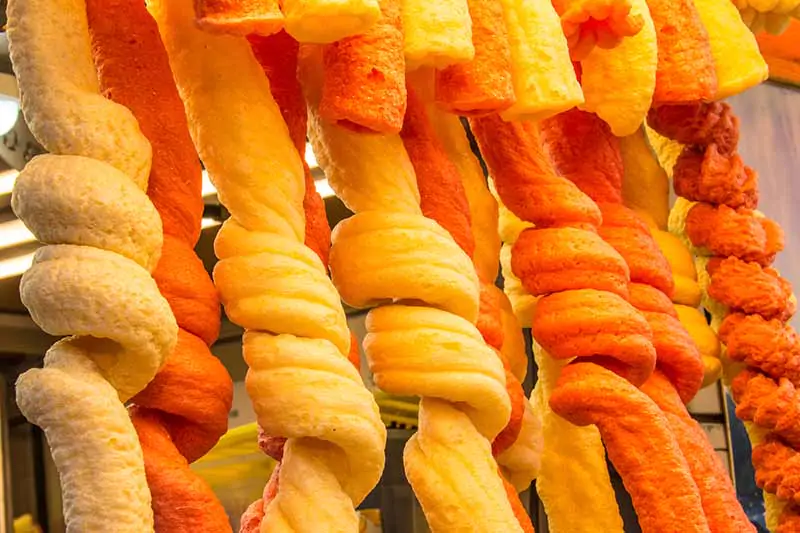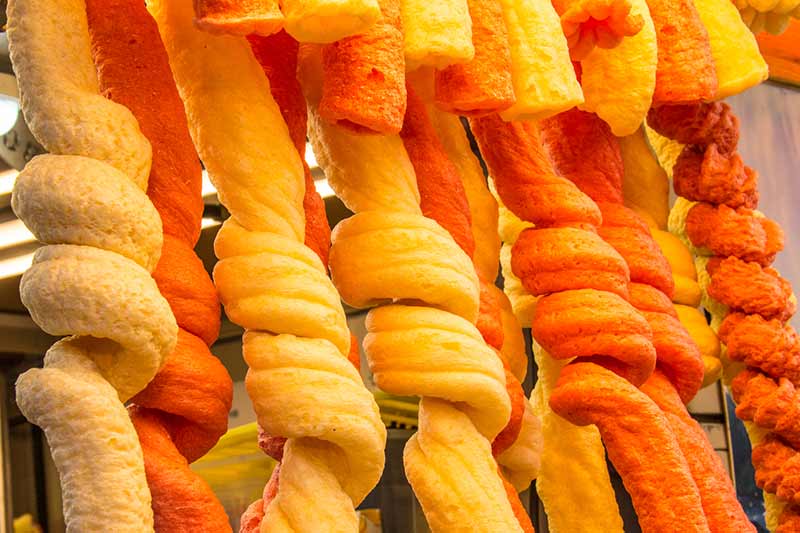 It is only one hundred years since the traditional dress of South Korea, Hanbok, was worn on a daily basis. Now these flowing, bright multi-hued gowns are only worn for special occasions for which they are usually hired. While I was visiting Changdeokgung Palace the black and white summer palace of the last dynasty, the place was suddenly lit up by the arrival of a large school party all wearing hanbok. The majority of tourists I cam across were South Koreans. They visit the top cultural sites in large parties, whole schools and villages travel together in fleets of buses hired for the occasion.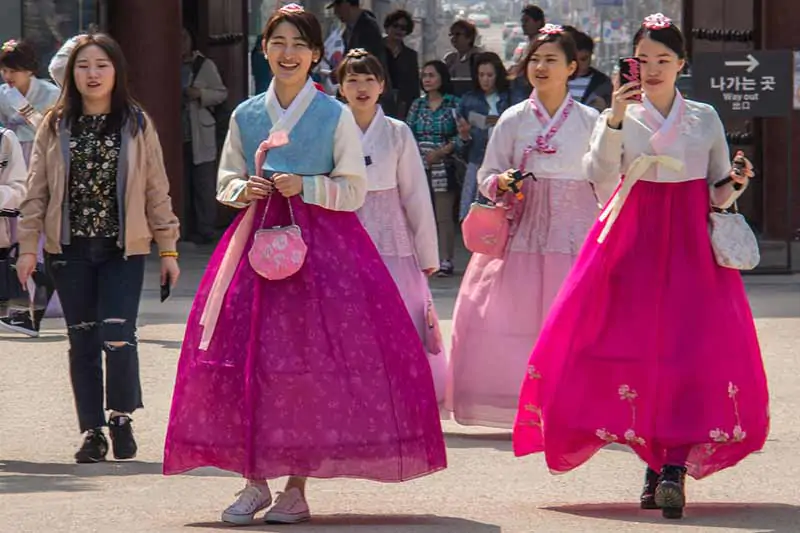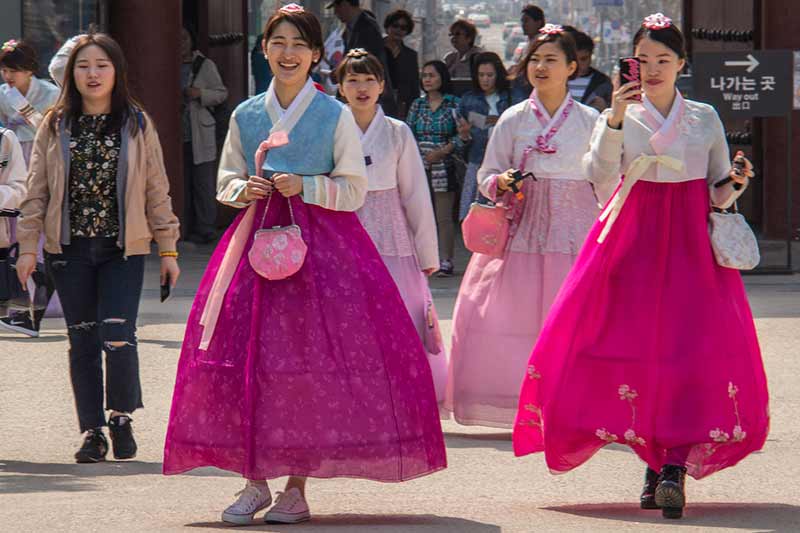 Every spring millions of people come together in South Korea to celebrate the birthday of the founder of Buddhism, Siddhartha Gautama. This is not just a religious ceremony but also a public holiday and the whole country is festooned with brilliant paper lanterns. Cultural performances and spectacular parades take place in the temples. Preparations for this event begin well in advance and there was evidence of the forthcoming festivities all around us.
As I approached Tongdosa Temple bright paper lanterns lined my way and formed a roof over my head. I watched a production line turn steel frames into flamboyant, vibrant dragons. I enjoyed visiting the temples as they often involved a pleasant walk from the road to the temple and every temple is different in character.
By the time we got to Gyeongju the cherry trees were in full bloom and it was fabulous. We drove along roads under a canopy of the delicate pale pink flowers – a stunning contrast with fifty-year old black gnarled trunks. I strolled along lakeside paths under floodlit foliage. A popular pastime for locals and tourists alike. It was amazing and a superb finale to my colourful journey through South Korea.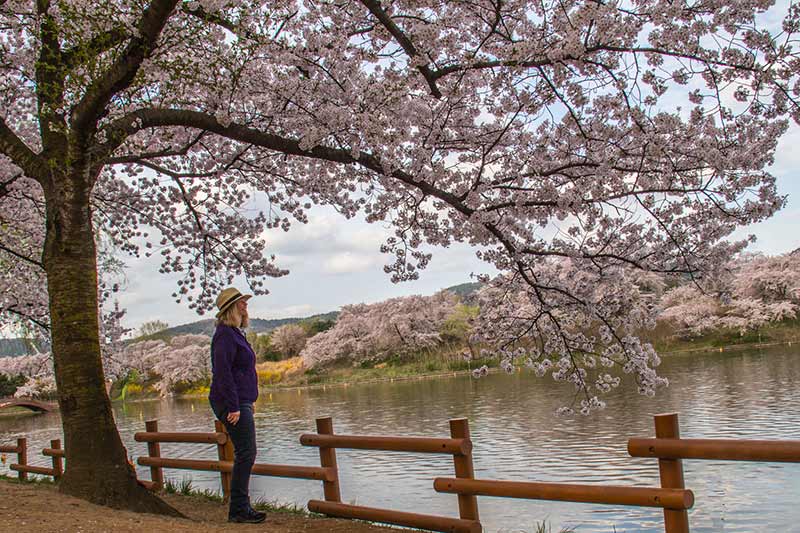 Has this made you interested in visiting South Korea? If so don't forget to take out travel insurance before you set off to take in the culture and colours of this fantastic destination.