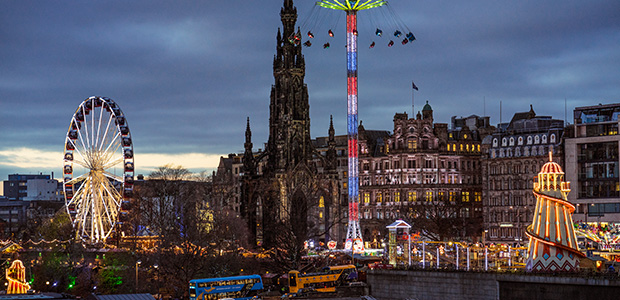 Why you should celebrate the New Year in Edinburgh
Looking for a great place to celebrate this New Year's Eve? If you're after amazing fireworks, an incredible atmosphere, and all kinds of fun – Edinburgh could be a winner.
In Scotland, they call NYE Hogmanay, and the Edinburgh festival is probably one of the biggest parties in the UK. From a huge street party to an icy challenge on New Year's Day, there's so much going on around New Year in Edinburgh. This is so much more than a simple party: there are events across three whole days and a really fun, varied programme. Check out the top reasons to bring in the New Year in Edinburgh below…
Hogmanay Street Party
Wrap up warm and hit the town centre for one of the biggest street parties in the world. Edinburgh's Hogmanay Street Party takes over the entire city centre. The roads are closed, stages pop up hosting parties for all genres of music, and the whole town gets celebrating.
Concert in the Gardens
Alongside the city centre street party, Edinburgh's Prince's Street Gardens throws it's own massive celebration. The Concert in the Gardens is a standing outdoor music festival which always has an amazing headline act – this year it's Rag'n'Bone Man – as well as great (usually local) support. Plus the natural slope in the gardens means that you can get a pretty great view of the main stage wherever you stand!
Torchlight Procession – with Vikings!
The New Year festivities in Edinburgh last way more than one night! Things kick-off on December 30th with the Torchlight Procession; a march of thousands of torch-bearers led by vikings in full armour. The procession starts on the Royal Mile and heads down through the new town to Calton Hill, where it ends with a spectacular firework display.
Fireworks Behind a Castle
Speaking of fireworks, the midnight display in Edinburgh is one of the biggest and best in the UK. The beautifully lit Edinburgh Castle provides a pretty special backdrop, and the surprisingly long fireworks display is one of the absolute highlights of the Hogmanay festival.


Loony Dook
If you're feeling a little delicate after the New Year's Eve celebrations in Edinburgh, you can join the locals for the Loony Dook. This bizarre New Year's Day tradition is sure to take the edge off your hangover – if you're brave enough. To the tune of bagpipes, thousands of people in fancy dress race into the Firth of Forth – a freezing cold estuary that meets the North Sea. The water is seriously cold – but the atmosphere is great fun and you'll be part of a wonderfully mad Scottish tradition.