Just a ferry ride from England's south coast, Brittany boasts a varied coastline, enchanting heritage towns and scrumptious fresh produce. 
Our Breton adventure took us south through Côtes d'Armor and into Morbihan, two of the four departments – or counties – that make up modern Brittany. After exploring the areas around Carnac and the Golfe du Morbihan, we followed the coast to the chic resort of La Baule and the buzzing city of Nantes. Both deeply Breton in culture, but now part of the Pays de la Loire region.
Here's where we stopped during our two-week, 650-mile road trip in one of the most popular French regions for British tourists.
Saint-Malo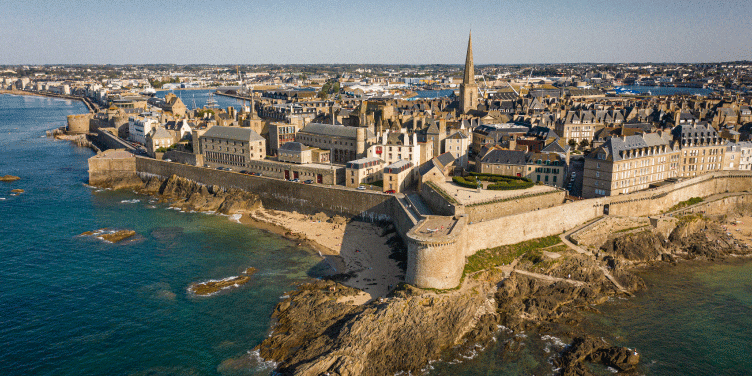 First stop. A fortified city devastated during WWII but rebuilt to its former glory, Saint-Malo is surrounded by impressive ramparts (defensive boundary walls) that are great for walking along.
There are glorious sandy beaches to enjoy on a sunny day, and atmospheric streets to explore to understand the local history. 
Here you can enjoy your first taste of Brittany's legendary seafood with oysters from neighbouring Cancale. Or, for something speedy, a traditional Breton savoury pancake galette or a sweet crêpe. We recommend  a box of Breton butter biscuits for the rest of the journey!
Top tip: Hotels within the walled city – Intra Muros – don't have a sea view. Book a hotel that overlooks the beach for a front-row view of the sunset each evening.
Carnac and Quiberon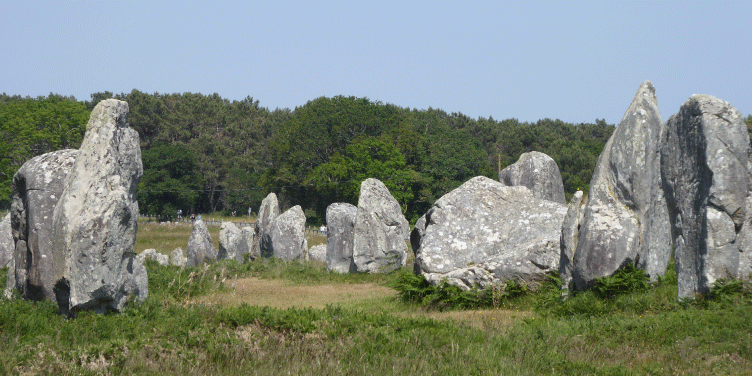 Just over two hours drive to the south, Carnac is famous for its mysterious lines of almost 3,000 Neolithic megaliths dating back some 6,000 years. 
You can discover the history at the Maison des Megaliths, walk the perimeter trail or take a tour on the Petit Train.
But this buzzing, small town offers much more than just prehistoric sites. Relax on the family-friendly beach of Carnac Plage or hire a bike and hug the coast to the swish marina at La Trinité-sur-Mer.
Top tip:  Don't miss the narrow finger of the Quiberon peninsula for more unspoilt beaches. But do avoid driving in Quiberon throughout July and August when the single road down to the peninsula becomes one long traffic queue.
Golfe du Morbihan and Vannes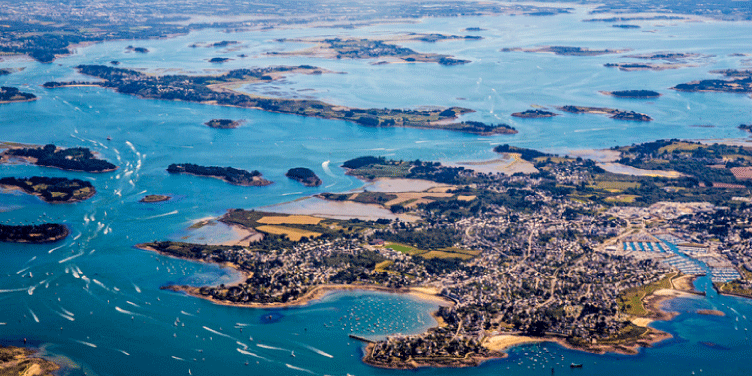 East of Carnac, rising seas in centuries past created the enchanting Golfe du Morbihan, a shallow 'inland sea' dotted with small islands. 
You can take a boat excursion to enjoy the natural environment and visit the larger, inhabited islands like Ile-aux-Moines. It's perfect for a leisurely stroll, or bike ride*.
We loved the walled city of Vannes with its medieval half-timbered houses, cobbled streets and flower-filled dry moat. 
We drove around the eastern side of the Golfe to Sarzeau to visit the grounds of Château de Suscinio. Surrounded by national parks, there's plenty of trails to follow during the daytime and a show in the evening. You can book tickets online, and children under 10 go free.
Top tip: There's so much to do here on, in or just beside the water. From kayaking, paddle boarding and fishing trips to thalassotherapy (well-being treatments using seawater)!.
Guérande and La Baule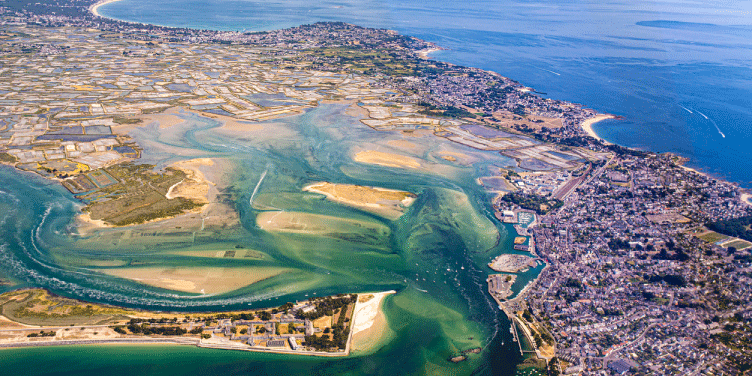 An hour south of Vannes, we arrived at the seaside resort of La Baule. Famed for its vast arc of white sandy beaches and flamboyant villas built by the rich and famous in the early 20th century. 
Cycle or drive to the harbour at Le Croisic*; buy traditional local produce at the Guérande salt pans; and wander the charming medieval streets and squares of Guérande itself.
Top tip: Inland from La Baule and Guérande, the Brière Regional Nature Park is France's second largest wetland area. You can take a small boat excursion* from Bréca to meet local artisans in the thatched village of Kerhinet.
Nantes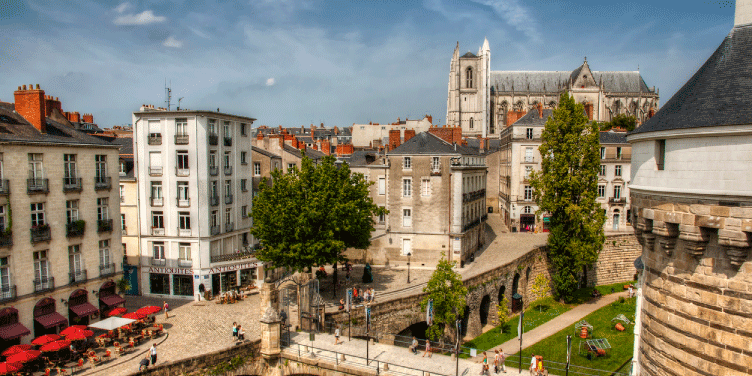 We chose to end our trip with a two-night city stay in Nantes. Visit for fascinating historical exhibitions, boutique window shopping in the elegant city centre and the best places to eat.
Nantes' major draw is its contemporary art trail event, Voyage à Nantes, held every summer since 2012. Follow the Green Line painted on the ground to discover an eclectic mix of outdoor artworks that form The Permanent Voyage trail, enriched each summer by the temporary addition of new pieces. 
And, in the birthplace of Jules Verne, visit Les Machines de l'Isle, an extraordinary collection of mechanical creatures that include a huge walking, bellowing elephant and a three-tier carousel of undersea animals. Where else can you ride on a giant squid or seahorse?
Top tip: Allow around €18 a day for city centre parking, then explore the city on foot or by tram.  
Nantes sits on the river Loire, and following it is a great way to extend your road trip into France. But what can you find along the Loire?
A road trip from Portsmouth to Nantes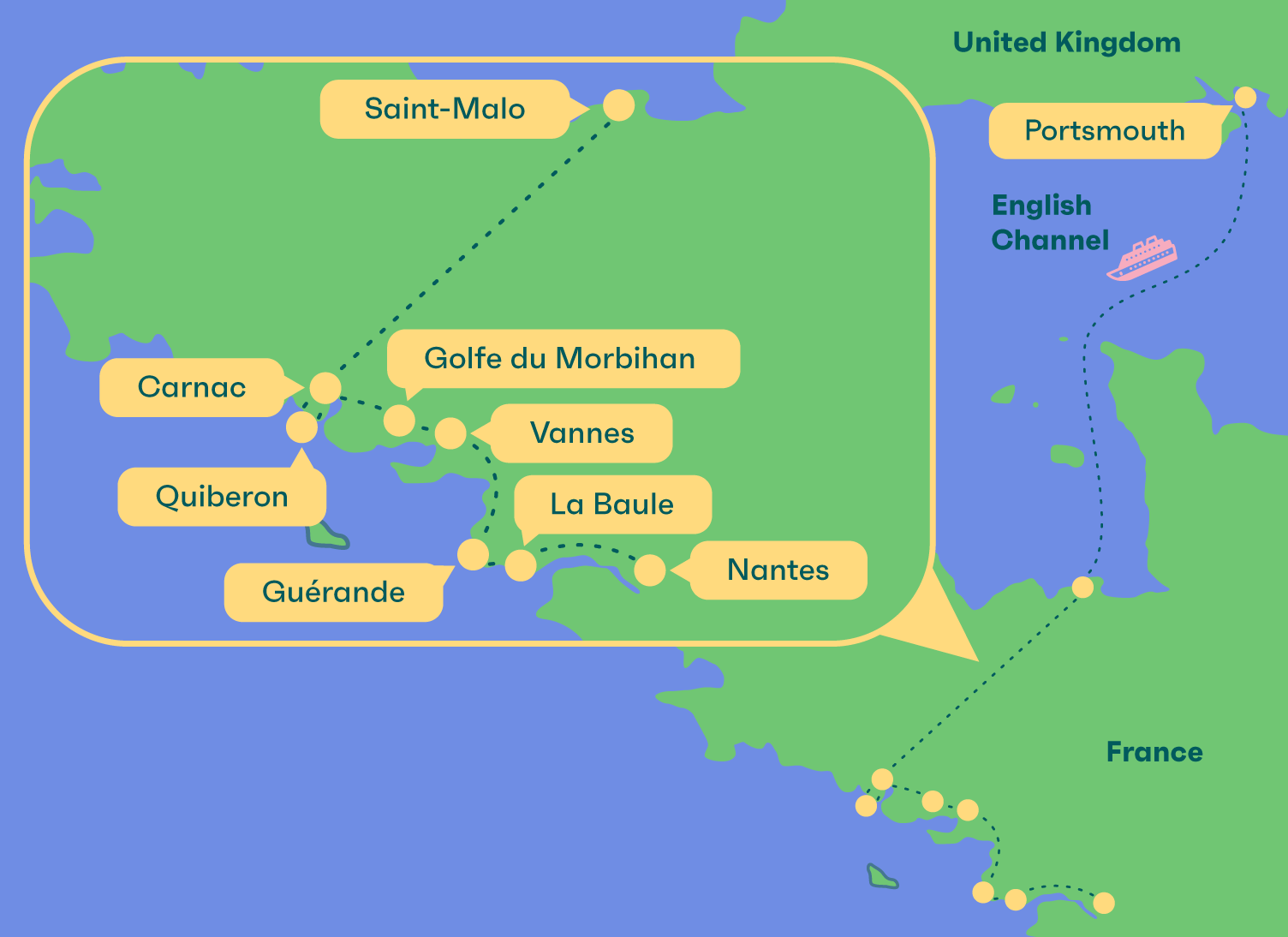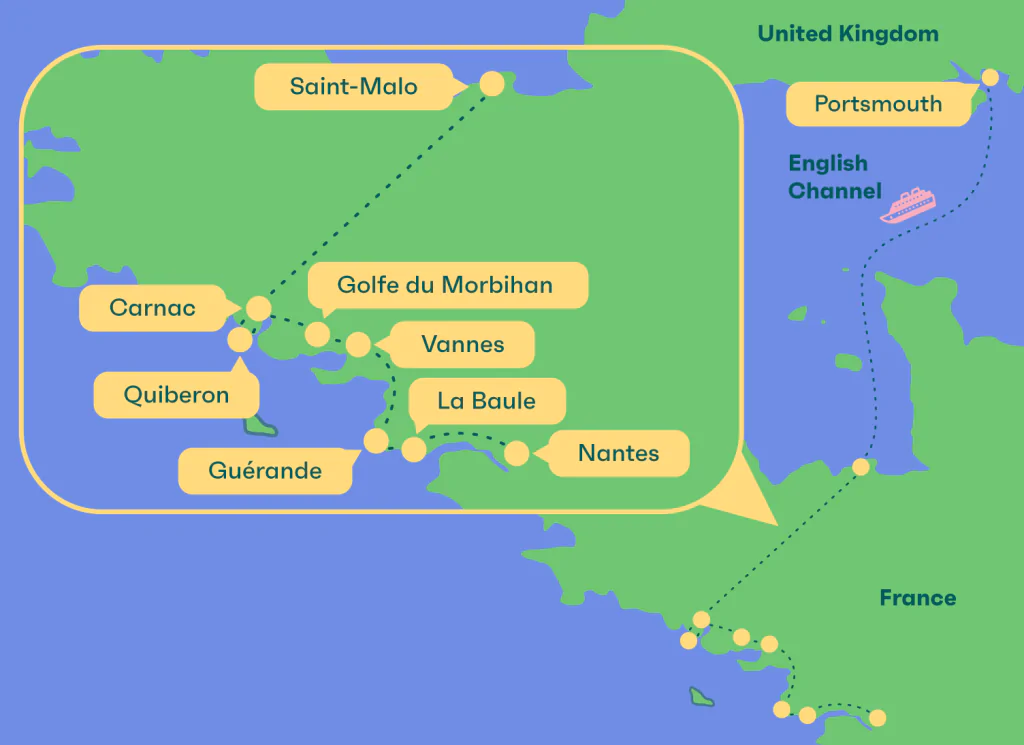 We went from Portsmouth to Saint-Malo, but you can also sail to the Brittany region from Poole and Plymouth with Brittany Ferries. Alternatively, it takes around five hours to drive the 320 miles from Calais.
Top tip: French roads are generally quieter than those in the UK, but don't forget that speed limits are in kph. Be sure to check the legal requirements before you drive, as in France you are required by law to carry safety items such as reflective jackets and a warning triangle.
Thinking of renting a car for your trip? Here's our advice on how to rent a car in Europe
Looking back
We were on the road most days, but to enjoy each stop to the max, I'd recommend spending two or three days in maybe three or four of these locations, none of which are far apart.
Quiberon to La Baule, for instance, is less than two hours drive, making this part of Brittany a delightful area for a relaxing and scenic road trip.
Feeling inspired? Don't forget to pack your travel insurance for Europe.
*See what sports and activities we cover in our policy documents.