The third-largest of Spain's Canary Islands, Gran Canaria is defined by rugged coastlines and sandy beaches. With its inland heart being a world of lush forests and dramatic mountain ranges. The diversity of its landscapes, warm climate, and characterful towns make Gran Canaria a popular holiday destination all year round.
Jetting off to simply unwind on a beautiful black lava or white-sand beach is tempting, but there's plenty more to this fascinating volcanic island. Here are seven of the best things to do on your holiday in Gran Canaria.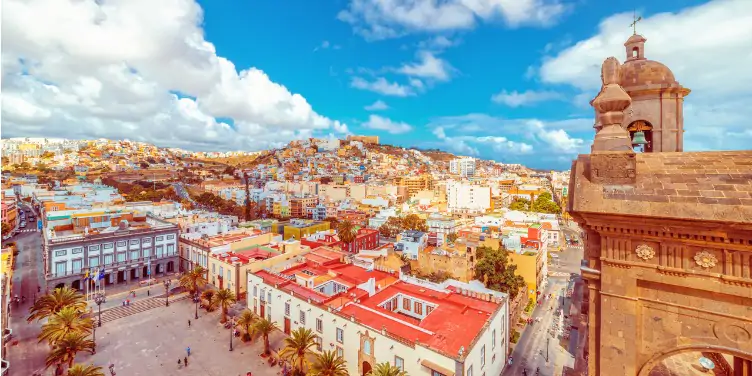 1. Spend the day in Las Palmas
Las Palmas de Gran Canaria is the largest city in the Canary Islands and is Gran Canaria's vibrant capital. Primarily a port and beach city, Las Palmas has an exciting atmosphere that revolves around the sea. As a cultural melting pot, there's a wonderful mix of Spanish, African and Portuguese influences to be found all over Las Palmas.
The city is also known for being a shopper's paradise. Mesa y López is the main shopping area and boasts a mix of local and big-name shops, shopping centres, restaurants, and hotels.
Sightseeing across the city is the best way to discover Las Palmas' history. The old town of Vegueta is home to one of the most iconic religious buildings in Spain, the Cathedral of Santa Ana. It was the first church built in the Canaries and dates back to 1500. Another must-visit is Casa Museo Colón, with the museum detailing Christopher Columbus' sea voyages.
After all that walking, reward yourself with some fresh seafood in a traditional restaurant. Look out for the popular dish, Sancocho Canario, made with salted fish and a combination of sweet and regular potatoes.
The city also boasts several gorgeous beaches, with the three-kilometre, golden stretch of Playa de Las Canteras hard to resist. A coral barrier shelters swimmers from strong currents in the sparkling blue waters, making the sea an inviting spot to cool down.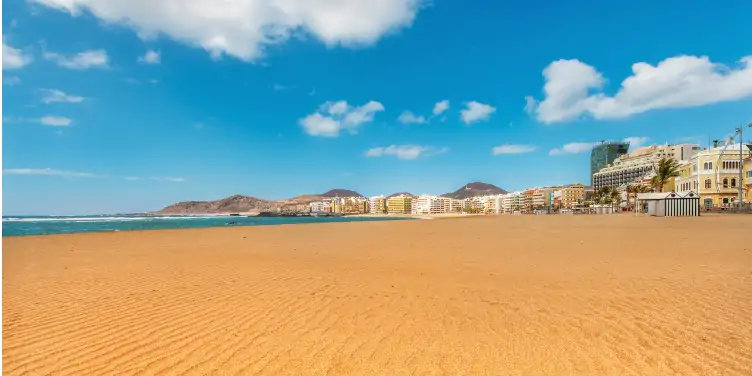 2. Discover the past at Cueva Pintada Museum and Archaeological Park
If you're a history and culture buff, you'll be keen to visit what has been rated as the top archaeological site on Gran Canaria.
Cueva Pintada Museum and Archaeological Park is situated in the northwest town of Gáldar. It's named after the most impressive part of the rock caves and paintings that were discovered back in the 19th century – the Painted Cave.
You can view the remains of this pre-Hispanic village from a walkway that surrounds the preserved structures. Archaeologists carefully excavated these cave house remains from the volcanic rock that's so typical of the area. The museum's videos and reconstructions help tell the story of how the early people of Gran Canaria lived.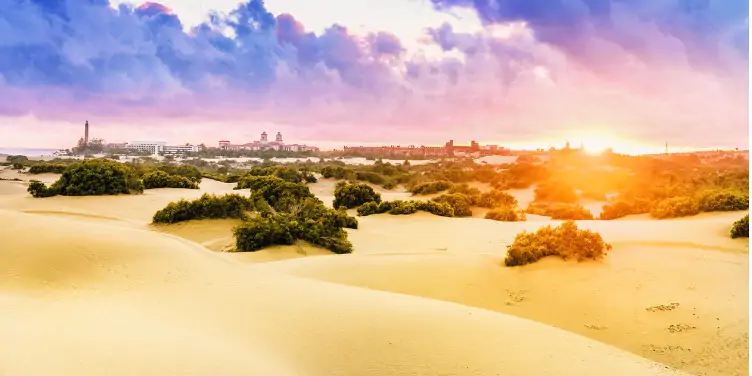 3. Walk the Maspalomas Dunes
While Maspalomas Beach is popular with sun-worshippers, it's also a great destination for nature lovers.
Next to the beach is Reserva Natural Especial de Las Dunas de Maspalomas, a stunning, desert-like site of almost 1,000 acres. Walk across the sand dunes and soak up the unique atmosphere as you head for the active 19th-century Maspalomas Lighthouse.
Twitchers will enjoy the lagoon there, also known as La Charca. Maspalomas lagoon is an important nesting area, home to several protected bird species, with migrating visitors including the kingfisher, egret and curlew.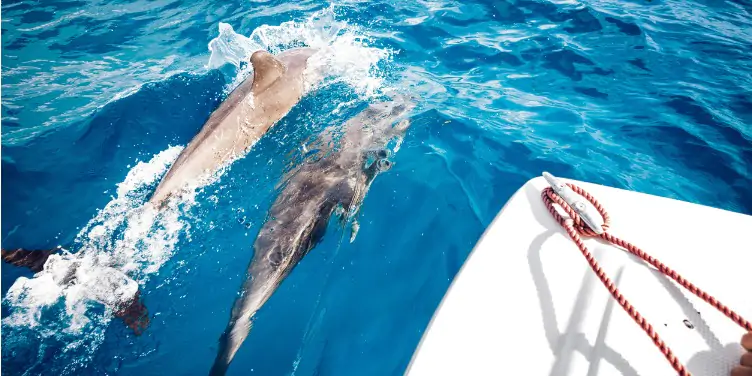 4. Go dolphin and whale watching
You simply cannot visit Gran Canaria without experiencing the wonder of dolphins and whales in their natural environment. Join a boat tour any time of the year and you're likely to see many species of sea mammal during your trip, including flying fish and turtles. You'll usually get your first sighting within minutes of leaving the shore, with dolphins swimming and jumping right by the boat.
Dolphin and whale-watching boat trips normally last between two to four hours. So there's plenty of time to enjoy the experience and take some amazing photos.
Many of these boat trips set off from Puerto Rico de Gran Canaria, on the south-west coast of the island. But you may catch a boat from Maspalomas, Anfi, Tauro and Playa del Ingles too.
5. Barter at traditional markets
It's almost impossible to visit the island without stumbling across one of its bustling markets full of local produce and crafted treasures.
The street markets of Las Palmas all take place on Sunday morning and they're an eclectic bunch. There's one in the old town of Vegueta, Mercado del Puerto by the beach, and Mercado Central in the heart of the city.
The market at Mercado Central takes up the whole ground floor of an old building with its bread, meat, fish, cheese, fruit and vegetable-filled stalls. A visit is essential if you're on a self-catering trip! The small cafe at the back of the market is also the perfect place to rest your legs with a coffee and fresh churros.
The fishing village of Puerto de Mogán on the south-west coast is home to the best weekday markets. Friday's outdoor market is one of the largest and most popular in Gran Canaria, with vendors selling everything from fresh fruits and vegetables to souvenirs and clothes. Visit Puerto de Mogán on a Monday to browse the local crafts market that's held in the plaza behind the beach.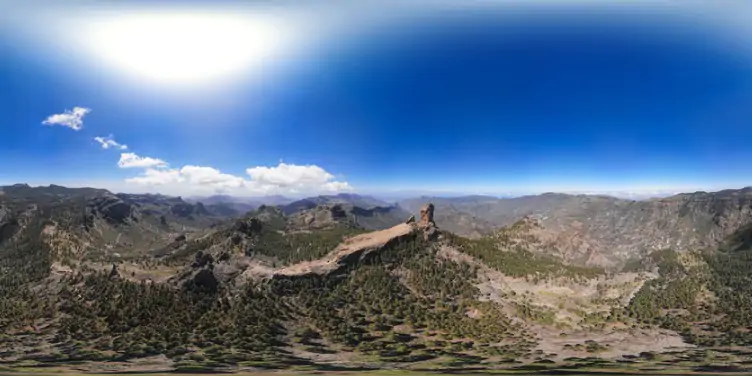 6. Explore volcanic and underwater worlds
The volcanic landscape of Gran Canaria has created plenty of sites and trails for keen explorers. Roque Nublo in the municipality of Tejeda is one of the most iconic features of the island and is a hiker's dream.
Another unforgettable spot is the volcanic crater, Caldera de Bandama, found just between Las Palmas, Telde and Santa Brigida. Depending on your ability, trails can lead you around the base, up to the crater rim, or into the caldera itself.
For a completely different take on the island, how does an underwater trip in a real-life yellow submarine sound? The Yellow Submarine Adventure in Puerto de Mogán gives you a 45-minute glimpse into life beneath the waves, visiting shipwrecks and the marine life that has made a home there. Keep an eye out for shoals of zebra breams, parrotfish and grey mullets.
But if you prefer to keep your feet on dry and level ground, visit Poema del Mar Aquarium just outside the centre of Las Palmas. The large aquarium boasts over 300 species of marine life, including fish, sharks, stingrays and turtles.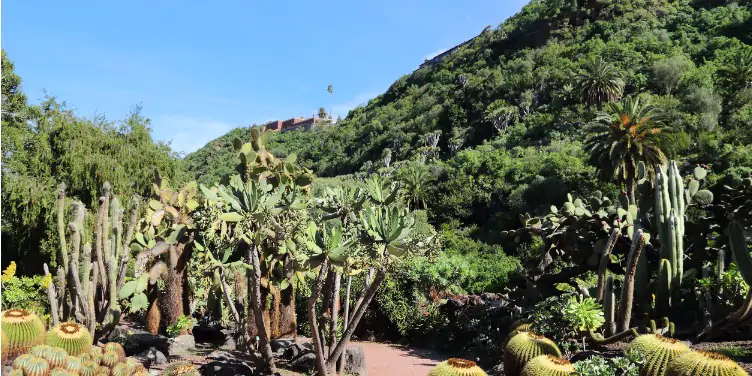 7. Visit Jardín Botánico Canario Viera y Clavijo
This gorgeous botanical garden sits in Tafira Alta, in the northeast of Gran Canaria, and is just a short bus ride from Las Palmas. It comprises around 27 acres on a steep slope of the Barranco de Guiniguada. Admittance is free, with two entrances suiting both adventurous types and those looking for an easier way into the garden.
Over 500 plant species native to the Canary Islands call Jardín Botánico Canario Viera y Clavijo home, with several distinct zones to discover. Wherever you roam, you're treated to the sound of bird songs and sweeping views over the gardens and beyond.
Marvel at thousands of cacti and succulents in the Jardín de Cactus y Suculentas and lose yourself in the magic of the pine forest. Majestic waterfalls and ponds teaming with fish add a tranquil aquatic theme to what is Spain's largest botanical garden.