Avanti Travel Insurance is only available to you if you are a resident of the United Kingdom (England, Scotland, Wales, Northern Ireland, Isle of Man and the Channel Islands).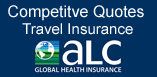 If you are a resident of the European Union we are able to provide you with cover via our partnership with ALC Travel Insurance.
For a quote for EU Resident Travel Insurance policy
please click here.
   One of the Best Travel Insurers for the over 70s & for medical conditions.  


Mr P Hewes – Essex



Would an annual policy
save you money?
Going on more than one holiday this year? Annual travel insurance may work out cheaper, allowing UNLIMITED trips over a 12 month period
Subscribe to our newsletter
Get the latest special offers from us and travel news and tips from around the world