It's always worth thinking about how you want to take money abroad before going away. Making the right choice can help you minimise commission and transaction fees and get the best value for money.
The way we use money, both home and away has changed in recent years. The once popular cash and traveller's cheque options are making way for prepaid travel money cards, and debit and credit cards.
Here's a look at your options so you can choose the right way to take money abroad for you.
Using cash when travelling abroad
Cash has always been the most popular way of taking money on holiday, but times are changing. So is cash still king?
Pros
It's never been easier to find the best deals on exchange rates. Thanks to the internet, you can compare rates and have your currency delivered or pick it up locally.
Carrying local currency still definitely proves useful for small things like buying drinks, paying for local transport and tipping.
Cons
On the downside, there are usually fees when buying or selling foreign currency, so you don't always get as much for your money as with other options.
Unfamiliar foreign coins or banknotes can also prove tricky to identify, potentially leading to errors while paying or leaving you open to being swindled. Then there's the risk of cash attracting unwanted attention from would-be thieves.
It's also worth bearing in mind that travel insurance policies tend to have a limit on how much cash they will replace if yours is lost or stolen.
Verdict
All in all, cash is always handy to have – including when you're abroad. It helps to have some cash, but whether you take that out before you go away is a different story.
In terms of cost, convenience, and security, there may be a better way than taking cash.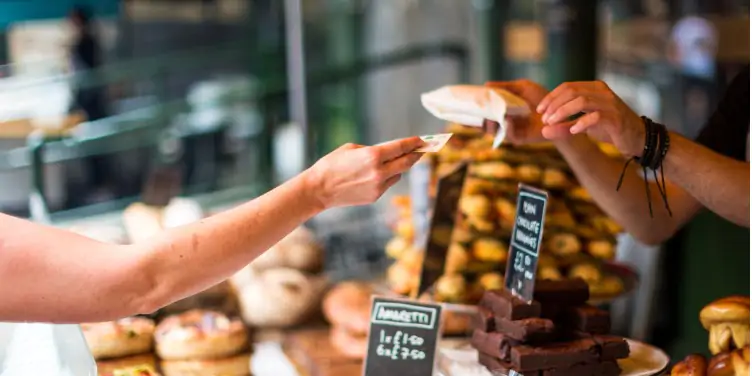 Using prepaid travel money cards
Prepaid travel money cards are the new kid on the block, but they definitely have the right idea.
Pros
Prepaid travel money cards are one of the cheapest ways of spending money abroad, and they're great for helping you budget by only allocating a set amount to your holiday spending.
You can also get cards with multiple currencies, which are ideal for cruises and tours with calls in different countries.
Top prepaid travel money cards are free to use when spending abroad. They're easy to set up and you can transfer money to the card straight from your current account.
The apps allow you to keep an eye on your spending money and allow you to cancel the card if it happens to be lost or stolen.
Cons
Be aware of the fees that prepaid travel cards can come with. ATM withdrawals can be free but may come at a cost, depending on the bank.
There may also be a minimum first order amount, a fee for issuing/replacing cards, or monthly charges for prolonged inactivity.
Verdict
Prepaid travel money cards have more pros than cons, and they're a great middle ground between the discipline of a cash allowance and the convenience and security of debit/credit cards.
Shop around and compare the small print to get the best possible deal. For example, some have their own exchange rates that are higher than the interbank rate. EasyFX, Revolut and Wise are some of the most popular on the market.
Using debit cards while travelling
Using a debit card on holiday used to be less popular than carrying cash, but modern banking is making it a more compelling choice.
Pros
Debit cards remain one of the safest ways to spend money abroad. You don't need to show onlookers how much cash you're carrying, and large transactions are protected by your PIN.
Banking apps also make it easy to keep an eye on your holiday spending and allow you to freeze your card at a moment's notice if it gets lost or stolen.
Some debit cards come with more perks than others, including those that help you avoid foreign currency transaction fees. Starling and Monzo are both great for frequent flyers and have low fees for payments and withdrawals abroad.
Cons
Some people like to set aside their holiday spending money so they don't get carried away. Different banks make this easier to do than others with your debit cards.
Also, if your current account doesn't have perks geared towards travelling, you might have to set up a new account, which can be a pain.
Verdict
Travelling with a debit card is really simple and easy – especially if you're with a bank that is set up to make spending abroad convenient and affordable.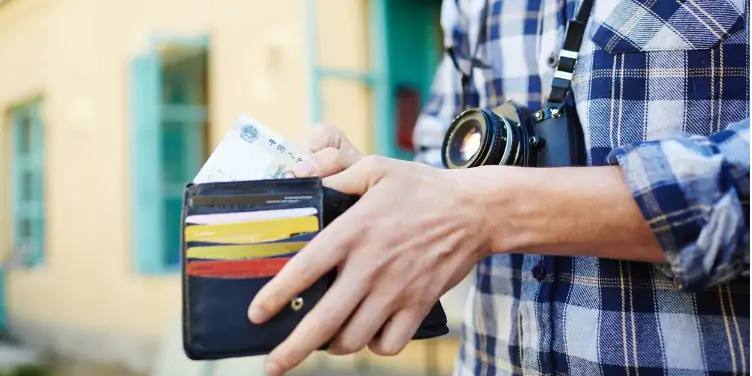 Using credit cards while travelling
Credit cards share many of the pros and cons of debit cards, but may come with some unique benefits.
Pros
Some credit cards come with perks like air miles, cashback, and other rewards when you spend.
Using your credit card abroad also gives you an extra layer of security. So should something go wrong with your purchase, you may be able to file a chargeback claim with your credit card company to reclaim the money spent.
Some credit cards, such as Halifax Clarity, don't charge transaction fees on purchases made – so keep an eye out for deals like this if you travel a lot.
Cons
Before jetting off, take a look at your credit card's small print when it comes to cash withdrawals. ATM withdrawals abroad may count as cash advances, which can come with extra interest charges.
Credit cards also don't work for everyone. This could be due to the temptation of overspending on your trip, that you can't get approved for a good interest rate, or something else entirely.
Verdict
A great option for security and convenience, if they work for you then credit cards can be ideal for travel. If they don't, a debit card or a prepaid travel money card are alternatives that share some of the benefits.
Using traveller's cheques
Traveller's cheques are not as popular as they once were, and many people have stopped using them for more flexible ways to pay – a similar story to standard cheques. They do still have some positives though.
Pros
Traveller's cheques are one of the safest ways to take cash overseas. In order to cash them, you need to countersign and give proof of ID.
If you jot down the serial number of your traveller's cheques, you can get them replaced if they're lost or stolen.
Cons
Since not many people carry traveller's cheques anymore, you may have to spend time queuing at a bank or exchange bureau to cash them.
There may also be a fee, and exchanging them into a third currency means losing out on the conversion twice.
You can get traveller's cheques in most of the big currencies, like euros, US dollars, Japanese yen, and GBP. But you can't get them in all currencies, which may be a problem.
Verdict
They're a bit outdated and a bit more complicated than they need to be. Most people will be better suited to other methods of taking money abroad, but you might want to use traveller's cheques for the extra security.
Declaring cash when travelling across international borders
If you're carrying £10,000 or more in cash across international borders into or out of Great Britain, you'll need to declare the money to UK Customs within 72 hours of when you're travelling. This also applies to groups carrying £10,000 or more in total.
Banknotes, coins, bearer bonds, traveller's cheques and cheques all need to be declared. You don't need to declare prepaid cards, money orders, gold coins, nuggets, or bullion.
The rules are slightly different when travelling to or from Northern Ireland so you'll need to check before travelling.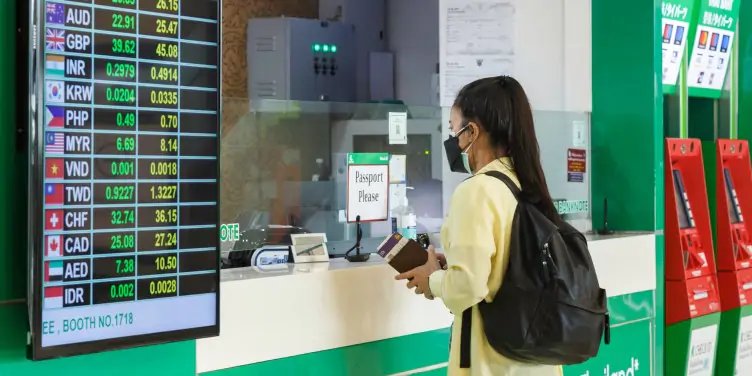 5 things to do with leftover holiday currency
You have a few good options if you have leftover currency after your trip abroad.
The first would be some last-minute gift shopping for loved ones. Who doesn't love a nice souvenir?
When you get home, you can change your foreign currency back into sterling – just make sure to compare the best exchange rates online first.
If you enjoyed your destination and plan to return sooner rather than later, or if the currency is used in a few different countries you might visit, you could save the cash for your next trip.
Giving the money to charity is also really easy. Airlines give passengers an opportunity to donate cash to their charities, and you can find donation boxes in most airports.
Another handy option is Leftover Currency. They accept your leftover currency and even take some currency that's no longer legal tender. You can have the value sent to your bank or you can donate it directly to the charity of your choice.
If you're interested in more travel tips, why not look at a guide for how to book a holiday online?