No matter what time of year you're hoping to book a holiday, finding a destination with a warm temperature and high amount of sunshine hours is paramount for many of us. Whether you're seeking winter sun or a summer time escape, our guide for where to take a holiday abroad when will help you discover the best location to travel to depending on the time of year.
The Maldives – Where to go on holiday in January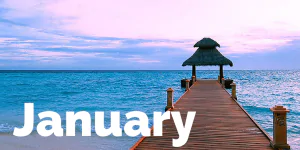 With the winter blues well and truly setting in after the excitement of Christmas and New Year, January is the perfect time to escape to a warmer climate. Escaping to paradise is on the forefront of many people's minds, and if you're looking to make that dream a reality, the Maldives are the perfect location for a January break.
Experiencing a dry monsoon season between December and April, the islands experience little rain and a lower humidity during this period. February to April is usually when the Maldives are at their hottest, making January a great time to visit as resorts are a little less crowded.
As with the majority of winter destinations, there is a long-haul flight involved, with journeys from London taking approximately 10 hours, but it'll all be worth it once you're sat beside the pool with a cocktail in hand.
Average temperature in January – 27°C
Sunshine hours – 9
Tourism Information: Visit Maldives

Thailand – Where to go on holiday in February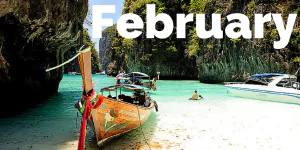 The winter tends to feel never ending when you reach February, so booking a break to look forward to can often provide some light at the end of the tunnel. With a visit to Thailand you will feel as if you've been placed in heaven, and thoughts of rain and snow will soon become a distant memory.
February is when Thailand's peak Christmas season starts to come to an end, meaning fewer tourists, yet the weather remains excellent, making it a wonderful time to visit. Another added bonus of visiting in February is that you can expect cooler breezes when staying in either the north or south of the country.
Direct flights can take about 11-13 hours from London, although a stopover at one of the connecting airports may be required.
Average temperature in February – 28°C (Phuket)
Sunshine hours – 9
Tourism Information: Tourism Thailand

Florida – Where to go on holiday in March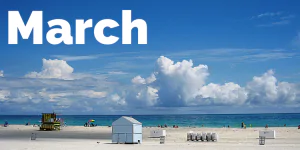 Although the weather may be beginning to thaw out in the UK, March temperatures still leave very much to be desired. With a trip to Florida you can be sure that both heat and dry weather await you, whether you choose to stay in Orlando, Miami or Key West.
The temperatures may not be quite as hot as in previously mentioned locations, but it's a much more pleasant humidity for visiting the theme parks and cities that Florida is renowned for. You'll also finds that the evenings are pleasant, making them perfect for BBQs and lazing by the pool.
Flights are a little shorter at approximately eight hours and can be booked at night – this could be particularly useful if travelling with children as the younger ones are more likely to spend it sleeping.
Average temperature in March – 20°C
Sunshine hours – 9
Tourism Information: Visit Florida
Cape Verde – Where to go on holiday in April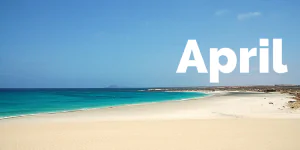 There may be a hint of spring in the air in April, but if you're feeling a little impatient and are still seeking the sun, a holiday will be just what you need. The lesser known islands of Cape Verde are a tropical treat and their breathtaking scenery will place you on cloud nine.
Only just beginning to attract tourists in April, Cape Verde won't be overcrowded and the weather will be just right. Midday temperatures are comfortable and pleasant, with the evenings cooling off slightly but still remaining warm enough to enjoy al fresco dining.
With no need for a long-haul flight, it's hard to believe that this beautiful destination is less than a six-hour journey from the UK.
Average temperature in April – 23°C
Sunshine hours – 9
Tourism Information: Capeverde.com
The Canary Islands – Where to go on holiday in May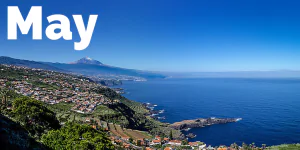 If by May you're itching to use up some of your annual leave, it is actually a great month to enjoy a break before holiday prices begin to hike. Also known as the 'islands of eternal spring', the Canaries offer a variety of different destinations, all as stunning as one another.
Due to the Canary Islands' constant warm and sunny climate, the Spanish archipelago tends to be a popular choice all year round, so much so that you may want to visit more than once. Just make sure to invest in multi-trip travel insurance if this is the case. However, December to March and July to September are when they're at their busiest, making May the ideal time to visit. You'll also find that the sunshine hours are also lengthy, meaning there will be lots of daylight time for sightseeing.
Taking between 4 and 5 hours, flights to the Canary Islands are relatively short and will have you relocated in the hotter climes of Lanzarote, Gran Canaria or Tenerife in no time.
Average temperature in May – 20°C (Lanzarote/Gran Canaria)
Sunshine hours – 11
Tourism Information: Canary Islands
Turkey – Where to go on holiday in June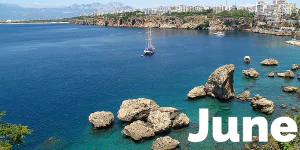 June is when Europe really begins to hot up, so if you're pondering taking a holiday to the continent, now is the time to really consider it. With virtually no chance of rain, Turkey is a far cry from the interchangeable weather in the UK, making it a safe choice for a holiday in June.
Located in South Eastern Europe, Turkey's temperatures can reach up to 31°C in June, so will be a haven for sun seekers and sunbathers alike. For those of you that enjoy relaxing on the beach, Turkey has plenty, many of which have water sports in abundance, perfect for cooling off in the heat.
Again, flights take approximately four hours, but the spectacular scenery and warm weather will be more than worth it once you arrive.
Average temperature in June – 25°C (Marmaris)
Sunshine hours – 13
Tourism Information: Go Turkey
Portugal – Where to go on holiday in July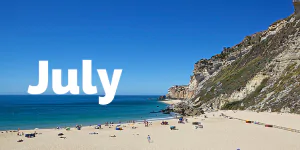 As the month which transitions from off-peak to the most popular season of the year, July has a holiday suitable for everyone. Portugal is a superb location for a vacation in July, as its resorts fully come to life and the sea reaches a desirable temperature.
As one of Portugal's hottest and sunniest months of the year, July can see temperatures reach up to 28°c, although the average is a pleasant 24°C. The Mediterranean climate of the country also means that rainfall is very rare in July, and there are often sea breezes that can help to keep you cool.
The duration of the flight is approximately 2 hours long, which is a nice and easy destination to reach, especially considering this is less than the time it takes to drive from London to Devon.
Average temperature in July – 24°C (Algarve)
Sunshine hours – 12
Tourism Information: Visit Portugal
Spain – Where to go on holiday in August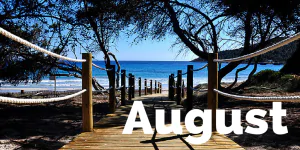 If you're restricted to taking a break in the school summer holidays, then finding a location that isn't going to break the bank is sometimes a nightmare. However, in August, there are numerous locations boasting fantastic weather in nearby Europe, with Spain providing many wonderful destinations at competitive prices. Also, with our single trip travel insurance, you can save money too, as children and grandchildren are insured for free!
August is the hottest month of the year for Spain and offers very little chance of rain, with plenty of sunshine hours so you can make the most of your days during your holiday. Sea temperatures will also be nice and warm, meaning you can make the most of the fantastic beaches that this country offers.
One of the bonuses of travelling during the summer months is that you won't need to fly so far in order to find the sun, with flights to Spain taking less than two hours.
Average temperature in August – 25°C (Malaga)
Sunshine hours – 13
Tourism Information: Spain.info
Greece – Where to go on holiday in September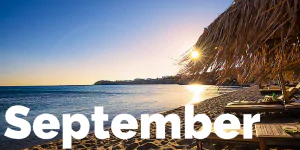 A holiday during September in Europe can offer the best of both worlds, with lower prices and less tourists, as well as fantastic weather. Both mainland Greece and its islands have incredible white sand beaches and turquoise waters, perfect for spending a week or two relaxing by the sea.
Greece will have also cooled off slightly, making the heat more bearable, but chances of rain still very slim. It is rare that the temperatures reach below 20°C at night in September, which is great for those that enjoy exploring the country's culture during the evening's too. Aside from the mainland, Crete and Zante are some of the warmer islands, with Corfu and Kos being slightly cooler.
Flight times to Greece and its islands vary from approximately three to five hours, which may be a deciding factor when trying to work out which Greek destination to visit.
Average temperature in September – 25°C
Sunshine hours – 8
Tourism Information: Visit Greece
Cyprus – Where to go on holiday in October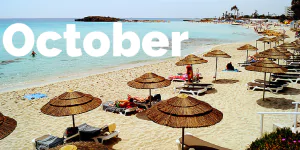 As things start to cool off in the UK, it can be nice to have a holiday to look forward to as autumn begins to loom. Cyprus sits below Turkey and above Egypt, and is often described as the 'year-round' island, making it the perfect location for an October break when other destinations are not in their prime.
The intense heat of the summer months will have begun to cool down in Cyprus, leaving a more desirable temperature for some. Another bonus is that the hot summer months will have heated the sea, leaving a warm temperature of about 24°C, perfect for bathing.
Travelling to the country will take around four and a half hours by plane, with flights available from a wide variety of airports.
Average temperature in October – 22°C
Sunshine hours – 10
Tourism Information: Visit Cyprus
Egypt – Where to go on holiday in November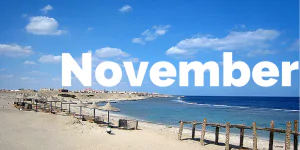 Why not take a holiday just before the festive season is about to kick off? Egypt still boasts fantastic temperatures in November and has so much beautiful scenery and fascinating culture to explore.
November is a popular time of year for visiting Egypt as the temperatures are less intense and the humidity is lower, but the sunshine hours are still high. It is also unlikely that you'll be bothered by mosquitos at this time of year, which is a factor many take into consideration.
Average flight times are five hours long, which is relatively short considering that a number of countries will now be experiencing winter weather, making long-haul destinations more popular.
Average temperature in November – 23°C
Sunshine hours – 10
Tourism Information: Egypt Travel
Australia – Where to go on holiday in December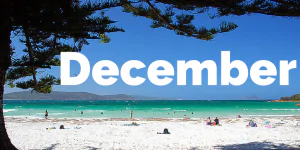 Ever considered spending Christmas Down Under? If you're looking to escape the winter chill in December then there aren't many better locations than Australia, with its vibrant cities, captivating culture and breathtaking beaches.
As the Australian summer begins in December, you'll be greeted with warm and sunny weather too, and will soon forget the colder temperatures on the other side of the world. There will be plenty of sun and sea temperatures will be warm, great for those who fancy visiting one of the surfing beaches the country is renowned for.
As the farthest away destination on this list, flights to Australia can take anything from 21 hours and above, depending on whether a stopover is needed. But for an unforgettable Christmas it is worth it!
Average temperature in December – 22°C (Sydney)
Sunshine hours – 9
Tourism Information: Visit Australia
Image Credit: icegroup, Nattu, Earth-Bound Misfit, I, Erman Akdogan, Boris Alexeev, Carlos Martin, Joonas Plaan, Francisco Aragão, Federico Capoano, Mateus Pabst, CTO Zurich, Andrew A. Shenouda, Robert Young (Flickr.com)