Visit Cuba Before It's Too Late

Cuba, The Caribbean Island With A Difference
As the consumer society gathers pace in Cuba, now is the time to visit if you wish to experience the true beauty of this Caribbean island.
As anyone who has visited the island of Cuba will tell you, this is one of the finest holiday destinations anywhere in the world. However, things are changing fast, and not necessarily for the better, as the Marxist-Leninist ideology gives way to the ever-encroaching western world.
What was once a slow-paced, typically Caribbean island, the Cuban way of life is becoming more and more like that of the United States, which is only a mere 90 miles away. While many tourists will welcome the step up in pace, others who appreciate the true cultural heritage of their holiday destination will need to book their flights and worldwide travel insurance now before it's lost in a sea of homogenisation.
Music Is Life
One of the main reasons to jump on a plane right now is the music. If you love creative expression, Cuba is the place for you. Much popularised by Ry Cooder's fantastic 1997 Buena Vista Social Club, the music scene here is simply amazing. Everywhere you go you will find traditional music being played with a fervour that will make your heart melt.
And, where there's music, there's dancing. Cubans are not afraid to shake their stuff in public, and there are even designated areas where people seemingly salsa 24-hours a day. Pack your dancing shoes and soak up the glorious celebration of music and life in this magnificent country.
Cubans Make Cuba
As we mentioned above, the Cuban people are both open and passionate, which makes for an unbelievably welcoming experience for anyone visiting their beautiful country. Friendly and charming to a fault, Cubans are fantastic people to spend time with and they are as interested to find out about your culture as you will be to learn about theirs.
Take time to sit with a Cuban and your life will be enriched forever. Their history is fascinating and their colourful storytelling skills make the experience all the more rewarding.
Step Back To The Fifties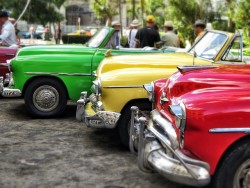 How long will the ubiquitous American vintage cars last once the hand of consumerism gets it grip on the streets of Havana once more? Only time will tell, but it is worth making the effort to go to the Caribbean island for the time warp effect alone.
Much of the architecture is reminiscent of the days when Cuba was once an American playground, and the aforementioned cars are lovingly restored with whatever parts the locals can get their hands on. Mature travellers will find this part of Cuban life especially fascinating and, as ever, the Cubans are more than happy to tell you about it.
Don't Forget The Rum And Cigars!
Two of Cuba's most famous exports are best enjoyed in their country of origin. Go and see the spot where Ernest Hemingway enjoyed his famous daiquiri at El Floridita and sample the different strains of rum made on the island.
While cigars may not be to everyone's taste, for those that do enjoy a smoke there is nothing finer than a good Cuban cigar. Even if you don't smoke yourself, a visit to one of the many cigar shops is well worth the effort. Plus, it'll give you welcome respite from the sweltering heat when you step inside these walk-in humidors.