Trip to Indonesia: A week in Ubud
Hello from Indonesia! I'm nine days into my six week trip here, and I'm now feeling very at home. Particularly because I've spent the past week relaxing in the hippie haven of Ubud.
Ubud is a small town in central Bali, famed for its many Hindu temples and rich traditions. The chilled out vibe and strong sense of spirituality have long made this place a haven for travellers, and it's easy to get caught up in the slow pace of life here. I initially booked in for two nights, planning to see the sights quickly before hitting the beaches. Instead, I got swallowed up, and a week later I only left because a prior commitment meant I had to. Trust me, I'll be back.
Over the course of a week, though, I was able to see a huge amount of the small town and the stunning countryside that surrounds it. Ubud is in a truly fantastic setting, surrounded by rich green landscapes of rainforest and neatly terraced rice paddies. Hungry to see it all, I hopped on the back of a moped with some friends I met at a hostel in town, and set out into the countryside.
Our best discovery came about by accident. On a recommendation from our hostel's owner, a small group of us zipped out into the greenery to find Kanto Lampo waterfall, but when we arrived it was closed because a lack of rainfall had both rendered the fall pathetically tiny, and made the pool too shallow and dangerous for swimming.
Undaunted, we searched Google maps for alternatives and found another waterfall not too far away. It was about 40 minute's drive from Bali, and as far as I know this one isn't found in any guidebooks. It's a bit of a secret; to reach it we had to hike for twenty minutes through jungle, down wet stone steps into a deep gorge. There was no sound of water as we approached, and I was expecting a disappointment, but instead we rounded a bend to find ourselves faced with a huge waterfall thundering down into the river below. Better still, we had the place completely to ourselves. Just us, the waterfall, and the jungle towering overhead.
Another highlight was bathing in the holy springs at Tirta Empul temple outside of town. Fed by a holy mountain spring, the pool at the temple features a series of fountains which are used in a purification ritual. It was a fascinating insight into a new culture!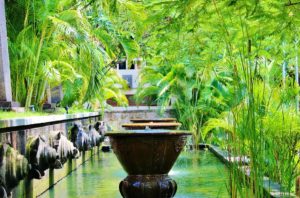 While I was there, I discovered as much of Ubud as I could fit into a week. I ate my way around the town, hunting out the best peanut sauce in Bali at Mama's Warung, and discovering a new-found love for tempeh. I saw my friend undressed by a monkey in Ubud Monkey Forest, and watched a very intense man doing Tai Chi behind the thundering falls of Tegenungan Waterfall.
Lost, I stumbled upon a cock fight, and watched a bloody first round while the locals laughed at my horrified shock. And of course, I managed to find time for a massage. With it's relaxed vibes and multitude of spas to suit all budgets, Ubud is one of the best places to try a traditional Balinese massage. This is a deep-tissue, holistic treatment that's sure to leave you as relaxed as possible.
By the end of a week, after two massages and plenty of long, lazy days enjoying Ubud's relaxed pace of life, I was feeling pretty zen. This has been the perfect introduction to a trip – and now I can't wait to discover more of Indonesia's landscapes and cultures.
Has this inspired you to go travelling? Don't forget to book your travel insurance before you leave giving you peace of mind while you travel.
By: Emily Luxton