The Costa del Sol is one of the most popular regions to holiday in Europe. And it's no surprise, as this area of southern Spain has it all for sun, sea and sand-seekers. Its nightlife scene is iconic, with buzzing resorts such as Marbella, Málaga, Torremolinos and Fuengirola packed with restaurants, bars and clubs.
But the Costa del Sol has another, quieter side to it. One with whitewashed old towns, wellness retreats and traditional fishing villages. Here are our picks for the best places to unwind on the sunshine coast.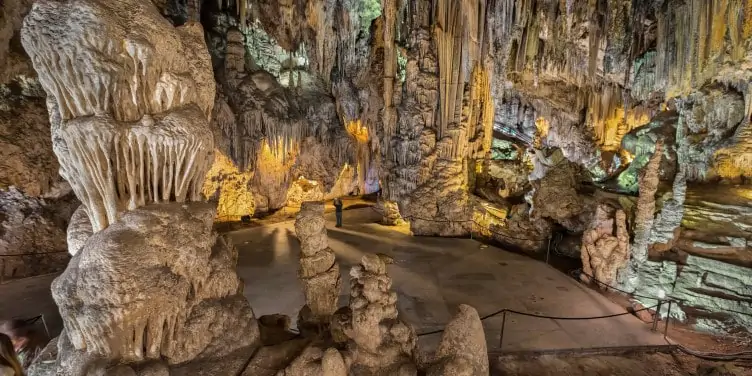 1. Nerja
Nerja is a popular coastal town on the Costa del Sol's eastern edge. But it's generally quieter and more laid-back than larger resort towns such as Torremolinos and Fuengirola. Its old town is attractive and full of shops, restaurants and bars.
Sandy beaches are within easy reach, as is the promenade Balcón de Europa, where sweeping views over the sea and mountains can be enjoyed. The atmospheric Caves of Nerja are around a 45-minute walk or five-minute drive from the town centre. Take a guided tour to view the paleolithic-era paintings, as well as a variety of stalagmites and stalactites.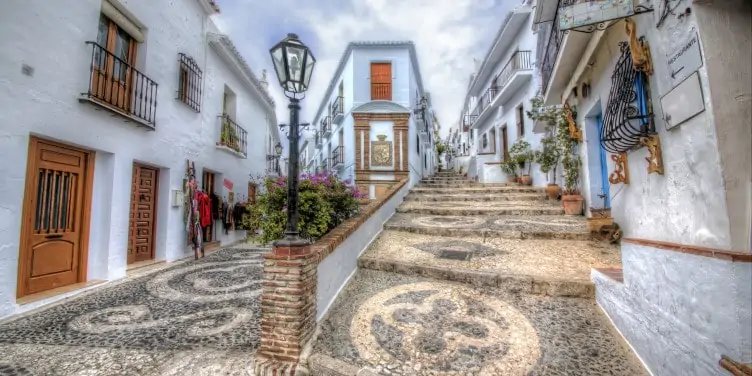 2. Frigiliana
Around 8km north of Nerja is another of the 'White Villages', Frigiliana. This beautiful spot lies on the slopes of Sienna Almijara, with spectacular and wonderfully relaxing views over the Costa del Sol.
Simple strolls through narrow streets and passages lined with ceramic mosaics and colourful blooms are experiences in themselves.
The most striking area of Frigiliana is its Moorish quarter, Barrio Morisco. Be sure to stop in at the 16th-century palace of El Ingenio, now a molasses factory where Frigiliana's famous sugar cane honey is produced.
A visit to the village wouldn't be complete without sampling the Moscatel wine that Frigiliana is also known for. Or fully detox the mind, body and spirit at one of the several yoga, hiking and wellness retreats in the area.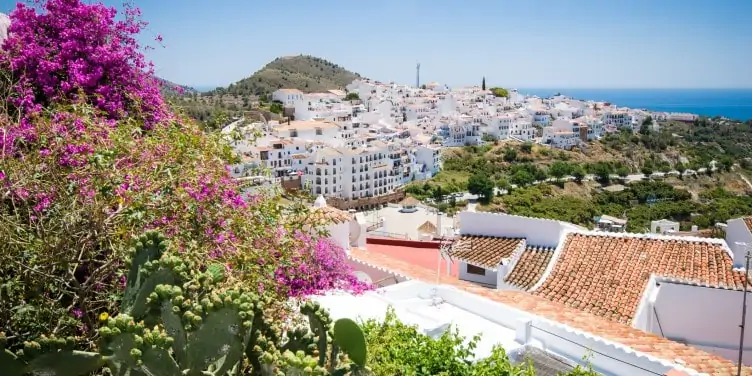 3. Vélez-Málaga
Even though it's not directly on the coast, Vélez-Málaga is a lovely base from which to enjoy it. Away from the Costa del Sol crowds, this small market town offers history and authentic Spanish atmosphere. Sandy beaches such as Torre del Mar are just a 10-minute drive away.
Explore the narrow, cobbled streets of Vélez-Málaga's old town and browse the town's weekly market if you happen to visit on a Thursday. A historic highlight is Castillo de Vélez-Málaga, a Moorish castle with town and sea views from its tower. Take the weight off your feet at a pavement cafe where a coffee or refreshing beer has your name on it!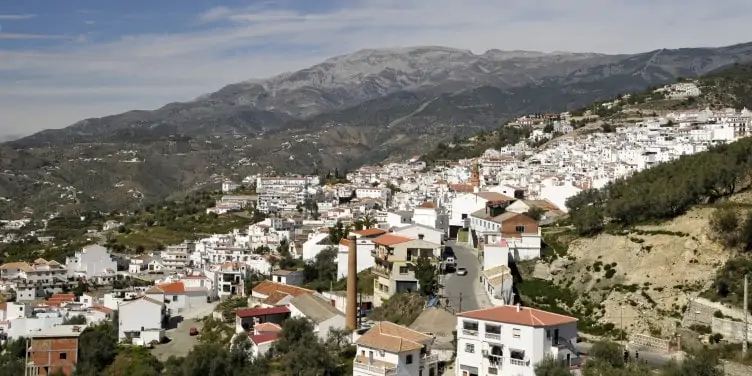 4. Cómpeta
A Costa del Sol 'White Village', Cómpeta is a beautifully preserved town in the mountains around 20km north of the coast. If you're a fan of challenging drives, you'll enjoy navigating the narrow, bendy roads up to Cómpeta from Torre del Mar. And once there, keen ramblers will relish walking along scenic paths up through the hills.
Plaza Almijara is a lovely place for passing a few relaxed hours. And the steep climb to get there will help build up an appetite for lunch or dinner! This small town square is home to several bars and restaurants, with whitewashed buildings and a 16th-century church to admire while tucking into some tapas.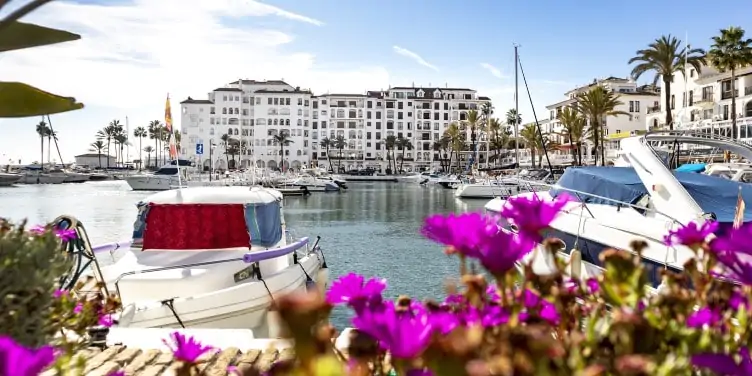 5. Manilva
As is so common on the Costa del Sol and other Spanish coastal spots, Manilva is a town of two halves. There's the quiet, whitewashed village in the hills, and a seaside resort that boasts a sandy beach and plenty of modern amenities.
You get a real taste of everyday Spanish life here, as Manilva is a popular base for locals who work in nearby towns such as Marbella.
Puerto de la Duquesa is a pretty leisure port with a choice of bars and chic eateries. The similarly named El Castillo de la Duquesa, a fortress dating back to 1767, houses an interesting archaeological museum. Golfers will especially love Manilva, as there are a number of top courses within a short drive of the town.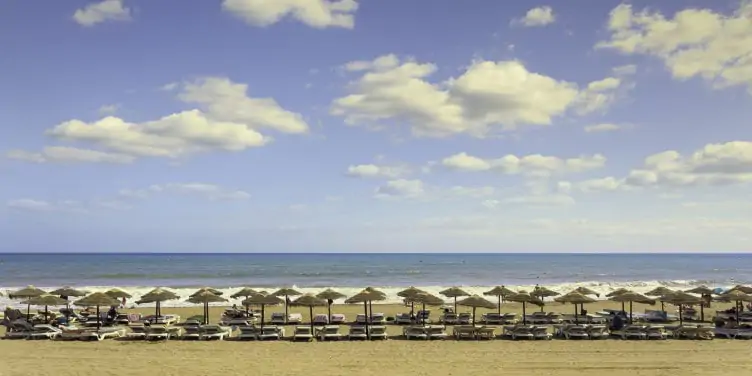 6. Estepona
Just west of Marbella is the town of Estepona, with its beaches and restaurants being far less crowded than those of its close neighbour. Estepona offers a mix of the new and the traditional, creating a resort holiday destination that still has plenty of original fishing village charm. While the coastline is quite developed, take just a few steps away from the sea and you'll be in the authentic old town.
The main hub of the whitewashed old town is Plaza de las Flores, with flowers filling the square with vibrant colour. Relax on one of the pavement cafes that cluster around the central fountain as you take in the beautiful sights and scents of this sociable space.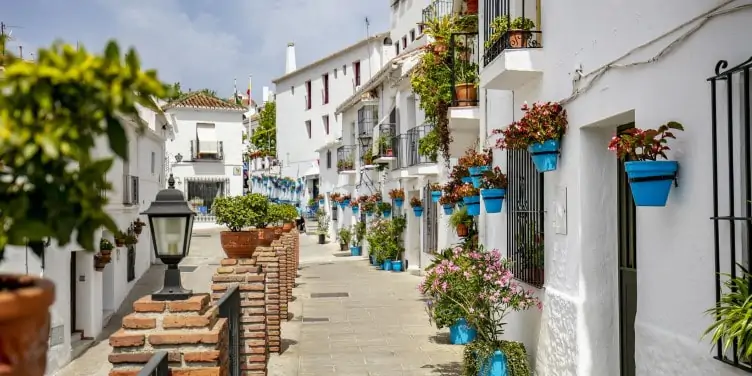 7. Mijas Pueblo
Mijas Pueblo is the village sister to the busier, coastal area of Mijas Costa. A traditional village, Mijas Pueblo is the destination for an authentic Andalusian experience. It's considered to be one of the most attractive of the 'White Villages' and has a particularly creative atmosphere. Culture lovers will definitely want to browse the village's art galleries, including the small art museum that features works by Dalí and Picasso.
The older quarter has typically quaint streets to wander along, with cobbles under foot and plenty of whitewashed buildings to see. Take a guided tour around the village and learn even more about its history and traditions.
An especially quirky spot to visit is the Museum of Miniatures. Inside this old railway carriage is a collection of over 300 miniature curiosities such as carved items and painted grains of rice!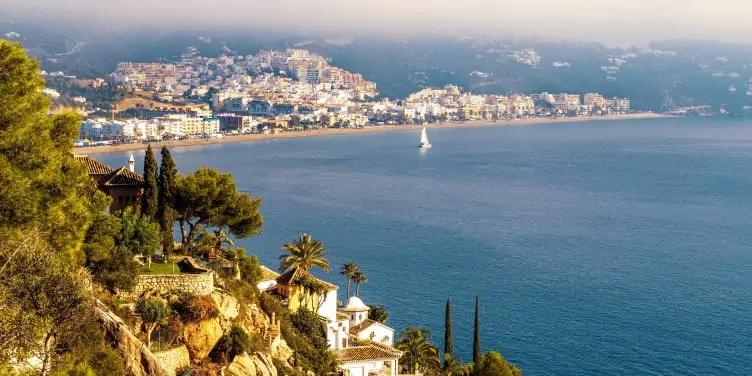 8. La Herradura
La Herradura is a small fishing town that lies on the border of the Costa del Sol and the Costa Tropical. It can get lively, especially in the summer months, but doesn't attract crowds of tourists like the main resorts on the Costa del Sol do.
Situated in a picturesque bay surrounded by mountains, La Herradura has a sandy beach, beachfront bars and a choice of restaurants. Popular water sports include kayaking and scuba diving, while in the azure blue waters is always pleasant, thanks to the sheltered nature of the beach.
The town's laid-back atmosphere is best appreciated while lying on the beach or taking a stroll along the palm-dotted promenade.