The Venice Of The North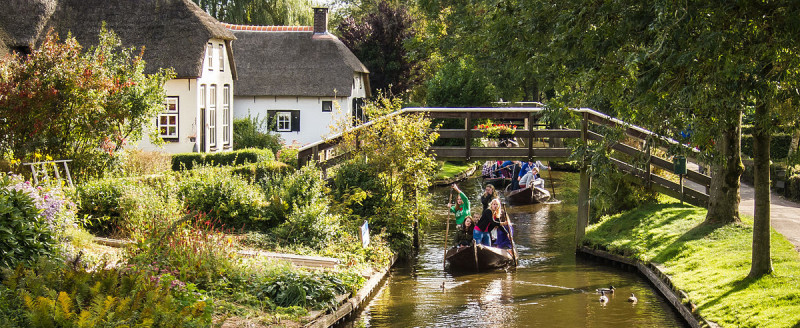 Choose The Venice Of The North For Next Year's Holiday Destination
If the thought of hordes of tourists leaves you feeling cold, check out the warm welcome you'll receive when you visit the Venice of the North.
If you want to get away from it all during the peak season, but do not want to pay peak season prices, Giethoorn should be one place that is close to the top of your list. This beautiful part of the Dutch countryside will delight and charm you during your stay, and it won't cost you an arm and a leg either.
Close To Home, Yet A Million Miles Away
The peaceful serenity of Giethoorn will be welcome relief to those looking to get away from it all. Although only one hour away by air, Giethoorn could be on the other side of the earth when you compare it to the hustle and bustle of many UK metropolises.
Full of stunning scenic views and endlessly winding canals – hence the nickname – this main village in the Overijssel province is a picture postcard of a place. As with most of the Netherlands, the terrain is easy to navigate either by foot or bicycle, so taking in your surroundings is both easy and delightful.
Giethoorn Makes Good Financial Sense
For families who want to make the most of the summer holidays without making too huge a dent in their bank balance, Giethoorn is a great place to stay. Airfares to this part of Europe are extremely reasonable, and the accommodation here is equally economical. Talk to us about European travel insurance.
A two-bedroom cottage, for example, will only set you back around £290 for the whole week. When you compare this to the cost of staying in a hotel as a family, the difference can be telling. If you need transport during your stay you will be pleasantly surprised at the rental fees for car hire here as well. Bikes, too, can be rented out cheaply, with two people plus a toddler seat accommodated for under £10 per day.
A Chance To Explore
The open nature of the countryside at Giethoorn offers children a fantastic opportunity to explore and behave just the way kids are supposed too. For those who enjoy spending time on the beach, the nearby island of Texel offers some of the most wonderful sandy retreats in Northern Europe.
Each of the beaches has its own restaurant to stave off the hunger you will undoubtedly work up whilst enjoying beach life and beach huts can be rented out on a daily basis for a measly £14. If you are looking to stay a little longer, you should check out the Texel Yurts that can be found near the tiny settlement of Den Hoorn. These Mongolian style living quarters give an air of camping, without the obvious drawbacks. Each comes with a wood-burning stove, hammocks and running water – a far cry from a wind-beaten tent in the Cairngorms!
At the right time of year, the Netherlands can be a stunning country to visit if you want to relax and unwind. So, if you are looking for a family holiday away from the maddening crowd, Giethoorn might just be the place for you.
Photo by PhotoBobil.