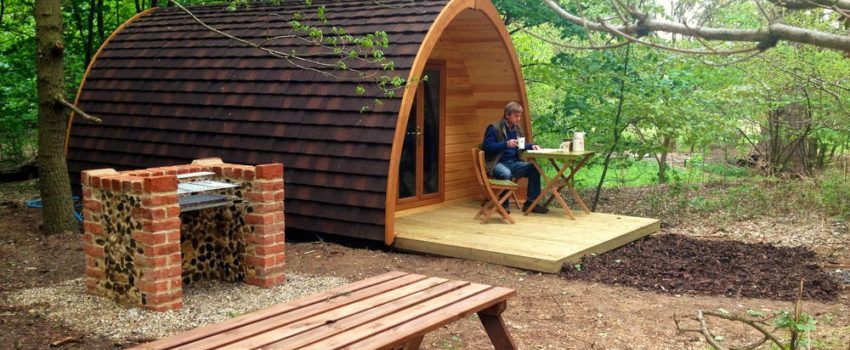 The Best British Glamping Sites
Where To Go Glamping In The UK
If you like the great outdoors but a muddy tent sounds like hell, then why not consider glamping? Here are our top six glamping sites in the UK.
Muddy puddles. Leaky tents. Dodgy bathrooms. Camping isn't everyone's cup of tea. But if you love the great outdoors, why not consider glamping? Glamping, a portmanteau of 'glamorous camping', is an activity which has been gaining popularity over recent years. This is perhaps partly due to the recession, which has seen camping become an increasingly popular activity amongst cash-strapped holiday makers. Glamping is a form of luxury camping – think huge tents with proper beds and wood-burning fires. Despite these extravagances, glamping still remains an affordable form of accommodation. So what are you waiting for? Grab your wellies and head to one of our top six glamping sites.
Sennen Summerhouse
Surfer? Why not check out Sennen Summerhouse, a cute cabin in Cornwall offering awe-inspiring views of the Atlantic. Enjoy coastal walks and local crab dishes, before heading back to the cabin, which was created entirely from recycled materials. There is no power, but the cabin boasts a shower and double bed.
Cotswold Camping
Nestled in the Warwickshire countryside, Cotswold Camping is a glamping site that offers huge bell tents, yurts and even a treehouse! Its luxurious tents are draped with exotic Moroccan fabrics, which you can enjoy from the huge double bed. The site is located in the pretty village of Whichford, which boasts an award-winning pub and a nearby brewery.
The Chiltern's View
A true luxury glamping site! The Chiltern's View in Oxfordshire offers stunning eco-lodges, each of which features a wet-room, wood-burning stove and, the best bit, a 24 hour-heated hot tub! Enjoy the views of the rolling country side while soaking in the tub with a glass of wine. Nearby you will find the pretty village of Wallingford – home of both Midsomer Murders and Agatha Christie.
West Stow Pods
Go down to the woods in Suffolk to find West Stow Pods. Located in the middle of the gorgeous Thetford Forest, each of the site's four pods will comfortably hold a family of four, boasting a kitchenette and wet room. The nearby coast is lined with cute seaside resorts if you want a change of scenery, while Bury St Edmunds is nearby for supplies and exploration.
Ceridwen Centre
Located in Wales' Carmarthenshire, the Ceridwen Centre boasts four handmade Welsh yurts. Even better, however, is a lovingly restored gypsy caravan from the nineteenth century. Called the 'Gypsy Cwtch' (Cwtch is Welsh for 'cuddle') this romantic, cosy caravan features Welsh woollen blankets and a range stove. Owners tell us that there have been more than a few marriage proposals made here! The site is located in an area of outstanding national beauty, dubbed the 'Garden of Wales'. Be sure to check out the nearby National Botanic Garden.
Aviemore Glamping
Aviemore Glamping in the Scottish Highlands is located on the edge of the Cairngorms National Park. It features four luxurious pods, each of which boast their own campfire pit. There are a wealth of outdoor activities in the area, from hiking and cycling to canoeing and skiing – the busiest ski resort in Scotland is just ten minutes away!
Wherever you go glamping this summer, don't forget your UK travel insurance – and your wellies!