Thanksgiving Day travel could be disrupted by a huge storm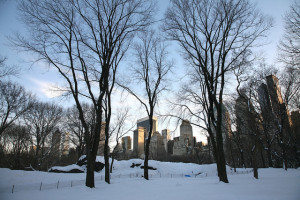 People travelling to the East Coast of America over the Thanksgiving period could well see their plans disrupted by a large storm that is expected to affect the area.
Weather forecasters across the US are predicting the storm, which is due to hit the East Coast today and on Thanksgiving Day, will leave at least three to five inches of snow in New York City and this comes on what are the busiest travel days of the year.
People travelling to New York City from the UK are being urged to book travel insurance in the UK before they travel to cover themselves should their flight get cancelled due to the storm.
Storm set to slam into East Coast
Forecasters have revealed that the storm is due to hit the US's East Coast and is set to dump snow, sleet and rain in the region over the Thanksgiving period, including on Thanksgiving Day on Thursday 27th November.
As a result the National Weather Service has issued a weather warning over the Northeast and mid-Atlantic regions of the US.
International travellers are not the only people that could be affected as thousands of families across the US often fly during the Thanksgiving period and the storm warning covers an area that has over 20 million people living in it.
David Stark, a meteorologist at the Weather Service, told the New York Times; "Where the rain-snow line will set up is creating a very challenging forecast."
The US National Weather Service also revealed that parts of New Jersey are set to witness the worst of the storm with some areas expected to get around 10 inches of snow.
So anyone travelling to the US in the coming days should check their single trip travel insurance documents to be sure that they are covered in case their travel is affected by the storm.
Image Credit: (vincent desjardins) (flickr.com)