When choosing a holiday, I normally head somewhere hot. After reading an article about the top ten rail journeys, which included the Glacier Express, I was tempted by something completely different this time – a winter wonderland holiday by rail to Switzerland. 
Not only this, I would be travelling as part of a group with a dedicated Tour Manager. This is something I hadn't considered before because I thought it would be too structured for me.
Travelling with a tour company turned out to be a major positive. Everything was planned, so all I needed to do was sit back and enjoy this new experience! We were even able to travel from our local train station all the way to Interlaken in Switzerland, via the Eurostar.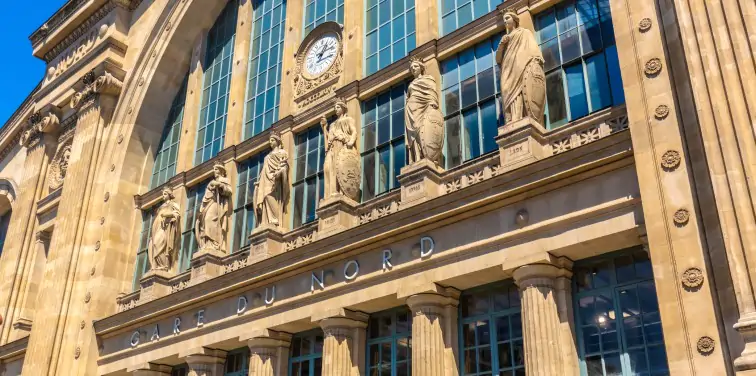 Day 1: St Pancras – Paris – Basel – Interlaken
Having stayed in London the previous evening, we checked into the Eurostar at St Pancras for the first leg of our journey to Paris Gare du Nord, which only took around two and a half hours.
On arrival, we transferred via coach to Paris Gare de Lyon station for the next part of our swiss adventure by train. From here, we caught the three-hour TGV speed train to Basel. 
Our final train of the day was a two hour journey from Basel in northwestern Switzerland to Interlaken. This was the most scenic part of the journey as we passed through sleepy Swiss villages and along lake shores, headed into the Alps.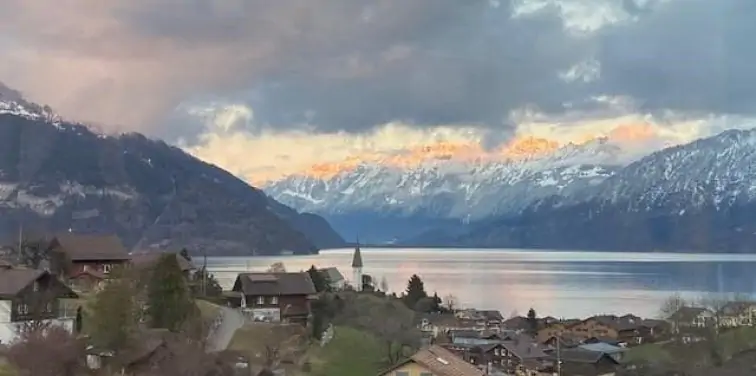 Our hotel was located on the famous high street of Interlaken, Höheweg, just a 10 minute walk from the train station. Interlaken is a traditional Swiss resort in the mountainous Bernese Oberland region of central Switzerland. It's nestled between the emerald-coloured waters of Lake Thun and Lake Brienz. 
We found plenty of shops and restaurants on our first day. There were plenty of independent shops to enjoy typical Swiss souvenirs, like chocolate, cowbells, and watches. The choice of cuisine was excellent – from Chinese to Italian and everything inbetween. 
And there's a funicular that takes you up 1,322 metres to Harder Kulm. From here you can enjoy incredible views of the Eiger, Mönch and Jungfrau mountains from a viewing platform. An absolute must-do.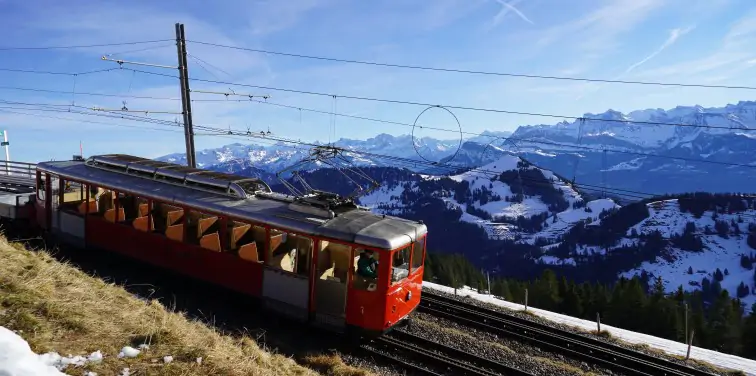 Day 2: Lucerne – Vitznau
On the second day of our rail adventure, we journeyed to the picturesque resort of Lucerne. Colourful pitched-roof buildings perch on the edge of Lake Lucerne are framed by a magnificent mountain range here. 
The best way to appreciate the scenery surrounding the resort has to be with a boat trip on the lake to Vitznau. 
After a brief tour, we had free time to wander the compact old town where exquisite hand-painted murals can be seen on the 15th-century buildings. You can also stroll across the famous Chapel Bridge, Europe's oldest covered bridge and the world's oldest surviving truss bridge. 
Tip: Don't leave Lucerne without buying some of the renowned Swiss chocolate. None of mine made it home, it's just too good to share!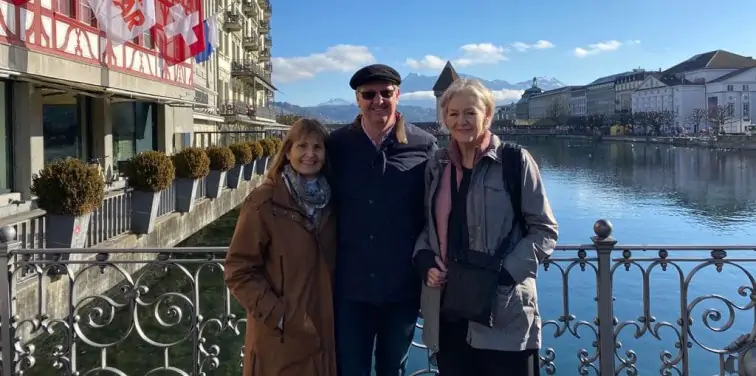 From Vitznau, we enjoyed a ride on the cogwheel railway up Mount Rigi. The winter landscape takes your breath away as you climb 2km to the top. I'm not the biggest fan of heights, but it felt very safe and secure and I found it helped to avoid looking back.
We were so fortunate that the sun was shining so we had clear 360° panoramic views across the Alps and of Lake Lucerne below – a truly memorable day.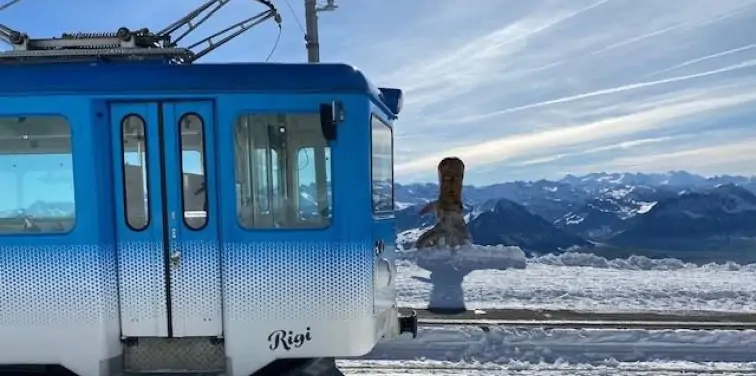 Day 3: Chur – Brig on the Glacier Express
The third day was the highlight of the trip. We travelled by train (naturally) to Chur where we joined the iconic Glacier Express for a journey through the striking ravines and snow-covered peaks of the Alps. 
Affectionately referred to as the 'slowest express train in the world', this relaxed journey is about as scenic as it gets. The train has panoramic windows so you can simply sit back and watch the ever-changing scenery. 
We reached the highest point of the route at 2,033 metres before snaking through the beautiful Rhône Valley to Brig, where our journey ended.
Tips for the Glacier Express train journey:
Check the weather the day before – if the sun is shining, wear layers as the coaches get very warm. I made the mistake of wearing a thick woollen sweater!

There's no need for snow boots because you don't get off the train. 

The train journey is around four hours long so pack snacks if you're known to get peckish.

Food and drinks are available on board, and there are options to pre-order by emailing Glacier Express directly.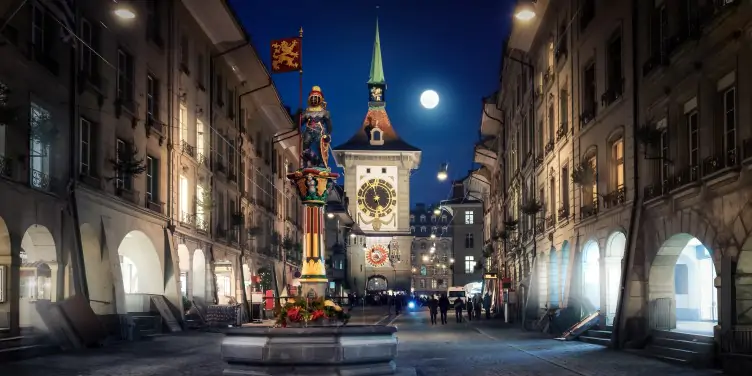 Day 4: Bern
For our final day in Switzerland, we had a more leisurely start as we headed by train for the capital Bern. The old town of Bern is a UNESCO World Heritage Site where you'll find medieval buildings, narrow streets and ancient towers. 
Not to be missed is the Zytglogge, a 15th-century astronomical clock, one of Bern's most recognisable symbols and the oldest monument of the city. Bern also boasts one of the longest (6 km) weather-sheltered shopping promenades in Europe, referred to by the locals as 'Lauben'. 
Since the symbol of Bern is the brown bear, the city created the now-famous bear park to house three resident brown bears. Unfortunately, we didn't have time to visit them, but we'll definitely make time for it if we come back!
We ended the day with a relaxing cruise on Lake Thun. The attractive shoreline is dotted with romantic villages, Romanesque churches and majestic castles right up to the peaks of the surrounding mountains.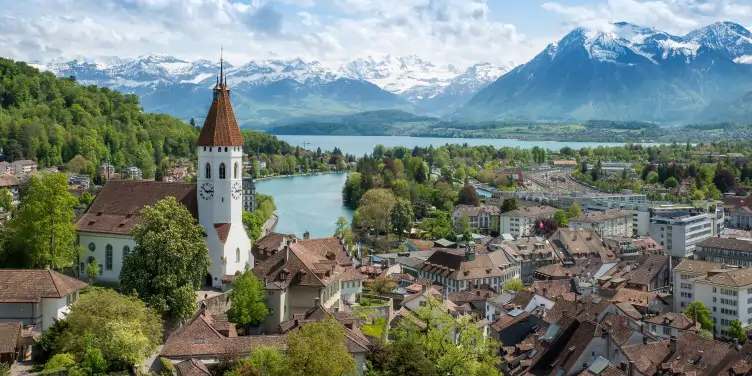 Day 5: Bern – Paris – London
Day five was the final day of our adventure to Switzerland. Sadly homeward bound, we retraced our route from Bern to Paris where we caught the Eurostar back to London St Pancras.
A Swiss rail adventure to remember
So, would I go on another rail holiday? My answer is a resounding 'yes'! 
The whole trip was well planned and we saw so much in a short space of time. In fact, our adventure saw us travel on 22 different trains and we covered almost 2,000 miles in just 5 days – how incredible is that? 
Here are some things I learned that might come in handy if you decide to travel Europe's railways.
Documents for travelling to Europe:
Although the UK had recently lifted some travel restrictions, we still needed to check we had the right documents in place:
As travel restrictions can often change, it's worth checking the FCDO website for the latest travel information before you book.
Tips for travelling by train:
You need to be fit and able because there's a lot of walking with the train changes and city tours.

Pack light – use a cabin- sized suitcase with wheels as you're responsible for carrying your own luggage.

Keep your passport and NHS Covid pass handy, you need to show these on a most trains.

A Swiss Rail Pass is needed for travel on any Swiss trains.

Pack a snack and water for long journeys – some buffet cars may be closed due to Covid.

Pack plenty of face masks as they're still required on public transport across Europe.

Wear layers of clothing as the temperature can change quickly.