Survey suggests budget airlines are best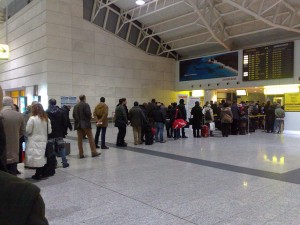 Recent news has suggested that booking your flights through a budget airline could be the secret to a trouble-free holiday after it was revealed that some of the cheapest names in low cost air travel actually garnered the least number of complaints. 
The developments come from the Civil Aviation Authority (CAA), who reported that per million flyers, easyJet received just 33 complaints. It was a similar story for both Ryanair and Aer Lingus, who received 35 complaints and 29 complaints respectively. While budget airlines have often been associated with high costs for baggage, poor service and long queues, it would seem that they have worked to reduce these problems and offer a great flying experience for all.
It is news that is sure to interest those looking to book their getaways in the coming months, suggesting that a great deal and great service are actually available together when booking a flight, much like they would expect from their single trip holiday insurance.
Thomson and Thomas Cook rank among the worst
Despite the reputation of Thomson and Thomas Cook for offering good family holiday packages, the data revealed that the pair received a record number of complaints from disgruntled passengers. Per million customers, Thomas Cook received 616 gripes and Thomson received 256.
Further data from the CAA offered insight into the efficiency and punctuality of ten airports in the UK. These included the five biggest in London: Heathrow, Gatwick, London City, Luton and Stansted, as well as Birmingham, Edinburgh, Glasgow, Manchester and Newcastle. Of the London airports, the number of on-time flights increased by eight percentage points during 2013 to rest at 84 per cent. The remaining five also saw an overall rise in the same category by six percentage points, growing from 81 to 87 per cent for the year.
Whilst delayed flights and lost baggage are among the most popular reasons why people claim on their over 60 travel insurance cover, the news from the CAA shows that more often than not, travellers actually enjoy a trouble-free experience while flying abroad.
Image Credit: Pietro Zanarini (Flickr.com)