20 Days to Go: How to build a snowman on your skiing holiday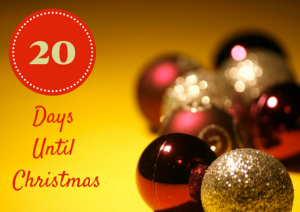 In Part Three of our special Christmas Countdown series of features we next take a look at how to build the best snowman. 
If you are one of the lucky ones that are jetting off on a skiing or snowboarding holiday this winter then one of the things you'll want to know before you go is how to build a snowman.
Building a snowman is not a skill that everyone possesses and many people have tried and failed to build the perfect snowman in previous years. So once you have taken out affordable skiing holiday travel insurance, decided on the resort you are visiting and booked up accommodation, then follow these top tips for making the best snowman.
Scout out a great location for your snowman
It may sound obvious, but it is no good building a snowman on a ski run as not only will you and your family get shouted at by skiers, but you may also get hurt. The best locations to build a snowman is somewhere that is partially protected. Therefore, a space by your chalet or next to some trees are all great areas to start building your snowman.
Use wet snow
All snowmen building experts say that wet snow is the best snow to use when it comes to the building process as icy or powdery snow does not stick together well. The best time to build a snowman is when the temperatures are just below or above freezing; if it's warmer than this it is likely to melt.
From the bottom to the top
Always start making your snowman from the bottom to the top. The best way to start is to get a handful of snow and to roll it around in front of you until it is big enough to put a middle and a head section of your snowman on top. Afterwards make the middle and then the top section of your snowman.
Make snowman arms from snow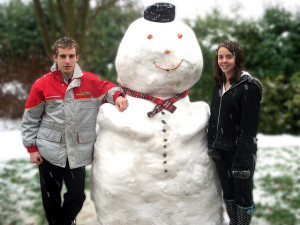 On cartoons you often see snowmen's arms being made from sticks, but using snow is so much more realistic and a real challenge! Take a look at the photo below for some inspiration.
Don't use expensive clothes
If you have just bought a brand new scarf or woolly hat then don't use it to dress your snowman, especially if you are skiing at a busy ski resort. Expensive items of clothing will almost certainly be stolen and your attire may also get ruined if it snows heavily. It is also unlikely that your multi trip or single trip travel insurance will cover any damage as a result of this.
Be creative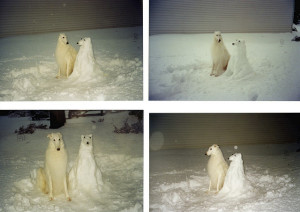 There are hundreds of ways to be creative when making your snowman, such as using buttons to mirror buttons on a coat, or stones or carrots to make eyes, a nose and a mouth. If that's not enough, then using food colouring to create rosy red cheeks and other facial features is another great option. Hats, scarves and gloves are all great props that you can use when building your snowman.
Also, why not try to build a Mr and a Mrs Snowman or a pet dog or cat?
To find out some more tips as well as some diagrams, check out WikiHow. To get you into the Christmas spirit even more, this song will get you in the mood for building a snowman!
Check back every Monday, Wednesday and Friday until the big day for the rest of our Christmas Countdown!
Image Credits: Alan Cleaver, Alex France, Deb (flickr.com)