William Shakespeare Watermark On All New Passports
Cultural Icons Lead The Way In The UKs All New Passport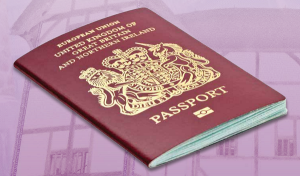 The British Passport Office has announced that William Shakespeare will feature in their new design along with other cultural heavyweights such as Elisabeth Scott and Charles Babbage. The latest overhaul of the UK's primary travel document sees the departure of the British birdlife and geography featured in the current edition, moving more towards images similar to those featured on the country's banknotes instead.
The other British icons that feature on the document's 16 pages include Ada Lovelace, John Constable, Sir Giles Gilbert Scott, Antony Gormley, John Harrison and Anish Kapoor. However, some quarters have complained the Passport Office have tried to 'airbrush British women from history', but a spokesperson was quick to point out that the new design was approved by minsters before being launched.
Sam Smethers, CEO of the Fawcett Society, said: 'They could have included the first feminist and writer Mary Wollstonecraft, Elizabeth Garrett Anderson, Virginia Woolf, Bridget Riley – the list is endless.
'It appears that they have a problem with institutional sexism.'
Other quintessentially British images of items such as the Penny Black stamp and several iconic buildings also feature within the new passport. It is hoped that the majority of people receiving their new documents consider it a fair representation of Britain's cultural heritage, although it is clear by Ms Smethers' comments that some are not so sure.
Greater Security Measures
New passport designs are made every five years in order to lower the risk of fraudulent copies being made, and the new edition has some of the most advanced security measures ever to be incorporated into a UK passport. Heightened technology has allowed the document to be made using just a single sheet of paper in an effort to deter forgeries and tampering of genuine passports.
New measures such as enhanced holographic images on the holders picture page are paired with perforated passport numbers, which will rip if tampered with, to help make the document one of the securest in the world. Even the paper itself has been changed, with special fluorescent fibres used that will show up when held underneath a UV light source.
The ink, too, has had an overhaul for some of the new passports features. This has the opposite effect of the fibres and miraculously disappears when an infrared light is shone upon it. According to the Passport Office, these measures are not the only ones to have been added, and there are a number of other anti-forgery features included which have not been made public.
No Change In Price
Despite taking two years to develop and the list of impressive security measures that have been added in order to lessen the likelihood of forgeries being made, the price of a United Kingdom passport is set to remain unchanged at £72.50.
This news is sure to be welcomed by everyone who travels abroad, whether you are someone who only makes a single trip made once every now and then or a frequent flyer that is in and out of the country on a regular basis.
Take a look at our blog for more up to the minute travel advice and articles.