Scuba Diving In Thailand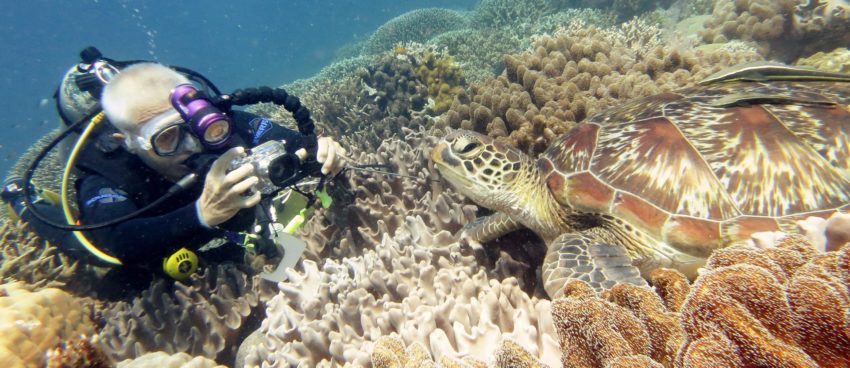 Dive In To A Magical Underwater World
Ever fancied swimming with tropical fish, turtles and sharks? Then why not head to Thailand for a holiday like no other.
Thailand offers divers crystal blue waters and incredible scenery, both above and below the waves. With miles of coastline and golden sandy beaches this tropical paradise will leave you enchanted by its warm, friendly people and its world famous food. With the Andaman Sea to the west and the Gulf of Thailand to the east, all types of diving are covered, from diving in reefs and wrecks to caverns and tunnels, all warmed by the tropical currents. Whether you base yourself on the mainland, one of the many islands or opt for a live aboard experience, there is something out there for everyone.
Thailand's tropical location means there is hot weather all year round and sea temperatures sit at around 30 degrees centigrade, making it perfect for diving throughout the whole year. The Andaman Sea is at its best from October to April, and the Gulf of Thailand from May to September, so whatever time you choose to go you can be sure of good diving conditions.
There are some fantastic dive sites to check out, such as Richelieu Rock in the Andaman Sea, just over 100 miles from Phuket. This horseshoe shaped rock is home to whale sharks, barracuda, rays, cuttlefish, seahorses and countless tropical fish. Also near Phuket are Racha Noi and Racha Yai where you are likely to encounter manta rays, tuna, whale sharks and barracuda. Bida Nok near Phi Phi island showcases stunning coral, giant clams, colourful parrotfish, hawksbill turtles, leopard sharks and sea snakes, whilst wrecks like HTMS Sattakut, HTMS Khra and HTMS Chang have created artificial reefs that offer something different to explore along with a host of incredible marine life to see.
As well as the marine life under the water there are plenty of other activities to keep you busy and many amazing destinations to visit throughout Thailand. Be sure to find time to fit in a visit to one of the nation's many festivals, take in some of the ornate temples, treat yourself to a Thai massage and enjoy the delicious food to be found in every corner of this wonderful country.
If you are planning on a diving holiday it is worth doing some careful planning ahead of your trip to make sure you get the most out of your vacation. Making sure you have the right travel insurance that will give you peace of mind knowing you are covered for every eventuality.
Talk to our UK Contact Centre today as terms and conditions apply.
GoPro Asia diving courses offer unmatched training facilities in South East Asia with their dedicated dive boats and training pools at Ban's dive resort on Koh Tao. Whether you are a beginner or more advanced, all levels of PADI diving courses are covered, from the Open Water Diver to PADI Divemaster, as well as internships to train to become a PADI Open Water Scuba Instructor.
Diving is one of the most awe-inspiring water sports – you are guaranteed to see sights that few others will have witnessed and bring home wonderful memories that you will cherish for many years to come.