Ryanair offers more legroom than rivals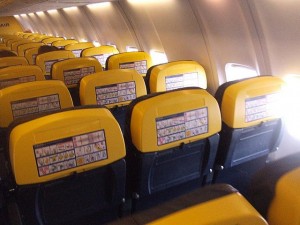 While Ryanair may rank among the cheapest airlines in Europe, those who do choose the budget service actually benefit with plenty of extra legroom in comparison with other big names.
The news comes after data was collected by the review site seatguru.com, who conducted research into the offerings of the most popular airlines and found that Ryanair offers between 30-34 inches of legroom in its economy-class seats, compared to just 29 inches offered by budget airline rival Easyjet. With the average width of an Easyjet seat 18 inches, it does offer one inch more than Ryanair.
Last week, Ryanair signed a £13 billion deal with Boeing to buy up 200 of the firm's 737 Max 200 planes, featuring a new design that can incorporate 197 seats in the cabin – eight more than before. Boeing have said that despite more seats, the planes have been designed to offer even more legroom that the current average of 30 inches on Ryanair flights.
This information is sure to be useful for those keen on booking their upcoming summer holidays, allowing them to shop around and get the best possible airline seat for their money, in the same manner they are likely to follow in booking holiday insurance for over 60s.
British Airways takes the top spot
One name that has long been highly regarded in the skies is British Airways, a name which didn't tarnish its reputation after it finished in first place for both the amount of legroom and the overall width of the seat, offering 31-34 inches and 18 inches respectively.
Other big names that featured on the airport runway were also featured in the report; Thomas Cook offers between 28 and 30 inches of legroom, while the range on a Monarch flight is slightly larger at 28-24 inches
If you have already booked with Ryanair for your forthcoming holiday in the search for a great deal, be sure to book your cheap medical travel insurance packages from the experts here at Avanti.
Image Credit: Matt Brown (Flickr.com)