A daily plan revealed to help skiers stay injury free when on the slopes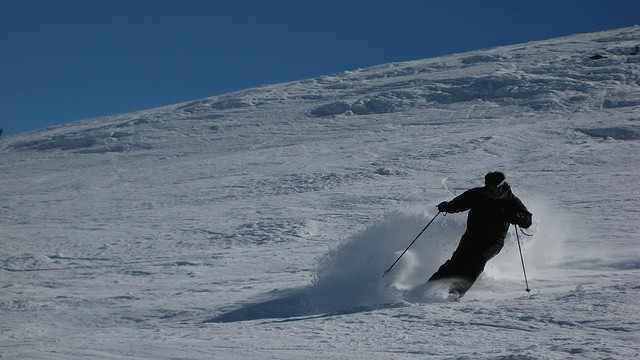 The co-founder of a specialist physiotherapy and physical conditioning website has revealed the daily activities that a skier or snowboarder should do to avoid injury when on the slopes.
With Easter just around the corner it is an extremely popular time of the year for people to book up single trip insurance and head to the slopes for a last-minute skiing holiday, and whilst the holiday is sure to be a memorable one the last thing you want is to suffer from an injury during your trip.
Andy Curtis, the co-founder of the website YourPhysioPlan.com, has come up with a daily plan for people of all ages to follow during their holiday in an article on the Telegraph website.
First thing in the Morning
Andy Curtis says you should always have a hot shower every morning of your holiday as this loosens your muscles up.
Skiers and snowboarders should then do a number of exercises before hitting the slopes. Bridging exercises, which are when you lie flat on your back with your feet flat on the floor and you push your bottom off the floor, will help loosen your muscles before skiing.
Eating porridge, yoghurt, fruit and other slow-release carbohydrate foods will also help you avoid injury.
Exercise while waiting for the ski lift
Muscles do not expect to be asked to undergo the huge physical exertion that skiing or snowboarding brings, and preparing your quads and gluteal region by doing controlled squats as you prepare to hop on the ski lift will help you avoid injuries.
Mid-morning
After a few runs down the slope skiers and snowboarders should eat snacks such as flapjacks, nuts or seeds to help boost your body's energy stores.
Exercising the iliotibial band will reduce the likelihood of injuring hips and knees so stretch your iliotibial band by standing with your weight on one leg while passing the other leg behind and across your midline and take the arm that is the same side as your planted leg above your head and hold it for 30 seconds.
Afternoon
After lunch it is common for skiers and snowboarders to suffer from an injury, due to joint and muscle stiffness following a high-intensity morning, which is why getting winter sports holiday insurance is vital.
You need to conduct a number of stretches and exercises before hitting the slopes in the afternoon and snacking will help re-energise your body.
Image Credit: shredded77 (flickr.com)