Reasons to visit Italy in spring
Italy's a fantastic country to explore at any time of year. Its diverse geography encompasses rugged mountains, fiery volcanoes, serene lakes and hundreds of islands, as well as undulating hills and valleys. Italy has more UNESCO World Heritage Sites than any other country in the world, and is home to a wealth of iconic works of art. It's renowned for its simple but delicious cuisine and its quality of life, which is known as la dolce vita. All of this means that Italy is one of the world's leading holiday destinations (according to the United Nations World Tourism Organization it's the 5th most popular country in terms of international arrivals), and its famous attractions are often teeming with visitors.
However, if you visit Italy in spring you'll probably find that (apart from during the Easter week) holiday destinations are much less crowded than they are in the summer. Coastal areas, especially in the South, start to warm up during spring, but it's still possible to ski in some mountain resorts. Prices for transport and accommodation in March, April and May are generally lower than in the high season, so this is a good time to visit if you're looking to save some pennies.
Here are some ideas for just a few of the great places to visit in Italy in spring.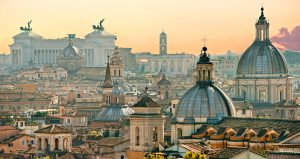 Rome, Lazio
Two thousand years ago Rome was the capital of the Roman Empire. Today the Italian capital is one of the world's most captivating cities, displaying its layers of history through architecture and art works. At the Colosseum you can see where gladiators and wild animals fought each other in ancient times. St. Peter's (in Vatican City, an independent state which lies within the city of Rome) is Italy's largest and most lavish basilica. Michelangelo's sixteenth century frescoes in the Sistine Chapel are masterpieces of Western Art.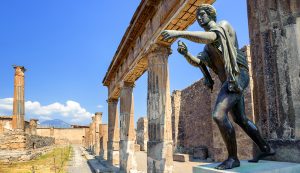 Pompeii, Campania
In AD 79 Mount Vesuvius erupted, and the nearby city of Pompeii was buried under a thick carpet of volcanic ash. Today, it's fascinating to explore the ruins of this ancient place. It's worth booking a guide to show you around, or at least renting an audio guide, because it's a huge site (the city was home to 20,000 people) and there's limited information on offer once you've entered. There's little shade available and it can get unbearably hot there in summer, so spring is an ideal time to visit Pompeii.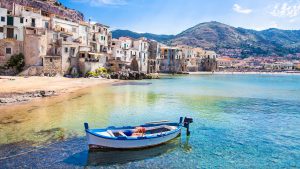 Sicily
Sicily is the largest island in the Mediterranean, and sits just across from the toe of the Italian mainland. The beautiful coastal resorts of Cefalù, Siracusa and Taormina make good bases from which to explore, Cefalu is around an hours's drive from the island's capital, Palermo, a city where you can see crumbling Baroque palaces, historic street markets, and the Teatro Massimo, Europe's third largest opera house. Siracusa was once the largest city in the ancient world, and its cathedral was built on the site of a fifth century BC Greek temple – the temple's giant columns are visible in the walls of the church. Taormina is at the foot of Mount Etna, Europe's highest active volcano, and has an amphitheatre which was built in the third century BC and is still used for performances today.

Best for skiing
If you're looking for an end of season ski trip, there are some Italian resorts which usually have snow until the beginning of May. The most snow-sure is Cervinia, in the Vall d'Aosta. With its miles of gentle slopes, this is a good place to learn to ski or to improve your skills. For advanced skiers Cervinia has some black runs and is linked to Zermatt's ski area by its lift system.
Over to you
Where would you like to visit in Italy in spring? Wherever you go, be sure to have comprehensive travel insurance in place before you set off.