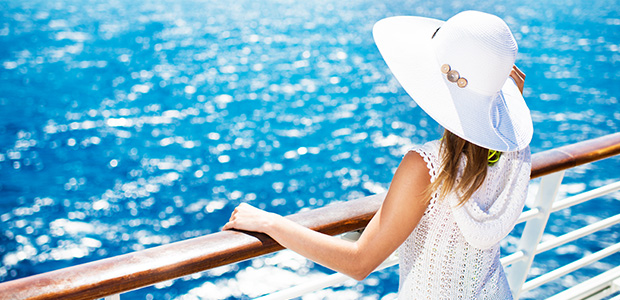 Planning a World Cruise
I've planned quite a few cruises over the years – I always like to know what I should be seeing and doing in each destination – but I will admit that planning a world cruise has been something entirely different. I've spent hundreds of hours across many months doing research, sending emails and putting together a plan of action for every port that I will be visiting. It's been a lot of hard work, but now, with just a few more weeks to go until I set sail, I can say that it has all been totally worth it and I am looking ahead to the ultimate trip of a lifetime.
On January 5th, I'll join Fred Olsen Cruise Lines 'Black Watch' on her 2018 Wonders of the World cruise. This is a 108-night sailing that departs Southampton and literally circumnavigates the world from west to east – we even get to do a full transit of the Panama and Suez Canals. Some of the destinations are real once-in-a-lifetime places and my itinerary looks like this:
Southampton – Ponta Delgada (Azores) – Horta (Azores) – Bermuda – Havana, Cuba – Cozumel, Mexico – Panama Canal – Manta, Ecuador – Callao, Peru – Paracas, Peru – Hanga Roa, Easter Island, Chile – Papeete, Tahiti – Bora Bora, French Polynesia – Rarotonga, Cook Islands – Auckland, New Zealand – Bay of Islands, New Zealand – Sydney, Australia – Brisbane, Australia – Hamilton Island – Darwin, Australia – Komodo Island, Indonesia – Singapore – Kuala Lumpur, Malaysia – Yangon, Myanmar – Kochi, India – Mumbai, India – Aqaba, Jordan – Sharm el Sheikh, Egypt – Alexandria (for Cairo), Egypt – Kusadasi, Turkey – Piraeus (for Athens), Greece – Civitavecchia (for Rome), Italy – Livorno (for Florence and Pisa), Italy – Malaga, Spain – Southampton

I have so many amazing things planned, I can't possibly share them all with you, but this is a sample of what is to come: Koala sanctuary in Brisbane, a visit to Cairo to see the famous Pyramids at Giza, swimming with stingrays and sharks in Bora Bora, whale watching in Auckland, looking for Komodo Dragons in Indonesia, viewing the Shwedagon Pagoda in Myanmar and photographing Sydney's iconic harbour.

It looks and sounds amazing, I'm sure you will agree, but the pre-cruise planning has also been a new experience because there's so much more to think about and take into consideration. The usual things come into play, such as good travel insurance, foreign currency and visas, but then you stop and remind yourself that everything you take will be packed in bulk. You don't need just 1 tube of toothpaste, you need 6. You don't need a tablet or two for the washing machine, you need an entire box of detergent. You're going to mostly hot and humid countries, so you need at least 14 bottles of sun lotion. It's like shopping to stock a small shop! I am surrounded by bottles of, well, you name it, I'm surrounded by it. I know people might say why take it all now when you can get things as you go, but we all have things our skin is used to and the last thing I want during this trip is a skin rash or to spend my time trailing around looking for a supermarket when I should be out admiring stunning temples and monuments.
If you are planning a lengthy trip, then my advice to you would be to really spend a good amount of time doing your research and checking and double-checking information. I am travelling on this cruise with a friend of mine who lives in America, obviously I live in the UK so that means we can't really meet up every other week to discuss things. Instead, we speak almost every day and we share access to an online Google document. This allows us to view and update in real-time, so we are always literally on the same page.
Don't forget to consider any vaccinations or medications you may need, try to do this as far in advance as possible, just in case you need to take things like antimalarial drugs weeks or months in advance.
Lastly and probably the most important thing you could do is to always make the effort to find out the do's and don'ts of each destination. There are weird and wonderful laws across the world and something you'd not think twice about doing at home which could mean a lengthy prison sentence in another country. You could avoid that by just spending some time checking things out. To give you an example, chewing gum is illegal in Singapore. Who would have thought it?
Here's to happy and safe travels!