Plane unexpectedly drops 5,000 feet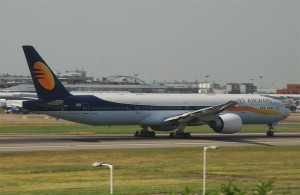 Officials are investigating what caused a plane to drop over 5,000 feet during a flight between Mumbai and Brussels, in what must have been a worrying experience for the 290 passengers on board.
The incident took place back in August, with the Jet Airways plane dramatically descending in altitude shortly after heading into Turkish airspace. It is believed that the captain of the Boeing 777-300 aircraft was taking a nap when the incident occurred, and the co-pilot didn't notice the drop in altitude because she was busy doing work on her electronic flight bag.
It shows the importance of booking yearly travel insurance packages, giving you complete peace of mind on multiple holidays should anything unexpected go wrong.
India's Directorate of Civil Aviation launches investigation
After India's Directorate of Civil Aviation launched an investigation into the enquiry and analysed the records of the digital flight data recorder, it is clear that the co-pilot fiddled with the controls shortly before the plane made the plunge. The co-pilot awoke the pilot when they were contacted by an air traffic controller in Ankara, ordering the plane to ascend immediately to 32,000 feet.
With other aircraft flying at the same level the Jet Airways plane had dropped to, and with the airspace over Turkey busier than normal to avoid the conflict zones of Iraq and Ukraine, it could have easily become a very serious incident for everyone involved.
While Jet Airways are probing the incident to ensure that a similar issue isn't repeated, it is still recommended for anyone heading on their holidays to book a comprehensive pre-existing medical condition travel insurance package to ensure you are protected against any unforeseen problems during your trip.
Image Credit: Aero Icarus (Flickr.com)