Photography Tour of Iceland
Going on holiday can be a great opportunity to get your camera out and capture beautiful images in a new country.
But discovering the very best that a country has to offer in terms of stunning photography backdrops can be hard if you're finding it alone. But did you know that there are a number of special interest holidays available (like this one on church architecture) where you can tour with like-minded people and discover the best places to capture beautiful imagery?
Here, Valery Collins, a beginner in photography, goes on a photography holiday in Iceland! Read on to find out more about her experience:
An SLR photography holiday
Photography courses have become very popular and I decided I should treat my digital SLR to a photography holiday in Iceland. Our tour started in Reykjavik and I was so excited at the prospect of becoming a great photographer that I was up before dawn the next morning taking pictures of the city coming to life.  I was using the Automatic setting but was confident I would soon move on to the more complicated settings.
On arrival at Pingvellir (the site of the Icelandic parliament) there was a mad scramble to rescue tripods and bulging bags of lenses from the boots of our vehicles and then, suddenly, I was on my own in the car park.  Everyone but me seemed to know what they were doing and where they were going.  The landscape was stunning and as our tutors were already busy with their own photography I set the camera to auto and starting clicking away.
Our next stop was the waterfall at Skógafoss  for another untutored session of photography.  I had been promised the loan of a tripod (which helps to stabalise the camera, allowing you to take sharper photos, or to play with shutter speed to blur movement) but that had not yet materialised so I did not even have that to play with and contented myself with taking a few photos and then climbing up the side of the waterfall.
I was really enjoying the dramatic scenery but I was still operating on automatic.
Vík is famed for its black beaches and sea stacks.
Apparently, this location lend itself to abstract images.  Rough seas and a howling gale made it difficult to appreciate this attribute.  After battling unsuccessfully against the elements I took a few shots and then sought refuge in our van.  It was a long time before the others came back.  For the first time that day the tutor spoke to me directly – they were late because they had been looking for me thinking I had been blown away.  Bemused by this rebuke I took the opportunity to ask what they had found so fascinating about a windswept beach.  Capturing the perfect image – a wave breaking over the rocks.  I got one of those a few minutes after we got there.
I was feeling like a fish out of water.
All the technical talk at dinner sounded like a foreign language to me.  I was determined to crack the code.  I asked another member of the group to interpret for me and was rewarded with a simplified explanation of focal lengths, exposure and aperture settings.  Fired with enthusiasm and the unique scenery of icebergs floating on the Jökulsárlón glacier lake I discovered endless possibilities for interesting images – chunks of azure blue ice; crystallised water on black sand surrounded by swirling patterns created by advancing and retreating waves.  I was entranced but not enough to don Wellington boots and wade into the freezing water with my companions.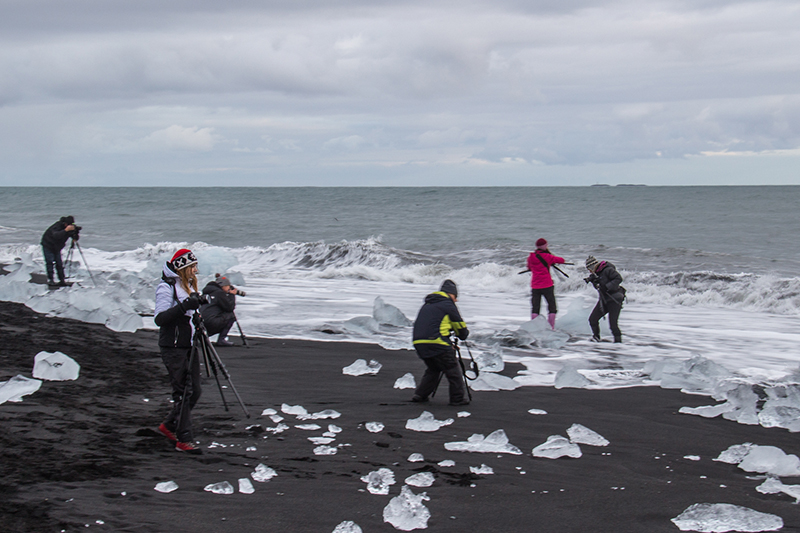 I learnt a lot, mostly from other people on the course, and visited some remote and incredibly beautiful places.  This was possible as we were a small group travelling in two small vehicles.  I would certainly do another photography trip. I learnt two important lessons.  Some aspects of photography, such as the processing software are best learnt at home in the classroom.
By Valery Collins www.experiencedtraveller.co.uk