172 passengers hit by Norovirus on cruise ship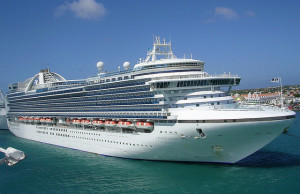 A dream month-long cruise around the Pacific turned into a nightmare for passengers after 170 people on-board the ship were struck down by an outbreak of the norovirus bug. 
The news that passengers on the Crown Princess Cruise ship fell ill demonstrates the importance of getting travel insurance for a cruise as the ship was forced to dock in California this week to allow representatives from the US Centers For Disease Control and Prevention (CDC) to come on-board and investigate the cause of the outbreak.
According to a report on Sky News passengers began showing signs of the virus just a few days into the cruise that visited Los Angeles, Hawaii and Tahiti.
Hundreds of passengers affected
Norovirus is highly contagious and the vomiting bug affected 158 out of the 3,009 passengers that were on-board the cruise ship. The virus also affected 14 out of the 1,160 crew members.
All infected passengers were treated on the ship and crew members made people affected by the norovirus bug stay in their rooms and have meals delivered to their rooms.
The norovirus bug is spread from person-to-person and can be caught by touching contaminated surfaces, eating infected food and drinking contaminated water.
This is why the crew members of the Crown Princess ship were seen wiping down tables, chairs, handrails and walls to help fight against any further outbreak of the virus.
The contagious virus causes people to suffer from diarrhoea, vomiting, stomach cramps and nausea, but most people do recover from the symptoms within three days of coming down with the virus.
Susan Lomax, who works for the Crown Princess company, said in a statement; "As it is the cold and flu season, when the stomach flu circulates on land we encourage all of our guests to be diligent in following the widely accepted practices of frequent hand washing with soap and water and the use of hand sanitisers."
The affected ship will now undergo a deep clean before heading on its next voyage to the Mexican Riviera.
So no matter whether it is travel insurance cover for over 75's or annual travel insurance cover, news such as this demonstrates the importance of getting holiday insurance before you head off on a cruise or other type of holiday.
Image Credit: Roger Wollstadt (flickr.com)