Airport passengers frustrated by security measures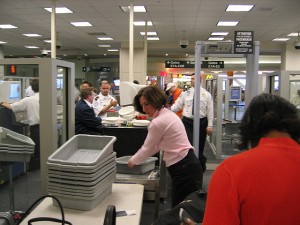 Recent research has revealed that the majority of British holidaymakers do not trust the common security measures at the airport, with many under the impression that the measures are both unnecessary and ineffective.
Carried out by an expert in the field, the study took into account the feelings and attitudes of 2,000 people towards the many aspects of holidaying abroad, such as the booking of single cover travel insurance, finding the best rate for foreign currency and the usual airport procedures. It found that airport measures were undoubtedly one of the most stressful and unpleasant phases of the holiday experience, with one fifth of Britons saying it is one of the worst thing about going on a holiday abroad.
It would seem the procedure is to become even worse for passengers this summer, with those flying in and out of the USA and the UK having to prove their electronic devices have enough charge to be switched on – otherwise they risk not being able to fulfil their planned travel arrangements.
Many question the need to remove clothing
One of the biggest reasons why people are said to detest airport security measures is the policy of removing particular items of clothing – with belts, jewellery and footwear among the most popular, as reported in this article.
While backpacks storing currency and medical condition travel insurance documents will always be put through a separate scanner, the metal content of belts and jewellery mean that they have to be taken off before walking through the passenger scanner to avoid setting the metal detector off. The removal of footwear is also advised just in case passengers attempt to sneak items through the security gate.
The study revealed that many question the organisation of pre-flight security, with 42 per cent of all those asked saying that the overall procedure could be made more efficient. A further 28 per cent admitted to getting annoyed by the amount of time they have to wait at checkpoints, particularly those who are randomly selected to be patted down by security personnel.