Natural Beauty of Norway
On our recent trip to Norway we quickly discovered that travelling anywhere takes twice as long as it should. Now this isn't down to the low speed limits (Norway is amongst the top countries for road safety) or heavy traffic, or weather conditions. It is solely down to the stunning scenery you are met with wherever you go! For us it was impossible to let these views go by without experiencing them in some way or capturing them on camera, when we were in a car there were countless occasions we just had to pull over or turn round to go back and try and find somewhere to park so we could get out there and let it all soak in!
We visited in May and it never really got completely dark during night time hours and it was daylight till almost midnight. Our first base during our time in Norway was a small town called Stavanger in the south, There are regular flights from the U.K here and it was perfect for us as we wanted to explore the Lysefjord, the thrilling walks to Pulpit Rock and Kjeragbolten were only an hours drive away from here.
On our first evening we decided to take a drive along the 44 coastal road south towards Helleren, during the journey everywhere we looked we were stunned by the beauty, we started referring to these views as "Wow Moments" and there were plenty! Fog began to descend as we continued, and although this limited the distance we could see it seemed to add to the atmosphere and gave an other worldly feel. We stumbled across lakes straight from Nordic noir thrillers, rock formations reflected in glassy waters, waterfalls and fast running rivers, it was non-stop!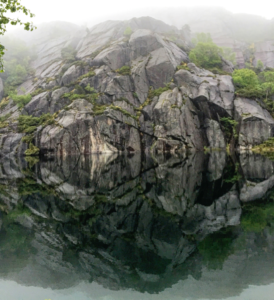 We went onto hike to pulpit rock also known as Preikestolen. A rocky outcrop which juts out over the Lysefjord with 600 metre drops on all sides! The climb was fairly moderate, there were a couple of steeper areas but there were people of a wide age range enjoying this walk and a sense of community amongst everybody taking part. We had seen pictures of the views from the top and had thought nothing of the journey there, however, like with all journeys in Norway it seems, the views just continued to hit us! It is a spectacular area.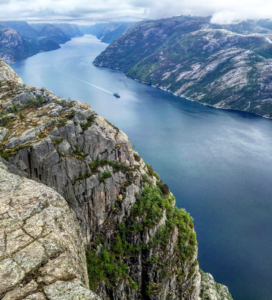 At the top, although during peak months it can become crowded, whilst we were there it was quiet, a quiet sense of wonder amongst everybody taking it all in. People spoke in hushed tones, quietly and politely went about capturing the views on cameras and smartphones.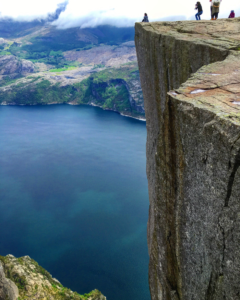 Sitting here It is so easy to imagine viking long ships sailing by returning with their plunder from foreign lands, this is a land of legend, a land of beauty, and a land where time stands still.
Norway offers both a relaxing and active holiday making it ideal for all ages and should be considered for your next trip away – talk to us today to organise your travel insurance.
By: Thomas Widdows