Lawyer calls for limit of Polzeath beach users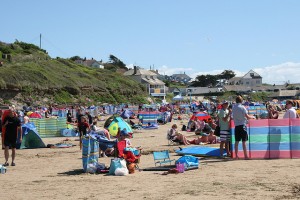 A health and safety lawyer has called for a limit on the amount of holidaymakers being allowed in the sea at a Cornwall beach in the peak months, believing that issues with overcrowding could lead to a serious accident in the future.
Although serious medical problems and rehabilitation not covered by the NHS would be protected by comprehensive UK holiday insurance packages, the stress and anxiety caused by accidents mean that they will want to be avoided in the first place.
The beach in question is Polzeath beach in the parish of St Minver, a sandy stretch that is hugely popular with the millions of holidaymakers that head to the Duchy each and every year. It's this level of appeal that is a cause for concern for Radd Seiger, a health and safety lawyer from Banbury in Oxfordshire who has been a regular visitor to the sands over the past decade.
Volume of people is a serious safety risk
He claims that the beach is becoming seriously overcrowded in the peak months because of a huge surge in the number of surfers and bodyboarders. He has even voiced his worries to the RNLI, saying that the volume of people in the water at any given time poses a serious risk of safety.
After calling for a limit on the number of people allowed in the water at once, Sieger's proposals have been criticised by holidaymakers and residents, saying that beach users are ultimately responsible for their own actions. One comment came from Alan Iles, who suggested that perhaps the safest thing to do would be to sanction the number of holidaymakers coming into the country.
James Millidge, the Community Incident Reduction Manager for the RNLI, said that the charity doesn't possess the authority to enforce such a regulation.
While the large number of beach users could potentially present a serious problem for the emergency services, those who have taken out over 60 travel insurance cover will have extra peace of mind compared to those who haven't
Image Credit: Kevin Walsh (Flickr.com)